Tuesday, April 30, 2013
By Cory K. Doviak
NJS.com Editorial Director
Nick Smith, who has 24 RBI through 15 games, had one of five straight two-out singles in the bottom of the fourth inning that broke the game open in an 11-4 win over Wood-Ridge on Monday afternoon.
EMERSON – At its inception, the "Cich vs. Cich Classic" was kind of like a novelty, a coaching legend going up again his upstart coach of a son, but as Monday afternoon marked the fifth edition, times have changed a little bit. Bob Carcich has won over 500 games in his 26 years at Emerson, while Mike Carcich has pulled Wood-Ridge into a well-organized Group 1 program that expects to compete for league and state sectional titles. It's no longer about teaching 'the kid' a lesson. This time, the father needed a win to get his team safely into the Bergen County Tournament.
"It's getting less and less about me coaching against him because he's doing such a good job down there [at Wood-Ridge] that when we face them I see it as a game against a good team with a quality coach," said Bob Carcich. "They do all the right things, they play hard and when I get involved in the game I am not thinking about coaching against my son, I am thinking about coaching to get a win over a good team."
Showing that respect, in each of the last two meetings Bob Carcich has run his ace out to the mound. Last year, as a sophomore, Joe Fisco went 6 1/3 innings to give Emerson a win in Wood-Ridge and this season he went six strong, allowing five hits and striking out six as the Cavos punched their ticket to the Bergen County Tournament with an 11-4 win in Emerson. Teams must have a .650 winning percentage through their first 16 games to get an automatic bid and Emerson improved to 11-5 heading into Tuesday's game against Park Ridge, a rival and the team the Cavos are chasing for a league title.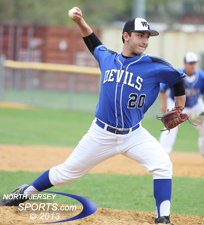 Making his first start of the season, Wood-Ridge senior Joe Barbiero went the first four innings.
"It was a big and it was nice momentum going into some big games," said Fisco, who also scored two runs and had an RBI triple in the bottom of the fifth. "We know that coach always wants to win the games against his son and I just wanted to help do that.
The game matched Fisco, Emerson's established ace, against Wood-Ridge's former ace who is trying to work himself back into that role. Senior Joe Barbiero pitched the Blue Devils to state tournament wins, one of them a no-hitter, as a sophomore back in 2011 before injuring his arm last year. He's been used sparingly out of the bullpen this season, but made his first start of the season on Monday. He probably deserved better than what his final line showed as a key error in the bottom of the second inning broke the game open.
Barbiero the two ground ball outs against the first two hitters of the frame before Bobby Palumbit ripped Emerson's first hit of the game, a double to left centerfield. Tyler Pavone then drew a walk before Jake Leara hit a high pop up just to the right field side of second base and on the edge of the grass. The ball was dropped and opened the door to three unearned runs.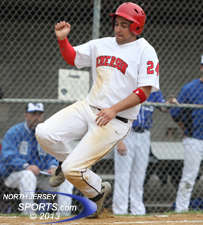 Matt Portales had two hits, a stolen base and an RBI for Emerson, which improved to 11-4 on the season.
The three two-out runs were a hint at what was to come as, after Wood-Ridge got one run back on Steve Lagriola's RBI groundout in the top of the fourth, the Cavos got rolling with two outs and no one on in the bottom of the inning. Chris Nedilsky got it started by pulling a single into right field and Fisco was hit by a pitch. From there, Nick Smith (2-for-4, R, 2 RBI, 2B), Matt Portales (2-for-4, RBI, R, SB), Joe Messner, Palumbit (2-for-3, 2 R, RBI) and Pavone all hit singles in succession to give Emerson at 9-1 lead with all nine of those runs coming with two outs.
"It takes a lot of pressure off our defense when we can score a bunch of runs in an inning and it gets everyone in the dugout up and into the game," said Smith, Emerson's senior catcher and clean-up hitter who leads the team with 24 RBI in 15 games. "It's definitely good to get some two-out pokes and give Joey a good lead to work with."
Fisco was officially charged with four runs, three of them earned, but he could have had a better final line of not for an unlucky fifth inning. Ryan Hennessey led-off with a bad-hop base hit that was followed by a Nick Champino base hit and a walk to Joe Batcho, the only one Fisco issued in the game. An error and two sacrifice flys by Zach Garvin and Mario Tartaglione pushed three runs across to get Wood-Ridge back to within 9-4.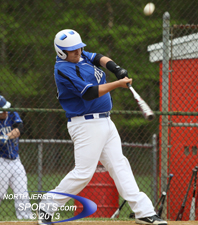 Mario Tartaglione lifting the sacrifice fly that drove in Wood-Ridge's final run.
Smith and Fisco had back-to-back base hits in the bottom of the sixth to make it 11-4 and Nedilsky came on to work a clean seventh inning in which he worked around a two-out walk. Nedilsky, a sophomore, also had three hits and reached base in four of his five plate appearances and the only out he made was on a smoked line drive to rightfield.
The hallmark of Bob Carcich's storied career at Emerson is plugging younger players into graduation holes and piling up 20-plus win seasons without skipping a beat. This is Nedilsky's first time around on the varsity level and is looking forward to the big games to follow.
"Being that this is my first year on varsity, I have never been a part of the county tournament. So, to know that we are in it after this win is a good feeling and I am excited to be a part of it," said Nedilsky. "There is pressure when you play baseball for Emerson, there is a lot of tradition, but it's been great and I am having a lot of fun doing it."
Meanwhile, Mike Carcich fell to 1-4 in games coached against his father and Wood-Ridge fell to 8-7 on the season. Considering what the Blue Devils lost to graduation and what they were missing through injury, its a respectable mark through 15 games as they gear up for a state tournament run.
Sophomore Chris Nedilsky had three hits and worked a clean seventh inning for Emerson, which secured its spot in the Bergen County Tournament.
"I am happy with the way we come out to play these games and even today I thought we did some good things. We made some miscues in the field that cost us some unearned runs and against Fisco, their ace, it was tough to battle back from that. I know the final score was 11-4, but four runs for us against a kid like Fisco is good for us," said Mike Carcich. "Joe Barbiero is our would-be ace and we have only gotten 12 innings out of him coming into today shows a lot about his team. Ryan Hennessey has stepped up to be the top guy in the rotation and done a great job. To get Joe back now as a guy that can give us five-plus innings to go with Hennessey and Champino, its a big lift for us and we are really looking forward to being healthy for the state tournament."
So what about being 1-4 against your 'Old Man' in head to head matchups?
"It sucks losing to your father, it sucks losing a baseball game period," said Mike. "But I will say this, I love coming up here to Emerson's field. It brings back a lot of great memories of working county tournament games here, and coaching with my dad. But to lose to a program like that and a coach like that who has over 500 career wins, I can live with that. I am still learning on the job as we go here."
As for the senior Carcich, the down side of beating his son in a head to head match still stings, but maybe not as much as it used to when the younger was still trying to establish himself.
"It kind of sucks beating him," said Bob Carcich. "But it doesn't suck too bad."
FOR MORE PHOTOS OF THIS EVENT OR TO BUY A COLLECTOR'S PRINT OF THIS GAME STORY, PLEASE VISIT 4FeetGrafix.com.