67 Highlander Drive, West Milford, NJ 07480
Saturday, September 17, 2016
FIELD HOCKEY:West Milford makes a statement with overtime win at Wayne Hills
West Milford's Maeve Gordon.
WAYNE – With county championship in three consecutive years, Wayne Hills has set itself apart from the rest of its Passaic County competitors. West Milford has been a solid team, but was not in the same class as the Patriots during that stretch. In their past five meetings against Wayne Hills, the Highlanders won just one of them and that was back in 2013. For West Milford to be considered a true Passaic County title contender it knew what it had to do: Beat the top dog. As the teams headed into overtime, West Milford's Danielle Dellapi and Maeve Gordon were not going to be satisfied with just having pushed Wayne Hills to the limit or even coming away with a tie. They wanted to make a statement that the road to the Passaic County title may just be Route 23 North. Dellapi took a cross from Gordon, touched it around a defender and ripped a shot inside the right post with 4:07 to play in overtime to give West Milford a thrilling 4-3 triumph over Wayne Hills on Friday afternoon in Wayne. MORE...
---
MORE WEST MILFORD HIGH SCHOOL SPORTS COVERAGE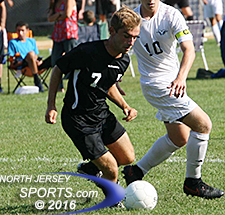 West Milford's Marc Janisheski .
SEPTEMBER
BOYS SOCCER:Wayne Valley holds off West Milford for first win