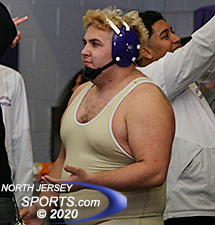 With a forfeit victory at 285 pounds, Garfield senior Michael Alfonso recorded career win No. 100 as a part of the Boilermakers' 50-27 triumph over Lyndhurst..
GARFIELD – Coming into his senior year Garfield heavyweight Michael Alfonso knew what seemed an unattainable goal as a freshman was very much within reach. After turning some heads during his junior season, the fiery Alfonso has rolled it over into a spectacular senior season in which he has emerged as a legitimate state title contender. So with a rowdy home crowd in attendance to see him on the precipice of getting his 100th career win, Alfonso took the mat with an all too familiar outcome.
Alfonso had his hand raised by the referee but not in the way he had hoped. He earned a forfeit victory for the milestone win with another major milestone happening just four bouts later. Freshman Taylor Peterson became the first female ever to appear in a Garfield varsity match and gave the fans what they wanted. She rallied from a big deficit to score third-period pin that helped Garfield roll to a 50-27 victory over Lyndhurst on Friday night at Garfield High School.
Garfield opened the match with forfeit wins at 195 and 220 pounds to set the stage for Alfonso. However, when Alfonso raced out to check in he already knew that there would be no opponent on the running out to meet him. The referee raised his hand and the crowd went wild for Alfonso's 100th career win. It was one of many forfeit wins the senior has had over the course of this season, including two in the final bout with Garfield trailing both times and getting the win because opposing teams refused to take on Alfonso.
"I would have liked to have wrestled tonight but it was still surreal moment for me," said Alfonso. "I was always around wrestling and never really thought about getting 100 wins when I came into high school. The people around me helped me through the whole process and I'm really proud of what kind of wrestler I've become."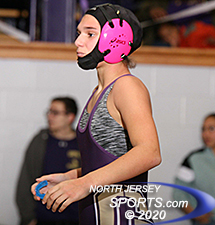 Freshman Taylor Peterson became the first female to wrestle a varsity match at Garfield. And she won.
As the match shifted to the lower weights the crowd stayed loud throughout in anticipation of Peterson taking the mat for her first varsity match at 126 pounds. She admittedly had butterflies as the bout began and it showed early on. Peterson was nearly turned for a pin in the first period and was down 14-7 entering the third. With nothing to lose, everything to gain and a home crowd that had reached a deafening pitch to show their support she was able to turn her opponent then use her leverage to score a reversal and a pin in 4:41.
"I was so nervous going into this match but I had to keep telling myself that 'I've got this' and keep believing that I could win," said Peterson. "I was actually overweight earlier in the day so I had to the bag on and run a lot to take a few pounds off before the weigh-in. Once I made weight and I knew I was wrestling I couldn't wait to get out there. Even when I was down going into the third period I felt like I had a chance. This match showed that I can do it, that girls can be a success on the mat."
Consecutive pins by Dylan Weaver and Anthony DeMarco gave Lyndhurst (3-11) a glimmer of hope but that was quickly put to rest when Josue Matias recorded a technical fall to clinch the victory for Garfield's eighth win in its last nine matches.
When Alfonso entered high school he felt like he wrestle forever. In what seemed like a blink of an eye the district tournament of his senior year is now right around the corner. Knowing that once the district tournament begins that each match could potentially be his last in a Garfield singlet, Alfonso will push himself even harder to reach the highest of heights.
"Wrestling takes a lot of time and dedication," added Alfonso. "Every wrestler does it, some just work harder and do it better than others. I have worked my butt off all year to be one of those guys. My family has been so supportive and the community around here is great. The coaching staff along with my partners Kacper (Szuberski) and Charles (Davis) in the room have been a big part of making the wrestler I am today. I'm grateful for everything I've achieved and I want to keep this going as long as I can."
FOR MORE PHOTOS FROM THIS EVENT PLEASE CLICK HERE. TO BUY A COLLECTOR'S PRINT OF THIS STORY PLEASE VISIT 4-FeetGrafix.com.