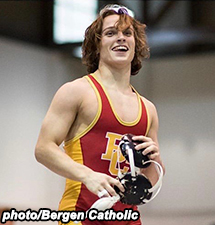 Junior Robert Howard is one of seven Bergen Catholic wrestlers to win his way into Sunday's semifinal round at the season-opneing X-Calibur Tournament at Wilkes University in Pennsylvania.
The start of the wrestling season can take place anywhere. It can be in local gyms where events like the Cutter Classic in Fair Lawn, the Frank M. Dawson Jr. Memorial Holiday Tournament in Garfield and others where local athletes can compete and start the process of building criteria that will help them down the road in postseason tournament seedings. For Bergen Catholic, the seven-time defending Non-Public state champion, the season started this weekend with a trip to the X-Calibur Tournament on the campus of Wilkes University in Wilkes Barre, PA against 25 other teams with national ranking aspirations.
Through the first day of the tournament, Bergen Catholic, the No. 3 ranked team in the country, trails only No. 2 Wyoming Seminary in team points with seven Crusaders wrestling their way through into Sunday's semifinal round with five others alive in the wrestlebacks with a chance to make it back up the board as far as a third place finish.
The team point standings at the X-Calibur are skewed in Wyoming Seminary's favor for now because each team could enter as many participants as it wanted to in any one weight class. Wyoming Seminary entered 25 wrestlers in total while BC, which is waiting for four transfers to become eligible, entered just 14.
"This is the perfect tournament for us. It gets us seeing competition from five different states and it is a great level of competition," said Bergen Catholic head coach Dave Bell, who was last season's National High School Coaches Association (NHSCA) National High School Wrestling Coach of the Year as his team finished second in the national rankings. "It challenges everyone right up to our most experienced guys and gives our youngest athletes a great experience as well."
Two of the those most experienced guys that Bell referred to are the Crusaders' two returning state champions, senior Jacob Cardenas and junior Robert Howard and both of them are among the seven headed to the semis. Cardenas, the senior who has committed to Cornell University and will wrestle in the Ivy League next season, is through at 195, the same weight at which he won the state title last season in Atlantic City. Howard, the junior who recently committed to Penn State University after winning a gold medal at the Buenos Aires 2018 Youth Olympic Games in October, is heading for the semifinals at 126 pounds.
Freshman Joe Cangro (106 pounds), juniors Nick Kayal (113) and Joe Zargo (152) and seniors Chris Foca (182), also a Cornell commit, and Wade Unger (145), a Duke commit, are also safely into the semifinals. Those heading for the wrestlebacks are seniors Pat Gray (120) and Richard Halal (132), junior Gabe Mendez (220) and sophomores Jack Patti (170) and Pat Coliccio (285).
"We have a freshman in the lineup at 106, Joey Cangro, and he pinned both of his opponents to get off to a good start and Robert Howard was on a different level today. Jacob Cardenas and Chris Foca continue to dominate," said Bell. "We have guys that wrestle all different styles, international styles throughout the summer and the offseason and this is the first time that we come back together. A tournament like this where we travel together, it starts to build our team unity. We don't have a lot of time to prepare [for the high school season] because these guys do wrestle year round, so jumping right in at tournament like this  is nice because we get them back on the mat and competing for Bergen Catholic. We can start to build those bonds."
TO BUY A COLLECTOR'S PRINT OF THIS STORY PLEASE VISIT 4-FeetGrafix.com.