Monday, March 7, 2016
By Rich Barton
NJS.com Staff Writer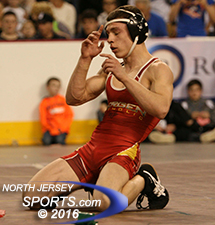 Bergen Catholic senior Nick Suriano reflects after finishing off his high school career with a 159-0 record and a fourth straight state championship.
ATLANTIC CITY – When Bergen Catholic's Nick Suriano walked into Boardwalk Hall in Atlantic City, he knew this time would be both the same and also different from every other time he has walked into that venerable arena. Suriano has made Boardwalk Hall his second home as he came in the verge of capping an unblemished high school career with a fourth straight state title. He prepared for this year's state final as he has every other match: With unrelenting tunnel vision. With his legacy already cemented, it was only fitting that Suriano finished off the perfect career that he boldly envisioned when he first put in a Crusaders singlet.
Suriano beat former state champ Ty Agaisse, 3-1, at 126 pounds to finish his career with a remarkable 159-0 record and four state titles. Teammates Joe Grello, Kevin Mulligan and Shane Griffith each repeated as state champs as Bergen Catholic led a dominant performance from North Jersey wrestlers at the NJSIAA State Wrestling Championships.
"I just walked around all day thinking about getting my hand raised," said Suriano, who will attend Penn State next fall. "It's tough controlling your mind out there sometimes but nothing was going to take me out of my groove. I only worry about what I can control and I did my job."
The 14-bout extravaganza started at 145 pounds with Hasbrouck Heights' Mike O'Malley taking on Bound Brook's Mekhi Lewis. In the most controversial call during any match of the final round, O'Malley was hit with a stall point with one second left on the clock after nearly riding out Lewis for the entire second period. The stall call gave Lewis a 1-0 lead. O'Malley escaped 22 seconds into the third to tie it and the match went to overtime. Lewis scored the only takedown of the bout late in the one-minute OT session to hand O'Malley his first loss of the season.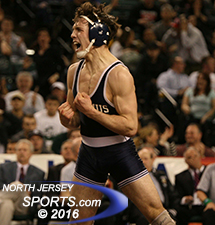 Paramus' Kyle Cochran went from a third place finish in Region 2 to the 160-pound state title after beating defending champ Kyle Bierdumpfel in the final.
Matches at 160 and 170 pounds featured both finalists from Bergen County with 160 pitting defending state champion Kyle Bierdumpfel of Don Bosco Prep against Paramus junior Kyle Cochran. Bierdumpfel was riding a 67-match winning streak that included a pair of 3-1 wins over Cochran, one of them coming two weeks ago in the District 5 final. Going into the match, it appeared on paper that Cochran's unlikely run to a state final was going to end. But Cochran's journey was about to take it last turn for the better in front of thousands of people.
After getting pinned by Tyler Mullen of Northern Valley/Old Tappan in the Region 2 semifinals, Cochran had to battle back to beat Vin DeFilippo of St. Joseph Regional (Montvale) in the consolation match just to punch his ticket to Atlantic City. Once he did, the switch clicked on. After an upset victory over previously undefeated Craig Roumes of Roxbury to get his tournament started, Cochran genuinely believed he could win it all.
Cochran's match got off to a rocky start with Bierdumpfel forcing the action throughout the first period and earning a takedown with 38 seconds left for a 2-0 lead. Cochran responded by riding out Bierdumpfel for the entire second period before escaping 22 seconds into the third to cut the lead to 2-1.
Bierdumpfel nearly countered with a single-leg takedown, but Cochran not only held him off but almost slipped his leg out and came over the top for the two points before the wrestlers toppled out of bounds. Although there was less than a minute remaining in the match, Cochran kept that scenario in his memory bank. In a nearly identical situation, Bierdumpfel got a hold of Cochran's leg with 25 seconds left. Cochran fought right until the very last second when he finally slipped out and came around for the two points at the buzzer to pull off the 3-2 upset and win his first state title.
"Losing to kids twice and then beating them the third time seems to work out for me," said Cochran. "(Bierdumpfel) is a great wrestler, a four-time finalist, and he's already won a state title. He had all the pressure on him and I had nothing to lose. I just tried to push the pace at much as possible."
"The first time he got a hold of my leg and I spun, I almost got out of it so I figured it was something that could work if it happened again. When it happened again, something just told me to do it and it worked. I had zero idea how much time was left, I just knew it was very short time. I'm completely shocked that this is happening, but not too shocked because I've prepared for this my whole life."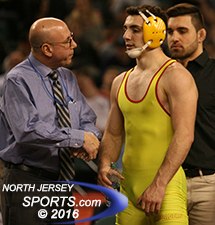 Bergen Catholic's Joe Grello won the 170-pouund title, his second straight state championship.
The match at 170 pounds did not carry nearly the same excitement. It was just Joe Grello doing what he has done consistently throughout the past two seasons. He scored the first takedown and then smothered his opponent.
Northern Highlands' Shane Sosinsky upset his way to reach his first state final. But he ran into a buzzsaw as Grello took control right from the opening whistle. He won the hand control battle and eventually earned a takedown 1:08 into the bout before using a nice move to roll over and earn two back points for a 4-0 lead.
That was all Grello needed as he rode out Sosinsky for the entire second period en route to a second straight state title.
"Last year I was real fired up. This year I knew I had to stay more composed," said Grello. "I had to stay confident and wrestle hard. Getting two in the first period is huge. I know I'm a hammer on top and I felt confident from there. It's awesome to win another state title and I've got to thank everyone around me who sacrificed for me to get to this point."
DePaul's Brandon Kui took the mat at 182 pounds in an intriguing matchup against Luke Drugac of Morris Knolls. Kui pushed the action for most of the match but found himself tied at 3 early in the third period. Kui kept pressing forward and it paid off. He was able to trip Drugac to the ground and finish the move for a 5-3 lead. He gave up an escape late but held on to earn his first state title with a 5-4 victory.
Next up was, guess what? Another Bergen Catholic star looking to win a state title as 195-pound Kevin Mulligan had a tough task ahead of him against, Dean Drugac of Morris Knolls. Mulligan had a significant height edge and used that leverage to his advantage.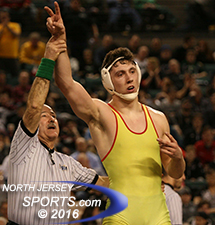 With a win in the 195-pound final, Bergen Catholic's Kevin Mulligan won
a second straight state championship.
Drugac, the brother of the 182-pound finalist, had bulldozed his way through the entire season but it was Mulligan who set the tone. His takedown near the midway point of the first period gave him a 2-0 lead. From there, he used his conditioning and experience of wrestling on top to take control.
The second period was a carbon copy of the first with Mulligan scoring another takedown and riding hard to effectively wear down the physical Drugac in closing out a 5-1 victory to repeat as a state champion.
"Hand fighting was big and staying heavy on his head; that was the plan going in," said Mulligan. "I wanted to wear him down and then go for his legs when he popped up. I know he wasn't used to working hard on the bottom because he's so strong. The fact that we all got our second state title is something I'll always remember."
The final at 285 pounds pitted Don Bosco's Eric Chakonis and River Dell's Joe Longobardi. The crowd was behind Longobardi, who pulled a slew of upsets to reach his first state final. Chakonis was a bit of an underdog story as well after not even reaching Atlantic City last year, except to watch his brother Zack win the state title in the same weight class.
Already leading 2-1 going into the second period, Chakonis made a nice move for a reversal just seconds in to grab a 4-1 lead. Longobardi escaped and then, after starting on bottom, escaped again to start the third to cut the lead to 4-3. Longobardi pushed forward late to try and earn the go-ahead takedown. Chakonis kept his cool and caught him coming in with 15 seconds left to score the clinching takedown for a 6-4 victory to keep the heavyweight title in the Chakonis family.
That set the stage for the match that everyone in the entire arena was waiting for. There was a buzz in the arena as the fans knew they were witnessing something special. Suriano's opponent would be no slouch by any stretch. Ty Agaisse of Delbarton is a former state champion heading to wrestle in the Ivy League at Princeton. Suriano handed Agaisse a loss in last year's state final and gave him his only loss this season as well.
Agaisse came in with the gameplan of trying to keep things close and hopefully steal a monumental victory late. While the scoreboard indicated that Agaisse did indeed keep it close, it was Suriano who dominated the action from start to finish.
Suriano nearly had a takedown late in the first period but the referee ruled the two were out of bounds as the opening stanza ended with no score. Suriano escaped to start the second period and then got a hold of Agaisse's left leg before picking it up and dropping him for the takedown with 42 seconds left for a 3-0 lead.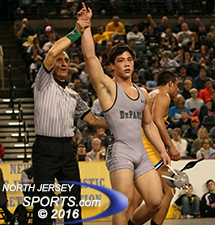 DePaul's Brandon Kui

won Passaic County's lone title with a 5-4 win in the 182-pound final.
The lead was just two points in the final seconds when Agaisse tried to earn a tying takedown. Suriano maintained his composure just as he has throughout his high school career to hold on for the record-setting victory.
"I've made a lot of big jumps from the beginning of the season until now," added Suriano. "I've wrestled (Agaisse) four of five times. He's got good coaches and he's a tough competitor, but I knew I was the better wrestler. They're gunning for Floyd Mayweather, they're gunning for Jordan Burroughs, they're gunning for Conor McGregor. You want to be the best you've got to beat the best, that's what gotten me where I am today."
Suriano became just the fourth wrestler ever to win four straight state titles and just the second to do it without a high school loss. The other is Anthony Ashnault of South Plainfield, who just helped Rutgers to its first Big Ten title on Sunday. To put things in perspective, Suriano faced the best both New Jersey and the entire country had to offer in his four years in the well-travelled and well-tested Bergen Catholic program and of his 159 victories, 113 of them (71%) came by a pin, technical fall or major decision.
Sophomore Shane Griffith capped the dominant day for Bergen Catholic with an exciting match to close out the championship session. He trailed Michael VanBrill of Clearview, 2-1, after two periods and was in serious trouble of falling further behind at the end of both of those periods. He held on to stay within one before an escape in the third period forced overtime. In the OT, Griffith finally finished a shot. He got a hold of VanBrill's ankle and took him down with 10 seconds remaining for a second straight state title in thrilling fashion.
The 2016 state championships will be remembered as the one in which Bergen Catholic's star shined bright once again with four wrestlers winning state titles for the second straight year. But no star shined brighter than Suriano, the tournament's Most Outstanding Wrestler, who will go down as the greatest high school wrestler ever to don a singlet in the history of New Jersey or at least he shares that title with Ashnault.
"I obsess about winning, obsess about being the best to ever do it," said Suriano. "It's awesome to get down here and do it again. I want to thank my family, my coaches, and my teammates. They have been here for me my entire life and I can't thank them enough. Wrestling is the best sport. It's a one-on-one sport and you can't rely on nobody. It's who comes more prepared that day and who wants it more.
"This isn't the end of a great career, I think this is just the beginning. It's just the beginning of an awesome lifestyle and an awesome future with wrestling on and off the mat. I love wrestling in this arena and it's an honor to be here. I do what I need to do to be a champion. It ain't always going to be pretty, it never gets easier. All I've got to do is keep working and stay true to myself believing that I'm the best competitor out there."
CLICK HERE FOR MORE PHOTOS FROM THIS GAME. TO BUY A COLLECTOR'S PRINT OF THIS STORY, PLEASE VISIT 4FeetGrafix.com.