Thursday, February 11, 2016
By Rich Barton
NJS.com Staff Writer
Jacob Abill celebrating his pin in the final match of the night that gave Clifton a come-from-behind 32-31 victory over North Bergen in the North 1, Group 5 state sectional semifinal in Wednesday.
CLIFTON – Clifton was one step away from being a champion last year, only to get taken out at the bitter by North Bergen in the state sectional final. In that loss, heavyweight Jacob Abill was pinned and could only watch as the North Bergen celebrated its capturing of the North 1, Group 5 title at the Mustangs' expense. It was a feeling that drove Abill to work on his technique, his conditioning, and to get stronger in the off-season with the hopes of getting another shot at the Bruins in the state playoffs this year.
As fate would have it, not only did Abill get that chance, but he got it in the most thrilling way possible.
In the last bout of the night and with his team down by five points, Abill knew he needed a pin to keep Clifton's season alive. With his teammates, coaching staff and a raucous crowd behind him, Abill knew that all of the hard work was for this match. It was his time to shine and he seized the opportunity in a match that was 12 months of sweat in the making.
Abill's pin with 18 seconds left in the first period capped a wild comeback as top-seeded Clifton advanced to the North 1, Group 5 section final with a 32-31 triumph over fourth-seeded North Bergen on Wednesday night at Clifton High School.
"This is a huge win for us especially after losing to them last year," said Abill. "North Bergen is a strong team and we had been hoping all season that we get another chance at them in the states."
The matched started off all North Bergen, sparked by a quick pin from 106-pounder Matt Ippolito to start the match. Four matches in, the Bruins' lead had grown to 16-0. But within that span, Clifton's 120 and 126-pounders, Cole Ceneri and AJ Tudda, were down big early but held on late to keep from getting beaten by major decision. That saved two points and set the stage for the heroics of the Mustangs in the upper weights.
Matt Ippolito (top) got the match started in fine fashion for North Bergen with his pin at 106 pounds.
A technical fall by James Murdoch got Clifton on the board. Pins by standout Mo Farhan and Tibi Rizea put the Mustangs back within reach. North Bergen responded with victories from Robinson Reyes and Leo Subiza at 170 and 182 pounds to take a 31-17 lead with three matches left, putting Clifton's section title hopes on the brink of extinction.
The Mustangs refused to accept their fate and that started with a gutsy effort at 195 pounds from Andriy Danliuk. North Bergen's Cruz Donato nearly put Danliuk to his back early and controlled most of the first two periods. As the match wore on and the Clifton crowd came alive, Danliuk found his inner strength and willed his way to victory. He tied the match in the third period before scoring on a takedown at the buzzer to keep the Mustangs' slim hopes alive, down 11 with two matches to go.
"I had to step up my game because we needed to get points to stay in the match," said Danliuk. "As a senior, I thought I had to do this for our team. We have worked really hard to get here and the team spirit is what drove me to win. This is exactly why I wrestle, to come through for my teammates in a match like this."
Daniel Parra was in the exact same situation that Abill, also having been pinned in the section final against North Bergen last year. With the crowd buzzing behind him, Parra could barely contain his adrenaline before the match. It did not take him long to unleash it as he needed just 29 seconds to win via pin and set the stage for Abill.
The match came down to 285 and Abill could not believe that everything he had envisioned through the off-season and from the first day of practice was finally coming to fruition. Abill had no time to reflect on the past though. His only focus was how he was going to get this pin and move his team one step closer to glory.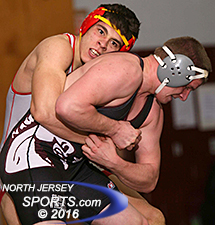 Andriy Danliuk (right) scored a takedown at the buzzer to get the win at 195 pounds to keep Clifton in the match.
He went for a headlock on Taureen Jarrett just seconds into the bout but Jarrett slipped out and nearly had a takedown. There was no denying Abill though and he hit his second attempt at a headlock and throw. Jarrett fought valiantly for nearly 40 seconds to stay off of his back but Abill was attentive to the advice of his coaching staff and got both shoulders to touch for a 1:42 pin that completed the comeback and sent the Mustangs onto the North 1, Group 5 section final.
"It was definitely getting loud and crazy when I got the takedown; I just had to keep reminding myself to stay patient because I had a lot of time," said Abill. "I was definitely nervous going into the match but our team worked too hard and I worked too hard to get here and come up short. When I had him down I just kept looking to Coach (Dan) Galeta to see where to place my arms to make sure I turned him for the pin."
Clifton (20-2) will not only face former NNJIL rival Hackensack in the North 1, Group 5 final on Friday night at 7:00 p.m., but the Mustangs will get them at home in front of what will surely be a capacity crowd.
"It will be awesome to wrestle here on Friday night. We feed off of a big crowd like that," added Abill. "Tonight was like a dream come true for me to win the last match with a pin. A lot of work went into me being ready for this match. But it doesn't mean much if we don't get it done on Friday. Everyone has been working really hard in the room and everyone has been contributing. Now it's time to go out there and get the job done."
CLICK HERE FOR MORE PHOTOS FROM THIS GAME. TO BUY A COLLECTOR'S PRINT OF THIS STORY, PLEASE VISIT 4FeetGrafix.com.