Thursday, January 28, 2016
By Rich Barton
NJS.com Staff Writer
Owen Ross opened the festivities with an overtime win at 106 pounds for Cresskill, which put a lock on a No. 2 state sectional seed with a 42-25 win at Pompton Lakes on Wednesday night.
POMPTON LAKES – For the past few seasons Cresskill has been trying to do what many Group 1 schools have tried, but few have succeeded at, which is to build a quality wrestling program that wins year in and year out. Trying to fill out a 14-man lineup and cover all the weight classes with a limited pool of candidtates is not an easy job. It goes in cycles and, with a healthy roster and a senior-laden lineup, this is the year that Cresskill looked to make a run at a deep state tournament run.
The Cougars got their chance to mark themselves as a contender on Wednesday night as they traveled to face defending section champion Pompton Lakes with essentially the No. 2 seed in this year's North 1, Group 1 state tournament on the line.
With plenty of power points at stake and going on the road to wrestle in front of a packed house, the Cougars set the tone and took the home crowd out of the match early. Cresskill won the first four bouts and never looked back in a 42-25 triumph at Pompton Lakes High School.
"We battled all night and we won most of the close matches tonight," said Cresskill head coach Nick Calandrino. "We push ourselves when it comes to conditioning to get ready for these types of matches."
This was an old school wrestling match that started at the lowest weight class, 106 pounds. Cresskill's Owen Ross and Pompton's Brian Fego were deadlocked after three periods and needed overtime to decide a winner. Ross kept attacking in the extra session and was awarded a stall point to get Cresskill on the scoreboard first.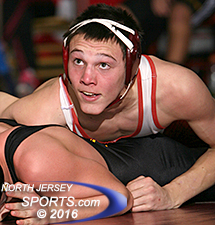 Logan Mahoney posted a major decision victory for Pompton Lakes.
Kenny Spadaccini followed with a second-period pin and Wyatt Ross held off a late flurry for a decision to set up the most exciting bout of the evening between Cresskill's Michael Chambers and Luis Herrera of Pompton Lakes.
Both wrestlers were aggressive right from the moment the referee raised his hand to start the match. Chambers was nearly put to his back twice but wiggled his way out. The sophomore kept up his attacking style and was rewarded in the second period. With the score tied at 8, he was able to turn Herrera for a pin in 3:23 to give the Cougars an 18-0 lead.
"It was a crazy match and he almost had me to my back but I stayed calm," said Chambers. "I think I was too hyped up early but I regained my composure and made sure I took the match. We got off to a really good start and I knew I had to six for my teammates. Our confidence is through the roof right now. We took a big step forward and now I want us to take the next step towards being champions."
Pompton Lakes trimmed the lead to 18-10 on a major decision from Logan Mahoney and a forfeit to 140-pound standout Chris Grecco. That was as close as the Cardinals would get as Cresskill showed off their strength in the bridge from middle-to-upper weight classes with four straight victories.
Cresskill's Brendan Coffey and Conn O'Rourke pulled out close decisions at 152 and 160 pounds, respectively. Those wins were sandwiched between 47-second pins by teammates Daniel Garzino and Grant Barone with Barone's win at 170 giving Cresskill a commanding 36-10 lead.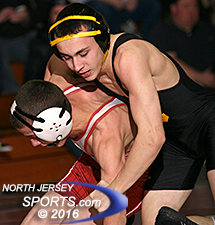 Wyatt Ross won a decision for Cresskill, which improved to 13-1 on the season.
"The bottom line is they came through when they had to and we didn't," said Pompton Lakes' head coach Scott Mahoney. "We're so young with eight freshmen and sophomores in our lineup while they have eight seniors. The young guys haven't been in too many of these matches and we'll go back to the drawing board. We will probably see these guys again in two weeks. We'll make adjustments, they'll make adjustments and that's what makes it fun."
Nick Munier (195 pounds) also had a pin for Cresskill (13-1), which has all but locked up the No. 2 seed for the North 1, Group 1 state tournament. If the seeds hold true, the Cougars will travel to top-seeded undefeated Sussex County power Kittatinny for the section final. When the state tournament right around the corner, Calandrino feels him team is peaking at the right time and ready to make a championship run.
"We have a lot of experience and we've prepared ourselves to be in a position to be section champs," added Calandrino. "Our guys are in great shape. I thought we outwrestled them and were in better condition come the third period. Looking ahead to the states, Kittatinny is a very good team but we feel that's a match we can win. We will worry about that when the times comes. Now we'll just go back to work tomorrow and be better tomorrow than we were tonight."
CLICK HERE FOR MORE PHOTOS FROM THIS GAME. TO BUY A COLLECTOR'S PRINT OF THIS STORY, PLEASE VISIT 4FeetGrafix.com.