Thursday, January 7, 2016
By Cory K. Doviak
NJS.com Editorial Director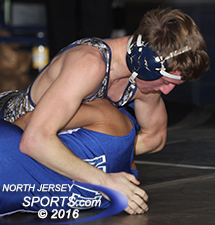 With a pin in the night's opening match at 120 pounds, Robert Barzelatto got Old Tappan off and running on the way to a 58-6 win over rival Demarest.
OLD TAPPAN – Northern Valley/Old Tappan's wrestling team was one win away from reaching its goal last season. On the road at top-seeded Roxbury, the Golden Knights came up eight points short of the North 1, Group 4 state sectional title. That makes this year's team goal a pretty obvious one.
"One more win," said Old Tappan head coach Rob Ortiz. "Last year we came pretty close. We made it to the finals and this year we are looking to take that next step. That is what we are focused on."
The Knights were also able to focus on Wednesday night's dual, a home match against rival Northern Valley/Demarest under the new match lights that have changed the atmosphere in the Old Tappan gym. In front of a big crowd and under the spotlight, Old Tappan won all but two of the wrestled bouts, picked up three forfeits and posted a 58-6 win that moves its record to 4-1 on the season.
Starting at 120, junior Robert Barzelatto got the home team off and running with a second period pin. Already up 5-0 with a first period takedown and three near-fall points, Barzelatto got the full six team points 1:25 into the second. That was followed by the two most competitive matches of the night, a pair of 7-5 wins by John Pabst and Peter Andresen.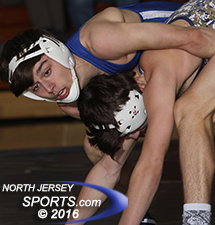 Dylan Barry got Demarest's first win, a hard-fought 4-3 decision at 138 pounds.
Old Tappan had the obvious advantage in the upper weights were it wound up getting three forfeits and 18 free team points, but it was the work of Pabst and Andresen, the 126 and 132-pounders, that set the tone for the wide disparity in the final score.
"We came into the match looking to maintain the level that we have been wrestling at through the first couple of weeks of the season and we did that," said Ortiz, whose team finished fourth in the BCCA George Jockish Holiday Tournament just before the New Year and had eight individual medalists. "John Pabst and Peter Andresen pulled out a couple of good wins in quality matches and even in the two losses we had, I thought our kids wrestled tough and gave a good effort."
Old Tappan's first loss came at 138 where Dylan Barry got two reversal points with just over one minute to go in the third period to take a one-point lead and then rode out the rest of the match to win 4-3 and get the Norsemen on the board.
Stefan Casey grabbed the momentum back for Old Tappan with his second period pin at 145 to make it 18-3 in team score. Casey, who missed the county tournament with an injury, is just working his way back into the lineup. He was up 6-0 after the first period and then got the pin 1:25 into the second.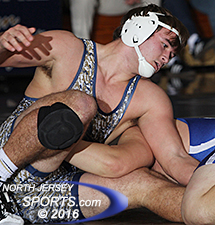 Senior Jedh Downey pinned at 285 for Old Tappan, which improved to 4-1 on the season.
"I prepped for my match as best I could by working hard in practice," said Casey. "I want to make it regions this year and I have been working a lot of my neutral position with a lot of heavy weights so I can get used to trying to get bigger guys off of me."
At 152, Amichi Oring gave Demarest its second win of the night with a third period takedown that provided the final margin in a 7-5 victory. Declan Ward, who bumped up to 160, then gave Old Tappan six points with a first period pin in advance of the three straight forfeits. Andrew Arakelian (170), Tyler Mullen (182), the two-time BCCA champ and Andrew Cometa (195) all ran unopposed. Joe Jordan won, 6-0, at 220, Jedh Downey pinned early in the second period at 285, Matthew Murawski won 7-3 at 106 and Andrew Dippolito gave Old Tappan a sweep of the final eight matches with his 12-4 majority decision at 113.
While its proven strength is in the mid to upper weights, Old Tappan, whose only blemish so far is a loss against Emerson/Park Ridge, the third place finisher at the BCCA tournament, is getting the contributions from down below that is making it a well-rounded team that can challenge once again for a state sectional championship.
"We were all upset to get so close last year and not win. That is motivation for us. We lost a couple of good guys from last year, but we have a lot of guys who have committed to training in the offseason and getting better," said Ward, who finished fourth in the BCCA Tournament at 145. "Everybody talks about our upper weights, but we have all of these lightweights coming in after wrestling for clubs in the offseason and making an impact. We are going to need everybody to win a state title and everybody is working hard to get there."
CLICK HERE FOR MORE PHOTOS FROM THIS GAME. TO BUY A COLLECTOR'S PRINT OF THIS STORY, PLEASE VISIT 4FeetGrafix.com.