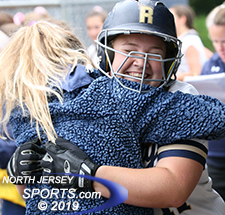 Lauren Cantor gets a well-deserved hug after her pinch hit single drove in the only run in Ramsey's 1-0 victory over Lenape Valley, which gave the Rams a third straight North 1, Group 2 state sectional championship.
RAMSEY – When Lauren Cantor arrived at Tisdale Elementary School in Ramsey on Thursday she could not have had the slightest idea about how her or her team's afternoon would end. Cantor had all of six varsity at-bats on the season coming into the day, none of which came during the state tournament. But when her number was called with the season on the line, Cantor was ready to do a job and did it to perfection.
Cantor's two-run single in the bottom of the sixth drove home the only run of the game as top-seeded Ramsey won the North 1, Group 2 title for the third consecutive year with a 1-0 triumph over sixth-seeded Lenape Valley on Thursday.
"I remember watching the run this team went on last year and I just wanted to be a part of something like it this year," said Cantor. "I can't even believe this is happening. To get a chance and then come through feels amazing."
Lenape Valley came into the section final as the No. 6 seed, but its appearance was hardly a fluke. The Patriots lost to Ramsey in the same round last year and possessed one of the top pitchers in New Jersey, University of Kentucky commit Alexia Lacatena. With her and Ramsey senior Victoria Sebastian firing on all cylinders it was apparent early on that this game would come down to who would score first.
In the top of the third inning the Patriots put two runners in scoring position and got a sinking line drive off the bat of Sophia Ruggieri. If that ball had dropped, both runs would have scored and the Rams would have needed a huge comeback to keep their season alive. Fortunately for the Rams they have the ever-steady Emma Cunningham in right field. She got a great jump and made a diving catch to end the inning and keep the game scoreless.
Emma Cunningham's diving catch in rightfield in the third inning probably saved two runs for Ramsey.
"It was our last game at Tisdale and I had to sell out for that ball," said Cunningham. "It was a play where it was just read and react to the ball coming off the bat. Nobody wants this season to end and the seniors don't want to wear this jersey for the last time."
The Patriots put runners on second and third again in the fourth inning. This time Sebastian did not need the defense behind her to make plays as she notched a strikeout to end the threat.
"Coming into this game I knew I had to hit my spots because (Lacatena) wasn't going to give up many, if any, runs," said Sebastian. "I felt like I let my team down in the county final loss to Old Tappan and I didn't want to have that feeling again."
Ramsey had the exact same opportunity in the bottom half of the inning with runners on second and third and two outs. Olivia Jarvis smoked a line drive but it was snared by Lacatena in the circle as the teams traded zeros into the sixth.
On the surface it looked like just another inning with Lacatena firing one pellet after another. It changed with one swing when Katie Nowak drove a pitch off the fence in right-center for a double, Ramsey head coach Chris Caserta had a hunch and went with by inserting Cantor as a pinch-hitter. With the count 1-0, Cantor went with a outside fastball and drove it into right field. Courtesy runner Hailey Jones scooted around third and beat the throw to the plate, giving the Rams a 1-0 lead.
"(Lacatena) is an incredible pitcher who throws really hard, but I had to be aggressive," added Cantor. "I didn't even know if I'd get a chance to bat. I wasn't entirely sure I'd get a chance to play. Sometimes I get in, sometimes I don't, but I try to be the best teammate I can be and make sure I'm ready if I get the chance. I was definitely nervous being in the spot I was in and I had to stay focused. Coach (Chris) Caserta told me to hit the first good one I see to the right side and that's basically what happened."
Victoria Sebastian struck out nine for Ramsey, which improved to 24-4 heading into Friday's Group 2 state semifinal against Verona.
Sebastian wiggled out of trouble several times during the game and had to escape one more jam in the Patriots' last at-bat. After issuing a one-out walk followed by a sacrifice bunt, the Rams elected to walk the dangerous Lacatena and put the  tying run in scoring position and the winning run on base. That set up a duel between Sebastian in the circle and Anna Campanile at the plate. The Villanova-bound senior had her best stuff going but Campanile was able to spoil four straight 2-2 pitches. Then, on the ninth pitch of the at-bat, Sebastian finally won the battle with a strikeout as Ramsey overcame a crushing loss in the Bergen County final last weekend to notch its third straight section title.
Sebastian allowed four hits with three walks and nine strikeouts the 10th shutout of the season for Ramsey (24-4). Kaitlin Houser, Emma Cunningham, Nowak, Cantor, and Sebastian had the hits for the Rams. Lacatena took the hard-luck loss giving up five hits with 7 Ks and no walks for Lenape Valley (16-6).
Ramsey will have to turn it around quickly and face off in the Group 2 state semifinals against a team with absolutely nothing to lose. Verona, who was the No. 10 seed, is the only double-digit seed remaining in the state tournament after beating top-seeded Hanover Park in the North 2, Group 2 final. That game will be played today at Caldwell University with the first pitch at 1:30 P.M.  
"It's all about the team and that's how we've grown into what we've been the past few years," said Sebastian. "Everybody cheers each other on; everyone contributes in one way or another. No team can be truly successful from just one player. It's a team game and we embrace everyone playing a role. We're a family that plays for each other, wins for each other and we still have a lot left to play for."
FOR MORE PHOTOS FROM THIS EVENT PLEASE CLICK HERE. TO BUY A COLLECTOR'S PRINT OF THIS STORY PLEASE VISIT 4-FeetGrafix.com.