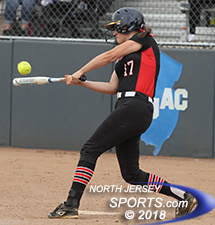 Robbinsville's Kate Hunter making contact with the three-run homer in the bottom of the fifth inning that was the defining blow in the Ravens' 6-2 win over Ramsey in the Group 2 state final at Kean University.
UNION – It is rare for the same two teams to make it back to the same state final on the same field with nearly the same lineups intact for two straight seasons, but it could be seen coming a mile away this year. Not only did Robbinsville and Ramsey play a thriller in last year's Group 2 state final that was decided by one swing of the bat, but they also ripped through their regular seasons and respective county tournaments this season with just about the same cast of characters. When they arrived at Kean University on Sunday for a rematch, 14 of the 18 players that were on last year's state final lineup cards were on this year's as well.
That means that the top two spots in the Robbinsville batting order are still intact and Chelsea Manto and Shea Walsh were too much to handle once again. The pair of junior left-handed slap-hitters scored both of the Ravens' runs in last season's state final win and they were right in the middle of everything again on Sunday. They combined to go 5-for-8 at the plate and played a pivotal part in a 5-run fifth inning that took Robbinsville from one run down to a 6-2 victory and a second straight Group 2 state championship.
Manto singled leading off that fifth inning and stole second base from where she scored easily on Walsh's opposite field single. Walsh then joined Ally Taylor in jogging home on Kate Hunter's three-run homer, the decisive blow that put the Ravens in front for good.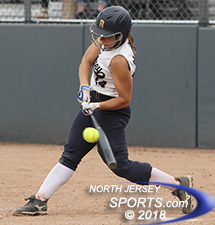 Victoria Sebastian had two doubles, an RBI and scored a run for Ramsey.
"Even though we fell behind I knew we were a strong team and that we would come back. It just took stringing a couple of hits together in that inning," said Walsh, the Robbinsville catcher who was 2-for-4 with an RBI and a run scored. "I think me and Chelsea are a threat at the top of the lineup because of our speed and our ability to make contact, but then we have very strong 3, 4 and 5 hitters and right down to the bottom so we can keep the pressure on."
Ramsey's top of the order is no slouch either as Victoria Sebastian and her sister Olivia are a different kind of table setting tandem. Victoria, who leads off, is a threat to go deep on any swing she takes and Olivia is a speedy contact hitter who can hit gaps and take extra bases. Those two combined to go 5-for-8 themselves and teamed up to put the Rams in front in the top of the third inning.
Emma Cunningham reached on an error leading off the frame and Victoria Sebastian (2-for-4, RBI, R, 2 2B) doubled her home to make it 1-0. Olivia (3-for-4, RBI) then singled in her sister to make it a two-run advantage for Ramsey. Robbinsville got one of those runs back in the bottom of the fourth on an RBI single by Olivia Moser. It could have been more as the Ravens had the bases loaded with no outs, but Victoria Sebastian, also Ramsey's starting pitcher, got three straight outs with no advancement to hold the one-run lead at least temporarily.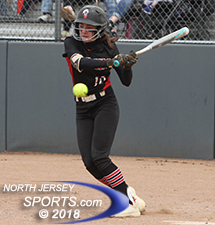 Chelsea Manto was 3-for-4 with a run scored and a stolen base for Robbinsville, which is now 26-1 and a back-to-back Group 2 state champion.
The real damage done in that inning, however, was that it flipped the Robbinsville (26-1) lineup over and Manto opened the bottom of the fifth with an infield single, which led to the chain of events that produced the five-run outburst that titled the game in the Ravens' favor for good.
"They [Manto and Walsh] try and they fight so hard. They have consistently good at bats and I could not be prouder of what they do," said Robbinsville head coach Lisa Rich, whose program has won state sectional titles in seven of the last eight years. "I just try my best to keep them calm and try to make sure that they stay out of their own heads. They just work off their athletic ability."
Manto and Walsh teamed up to tie the game and Hunter pretty much ended it with her home run over the left field fence.
"I went up there knowing that I just needed a simple hit even if it was just a single to keep the inning going," said Hunter. "I saw it coming in, the pitch was a little up in the zone, and I knew I got it good as soon as it hit the bat."
Ramsey had its chances as it went down in order just once in the game. The Rams left nine runners on base in total, they had two runners in scoring position with one-out in the fifth, but left them there and mounted a final charge in the top of the seventh.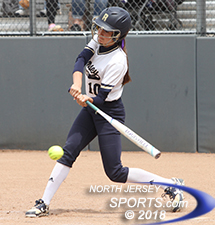 Olivia Sebastian had three hits and an RBI for Ramsey, which finished its season with a 27-2 record.
Victoria Sebastian stroked a one-out double, her second of the game, and Olivia Sebastian then beat out an infield single. Ryan Henry reached on an error to load the bases and bring the tying run to the plate with one out, but Manto, the shortstop, covered a lot of ground to grab a pop-up in foul territory and Hunter got a called strike three to end it.
Ramsey was one or two hits away, but its season ended with a 27-2 record that included a second straight Bergen County championship and another North 1, Group 2 state sectional crown.
The Rams fought right to the end.
"I would not have expected anything less from this group. They are a bunch of fighters and it would have been nice if we had come out on the winning side of it, but Robbinsville…they are great. They fight, too. They are used to being winners and our girls are, too, and that is why we have both been here the last two years," said Ramsey head coach Chris Caserta. "We were close. We had a couple of innings where we were a couple of hits from breaking it wide open. I will bet on us every time in those situations. I know it did not work out the way we wanted it to today, but I love these girls and I will bet on them every single time because they are fighters."
The smart money might be put on the chance that these two power house programs will make it a trilogy next year. Robbinsville will lose Hunter and third baseman Sophie Billings to graduation, but the rest of the Ravens will return. Ramsey will lose Henry, the catcher who will play next year at Fordham, clean-up hitter Dani Dougherty, left-fielder Gabby Marchisin and second baseman Margo Poelstra, but every other starter will be back including all three Sebastians; Victoria, Olivia and freshman starting shortstop Bella.
Before that though, Robbinsville has more immediate concerns as it heads to the Tournament of Champions, which was instituted last season. Robbinsville was the No. 3 seed last year and lost in the opening round to Cedar Grove. This year the Ravens are the No. 2 seed behind Non-Public A champion St. John-Vianney and will play the winner of Tuesday's first round game between No. 3 North Hunterdon and No. 6 Immaculate Conception, the Non-Public B winner.
TO BUY A COLLECTOR'S PRINT OF THIS STORY PLEASE VISIT 4-FeetGrafix.com. FOR MORE PHOTOS FROM THIS GAME PLEASE CLICK HERE