Kaylee Whittaker tossed a one-hit shutout for Steinert, which won its second Group 3 state title in the last three years with a 2-0 victory over Indian Hills.
UNION – Indian Hills has come across every possible situation and all types of pitchers throughout its run to the Group 3 state final. Regardless of the opposition, the Braves had used a mixture of dominant pitching, solid defense, and timely hitting to get past tough opponents along the way. In the state final on Saturday the Braves saw what it was like to take on an opponent that uses the same approach also to tremendous effect.
Steinert's Kaylee Whittaker kept the Braves stymied at the plate all game long. With limited scoring opportunities it was going to come down to which team got the big hit and that belonged to Carli Backlund, whose two-out, two-run double in the third provided the game's only runs as Steinert won the Group 3 state title for the second time in three years with a 2-0 win over Indian Hills at Cougar Field on the campus of Kean University in Union.
"We knew this was a good team with an excellent pitcher in (Angela) Saric, we had to be at our best to win this game," said Steinert head coach Jean Ruppert. "Kaylee had to make good pitches and we had the confidence that we'd make the plays in the field because of how hard we work at it. That with the big hit by Carli was enough to get the job done."
Indian Hills looked to put together a two-out rally in its first at-bat. Sarah Stocker reached on an error with two outs and Angela Saric was hit by a pitch, but Whittaker was able to get the next out to get out of the jam.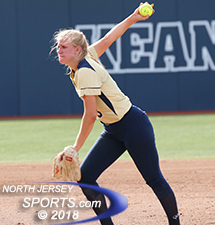 Angela Saric and Indian Hills ended the season with 29 wins and a state sectional title.
Saric breezed through the first two innings before Steinert's No. 9 batter, Megan Brugnoli, drew a one-out walk in the bottom half of the third inning. Dara Kelly followed by slapping a single to right. With two outs, Backlund worked the count full before taking an outside pitch into the right-centerfield gap. With both runners taking off on the pitch, they scored easily as Steinert grabbed a 2-0 lead.
"It was important to stay calm and stay confident against a pitcher as good as she is," said Backlund. "I was just thinking of hitting it to the right side and got a good pitch to hit."
Despite the Braves' diverse lineup of speed and power Whittaker handled it with relative ease. She mixed speeds and the counts she would throw those pitches in over the course of the game.
"We watched Whittaker on tape and we knew she was a really good pitcher. She was more impressive in person," said Indian Hills head coach Joe Leicht. "She was giving us the hard stuff early and then when we tried to adjust she went to the changeup; so much so that she was throwing it even when she was behind in the count. It kept us off-balance and we didn't get the good at-bats we were hoping to get."
Whittaker did not allow a hit until a one-out single by Indian Hills' Kelsey McLennan in the sixth. Two batters later, Saric was hit by a pitch for the second time in the game to put the tying run on base. Whittaker settled down and got a strikeout to keep the Braves off the scoreboard. After losing in heartbreaking fashion to South Plainfield in the Group 3 state final last year, the Spartans were just three outs away from putting that experience well behind them. Whittaker retired the Braves 1-2-3 in the seventh as Steinert secured the Group 3 state title and put an end to Indian Hills' run in the process.
Whittaker was dominant for Steinert, tossing a one-hitter with one walk and 11 K's. Saric took the loss for Indian Hills, whose season came to a close with a 29-6 record. The St. John's-bound senior gave up four hits with three walks and eight strikeouts.
While the end provided a disappointing result, the season as a whole was a huge success with a section title in hand.
"I'm really proud of what this group accomplished," said Leicht. "This is a tough loss but it's not easy to get down here. We're a very good team and we went a long way, that's something we should be proud of. When you get this far you're going to run into some really tough teams like Steinert, who has been here the past three years. We were two very similar teams and it came down to who got the one hit. They got it and we didn't, that's the difference in the game."
TO BUY A COLLECTOR'S PRINT OF THIS STORY PLEASE VISIT 4-FeetGrafix.com. FOR MORE PHOTOS FROM THIS GAME PLEASE CLICK HERE