Dani Dougherty hit the go-ahead single in the top of the fifth inning and Ramsey went on to a 7-2 victory over top-seeded Indian Hills to win its second straight Bergen County Tournament title.
MAHWAH – As defending Bergen County champion Ramsey warmed up on Monday for the Bergen County Tournament softball championship against top-seeded Indian Hills it dawned on the players that the time they will spend together in uniform was running short. A crucial ingredient to winning championships is making lasting friendships all while working towards a common goal.
"We're a really close team and we don't want the season to end more than anything else," said Ramsey's Emma Cunningham. "We've been playing together since third grade so there are no agendas. We're so comfortable with one another. It's so nice to know that someone is always there to pick you up on and off the field."
Everyone must play their part and the Rams showed off their depth as numerous players made big plays at crucial points in the game. Dani Dougherty drove home the go-ahead run before the Rams tacked on three more on one play in the top of the sixth inning. That was enough run support for junior southpaw Victoria Sebastian, who picked up the win in the circle as Ramsey won its second consecutive Bergen County title with a 7-2 triumph over Indian Hills at Mahwah High School.
Setting a tone is always of the utmost importance in any championship game and Sebastian took care of that. She led off the game with a towering home run to centerfield to give the Rams a 1-0 lead.
"(Indian Hills' Angela Saric) is a great pitcher and I had to be a little more aggressive than I'd normally be leading off a game," said Sebastian. "She doesn't make too many mistakes so I was fortunate to get a pitch out over the middle of the plate, just as she did to me later in the game. I'm glad I took advantage of it because that set the tempo."
Angela Saric hit a home run for Indian Hills, which will try to bounce back on Tuesday when it hosts Sparta in the North 1, Group 3 state sectional final.
Indian Hills, just like Ramsey, has been dominant all season. The Braves were not fazed by an early deficit and answered back in the bottom half of the second inning on a run-scoring single from Merrick Gourhan to tie the game at 1.
Indian Hills had runners on in each of the next three innings but Sebastian wiggled her way out of trouble with some help from longtime battery mate Ryan Henry.
"I've been throwing to Ryan since I was in fourth grade so she knows just when to pump me up or calm me down with a joke to keep me loose," said Sebastian. "That definitely helps me get through those pressure situations. I know the right pitch will be called and I just have to hit my spot."
Sebastian helped her own cause with a one-out single in the top of the fifth inning before her sister, Olivia, moved her over with a bunt before an intentional pass to Henry set the stage for Dougherty. The senior lined a 1-1 pitch into left-center to score Victoria Sebastian and put the Rams in front, 2-1.
"Everybody has each other's backs and I just wanted to do my job," said Dougherty. "I just wanted to keep my hands back and then try to drive a pitch I liked. Anything that I had to do to get that run home from second I was willing to do."
The Rams took advantage of a big break and tacked on three much-needed insurance runs in the sixth inning. Bella, the third of the three Sebastian sisters in the Ramsey starting lineup, led off the inning with a single before Cunningham walked and Victoria Sebastian was hit by a pitch to load the bases with two outs. Olivia Sebastian then hit a chopper between second and third. Cunningham crossed directly in front of the ball and caused enough of a distraction to have it skip by the shortstop and into the outfield, which scored two runs. Olivia Sebastian then kicked the ball out of a tag play at second, which allowed Victoria Sebastian to score for a 5-1 Ramsey lead.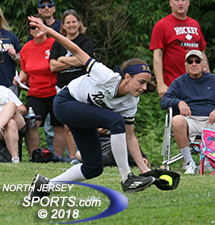 Emma Cunningham made two sparkling catches for Ramsey, which will host Lenape Valley in the North 1, Group 2 state sectional final on Tuesday.
Saric got one of those runs back with a solo shot to centerfield. That was as close as the Braves would come though thanks in large part to the underrated play of Cunningham. She made her second great running catch of the day down the right-field line to help escape the sixth inning without further damage. Then, in the seventh inning, her single drove in two more runs to make it 7-2. When second baseman Margo Poelstra made a tag on a runner for the final out of the game, the Rams met in the circle to celebrate the program's back-to-back county championships.
Victoria Sebastian finished 3-for-4 at the plate with three runs scored for Ramsey (25-1). She also picked up the win by scattering five hits with one walk and five strikeouts. Bella Sebastian added a pair of hits and two runs scored. Meghan Holloran had two of the five hits for Indian Hills (28-3).
Both Ramsey and Indian Hills will have to bounce back quickly with each team playing at home in sectional championship games on Tuesday. Ramsey will take on Lenape Valley in North 1, Group 2 and top-seed Indian Hills will host No. 2 Sparta in North 1, Group 3. With any loss from here on out marking the end of a team's season, the right to play together for at least one more day is the byproduct of winning championships.
"It's awesome to beat a really good team like Indian Hills," said Cunningham. "We stuck to our gameplan and we'll try to do that each time we step on the field to keep this season going as long as we can."
TO BUY A COLLECTOR'S PRINT OF THIS STORY PLEASE VISIT 4-FeetGrafix.com. FOR MORE PHOTOS FROM THIS GAME PLEASE CLICK HERE