Robbinsville pitcher Kate Hunter starts teh celebration after her 6-hit shutout in a 2-0 win over Ramsey in the Group 2 state final on Saturday.
UNION - When two of the best teams in New Jersey meet for a one-off, winner-take-all state championship game on a neutral field, the outcome is going to be decided by just a handful of plays over the course of seven innings. It was a razor thin margin that separated Robbinsville and Ramsey on Saturday night in the Group 2 state softball final at Kean University and every time an inch or two was the difference it was Robbinsville that came out ahead.
With two unearned runs in the top of the third inning and by playing error free behind junior hurler Kate Hunter, Robbinsville handed Ramsey its first loss of the season, 2-0, and won the Group 2 state title for the first time since 2013.
"This was two great teams going at it and this was definitely their night. They are a fantastic program, they are so well coached and their girls are awesome. They made plays tonight and we didn't," said Ramsey head coach Chris Caserta. "It was an inch here and an inch there."
It was literally by inches that Ramsey just missed taking the lead in the bottom of the first inning. With two on and one out, Ryan Henry hit a long flyball to left field and that sailed well over the wall, but barely to the left of the foul pole. What just missed becoming a three-run homer that would have gotten the Rams off to a rousing start instead turned into a momentum builder for Robbinsville, which pretty much controlled the action from that point forward.
Robbinsville has two weapons at the top of its lineup that are tough to combat. Both lefty slap hitters with tremendous speed and both just sophomores, shortstop Chelsea Manto and catcher Shea Walsh put tremendous pressure on opposing defenses. The second time through the order, the duo was given a chance to do some damage after an error allowed No. 9 hitter Chloe Witt to reach safely with one out.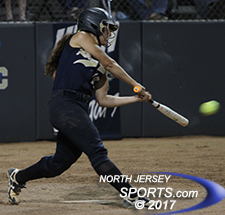 Victoria Sebastian hitting Ramsey's only extra base hit, a two-out double in the fifth inning.
Manto took Witt's place at first when she hit into a fielder's choice and then stole second. Walsh then hit a ground ball that Ramsey shortstop McKenzie Bishop dove to smother and might have had a play on Manto at second, but Bishop's throw from the ground hit the baserunner in the back and everyone was safe. Sarah Mazalewski then provided the only runs of the game on a flyball that was mis-tracked and fell untouched allowing two unearned runs to score.
Ramsey, which had bludgeoned its way to 29 wins in its first 29 games and scored 36 runs in its first five state playoff games, just could not get anything going after that first inning near-rally. Hunter worked a 1-2-3 second, survived a leadoff single by a Olivia Sebastian and a one-out infield hit by Emma Cunningham by getting two straight pop-ups in the third and worked a 1-2-3 fourth.
Victoria Sebastian smoked a two-out double off the wall in the fifth and Bishop led off the sixth with a single, but neither advanced as much as one base and Hunter (7 IP, 0R, 0 ER, 6 H, 4 K, 0 BB) retired the final four hitters she faced to give Robbinsville (24-4) as spot in the first ever Tournament of Champions, which gets underway on Tuesday.
Victoria Sebastian, also just a sophomore, had two of Ramsey's six hits and was also on top of her game in the circle. Both of the runs scored against her were unearned, she allowed just six hits and one walk and struck out seven.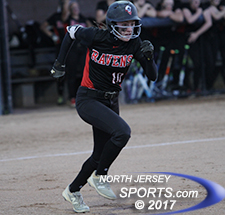 Chelsea Manto had two hits for Robbinsville, which one its first state title since 2013.
Should both programs retain their classification as Group 2 schools for the next two years, this could just the midpoint of an on-going rivalry. Ramsey beat Robbinsville for the title in 2015, the Ravens returned the favor this year and a grand total of three starters will graduate this year. Robbinsville will lose Mazalewski, its No. 3 hitter and centerfielder, while Ramsey will lose the left side of its infield in Bishop and third baseman Maddie Taradash. Everyone else will be back.
It is an interesting prospect for a real north/south rivalry going forward, but for now Ramsey was still trying to come to grips with the end of a historic season that saw it win 29 straight games, win the Bergen County Tournament for the first time since 1994 and also capture league and state sectional titles.
"It's a great season and that is why I know that my team feels horrendous right now, we all do. We all would love to raise that trophy. We came here with that intention. We came here to try to beat Robbinsville, but we knew our opponent, we knew how good they are and I wish we just could have made a couple more plays," said Caserta. "I will be honest with you, I am not really thinking about the future because this kind of team only comes around once in a long while. A coach can't really ask for a 29-1 season, for a group of girls that want to compete all the time and try to win and pick each other up. That comes around once every two decades maybe and I am fortunate enough to have coached them. I told them before the game that I am going to love them whether the scoreboard is in our favor or not and I do. I love them and I am not even thinking about next year."