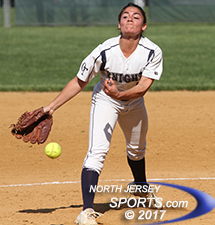 Senior Julie Rodriguez hit a home run and a double, drove in two runs and threw a four-hit shutout as No. 5 NV/Old Tappan opened the North 1, Group 3 state sectional tournament with a 7-0 win over No. 12 Montville on Thursday.
OLD TAPPAN - Northern Valley/Old Tappan senior Julie Rodriguez is a four-year varsity starter. She is the program's all-time hits leader, the starting pitcher since her freshman season and a player good enough to be recruited by the University of California Los Angeles, one of college softball's most storied programs and the place that she will spend the next four years of her career.
The secret has long been out, especially in Bergen County, and not too many opposing coaches are all that eager to throw Rodriguez good pitches to hit. She sees more than her fair share of intentional walks and unintentional intentional walks.
"There are coaches that want to pitch to her and see what she is all about and there are others that have seen her or believe what they have read about her and respect her. We understand it either way," said Old Tappan head coach Melissa Landeck. "She handles it in stride."
Montville head coach John Immediato decided to pitch to Rodriguez and she did, indeed, handle it in stride. Rodriguez smacked a home run well over the left centerfield fence leading off the bottom of the first inning to give her team the lead for good and then followed that up with a run-scoring double in the bottom of the second inning to help break the game open.
"I had a feeling they were going to pitch to me. This was not a team from right around here that knows that much about me or how other teams have pitched to me," said Rodriguez. "My first at bat I went up there ready to hit the ball hard."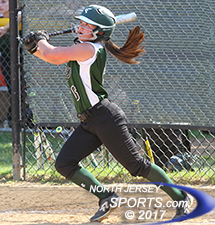 Gianna Palmisano had Montville's lone extra base hit, a two-out double in the top of the third inning.
With the lead that she gave herself, Rodriguez the pitcher took over from there as she threw a four-hit shutout with three strikeouts against just one walk as Old Tappan, the No. 5 seed in the North 1, Group 3 state sectional playoff bracket, advanced to the quarterfinals with a 7-0 victory over No. 12 Montville on Thursday in Old Tappan.
While Rodriguez finished 2-for-4 with 2 RBI and a run scored and went the distance in the circle, she got plenty of help. She struck out just three, so there were 18 outs to get in the field and Old Tappan played error defense for the full seven innings and there were plenty of contributors on offense.
Sydnie Weinberger (1-for-3, RBI) singled with two outs in the first inning to drive in courtesy runner Allison Hargrove to extend the Knights' early lead to 2-0. Lana Davidoff, the only other senior on the roster other than Rodriguez, got a rally started in the second inning by being hit by a pitch leading off and scored when Rodriguez hooked a double down the rightfield line. Sophomore Calista Zahoe bunted in freshman Sinead Albelli (2-for-3, 2 RBI, R), who had a big day hitting out of the No. 9 spot in the batting order, to give Old Tappan a 4-0 lead.
"I just try to be productive when I am in the lineup," said Albelli, her first ever postgame interview. "The game was fun and it was a great experience to play in the state tournament. I just tried to help as best I could."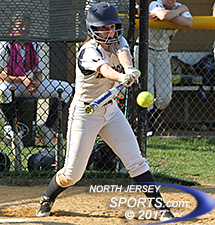 Freshman Sinead Albelli had two hits and drove in two runs for Old Tappan, which will face Sparta in the North 1, Group 3 quarterfinals for the second straight year.
Davidoff (0-for-0, 2 R, SB, SAC) was hit by a pitch for the second time in the game leading off the fourth and stole second before scoring on an error to make it 5-0. Old Tappan added two unearned runs in the bottom of the sixth to close out the scoring as Albelli knocked in both Lindsey Germano and Carolyn Goodman, who scored on a hard slide into the plate.
Montville did manage four hits, but could not string any of them together. The Mustangs got a one-out single in the second inning from Avani Dang (2-for-3), a two-out double by Gianna Palmisano in the third and a two-out single in the fourth by Dang, but were unable to move any of those runners up even a single base. Montville had multiple baserunners for the only time in the game in the top of the fifth when Dawn Holmes drew a one-out walk, the only one issued by Rodriguez, and Jaclyn Monaco singled.
A flyball to right by Palmisano moved the lead runner up to third, but Germano picked off a hard line drive hit by Kristie Monaco for the third out of the inning and Rodriguez set down the side in order in both the sixth and seventh innings and retired eight in a row overall to close the game.
Having been knocked out of the Bergen County Tournament on Sunday after giving up an unearned run in the top of the seventh inning against Mahwah, the Knights have only the state tournament to focus on. With the first win under its belt, Old Tappan will travel to No. 4 Sparta on Tuesday in a rematch of last year's quarterfinal game won by the Spartans, 1-0.
"We can't look back at anything with regret; we just look to be better today than we were the day before. We talked about how winning a sectional takes four wins and we had to win Game 1 today before we could look at two, three or four," said Landeck. "It was nice to get a good start and play a clean game. We did not make an error today mentally or physically and that is always a plus for us. When that is going, the rest seems to take care of itself."
Sparta also opened the state tournament in impressive fashion, a 16-0 win over No. 13 Passaic Valley on Thursday, and will host the quarterfinal just like it did last year when it eliminated Old Tappan in that 1-0 game. In that game, Rodriguez was just returning from injury and did not pitch. This time around, she is fully healthy and is trying to extend her senior season for as long as she can.
"I didn't pitch [against Sparta] last year so I really don't know yet how I am going to work against their hitters, but I do know that we hit them OK, not great, but OK and we were right there with them. I think it is going to be another good game," said Rodriguez, the elder stateswoman on a roster that features two seniors, two juniors, six sophomores and five freshmen. "I think we can make a good run. We have a good coach, and the team has really come together even though we are so young."