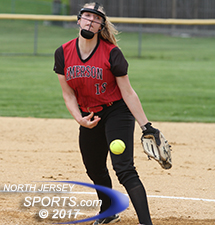 Junior Jenna Cooper did not allow an earned run in five innings and also went 4-for-4 at the plate in Emerson's 12-2 win over Ramapo in the opening round of the Bergen County Tournament on Tuesday.
EMERSON - Ramapo was one out away from keeping itself in the game. The Green Raiders, the No. 24 seed in the Bergen County Tournament, and had snuck to within two runs of the 10th-seeded Emerson in Tuesday's rescheduled first round game and had a chance to really make things interesting in the final two innings. Emerson loaded the bases with one out in the bottom of the fifth, but Anna Nunziato got a key strikeout and just needed to find a way to get the Cavos' No. 9 hitter out to give Ramapo a chance to get back in the dugout and continue its comeback.
That No. 9 hitter happened to be Erin Plunkett and rather than being that last out that Ramapo desperately needed, Plunkett turned the game in the other direction.
"I wasn't hitting well all game, so I went up there knowing that I had to focus because I had a chance to blow the door open," said Plunkett, Emerson's junior catcher. "I had to pull through, so I just put the bat on the ball, my head was in and I just clocked it."
Plunkett did clock it and set in motion the chain of events that led to the game's early conclusion. With two outs, all of the runners were moving on contact, so Plunkett rope to right that short hopped the fence scored three runs. That final out remained elusive for Ramapo, in fact it never recorded it. Emerson scored eight times with two outs in the bottom of the fifth to turn a 4-2 game into a 12-2 victory that put the Cavos into the Round of 16 on Saturday against No. 7 Fair Lawn.
Emerson has had an outstanding season to date as illustrated by its Top 10 county seed, but Cavos head coach Nancy Graf was not exactly what to expect from her team on Tuesday considering that the first pitch came just 24 hours after Emerson suffered just its second loss, a 10-run job in which it was dominated by fellow Group 1 side and league rival Waldwick.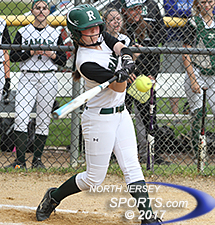 Danielle Curcio's RBI single in the top of the fourth inning got Ramapo to within 4-2.
"Yesterday we got mercied, 11-1, by Waldwick so I wasn't really sure what team was going to come out here today. Credit to Waldwick, they hit the ball all over the place and we were tested by that. I was not sure how our girls would respond today," said Graf, whose team is now 17-2. "We have been so successful throughout the season, so it was good to see that we shook it off and played with a lot of heart."
Emerson got right to work Jenna Cooper worked a 1-2-3 first inning and stroked an RBI single in the bottom of the frame to give the Cavos a 1-0 lead and they expanded that in the bottom of the third. Cooper, who finished 4-for-4 with four RBI and two runs scored in addition to her work in the circle (5 IP, 2 R, 0 ER, 3 H, 2 K, BB), made it 3-0 with an RBI double and Michelle Durocher (2-for-2, 2 RBI, R) added a two-run single to make it 4-0.
Ramapo wriggled its way back into the game in the top of the fourth by taking advantage of an error that allowed Lauren Colyer to reach safely leading off. A wild pitch and a Nunziato single put two runners in scoring position and Hannah Haas delivered a sacrifice fly that scored Colyer. Danielle Curcio followed with a run-scoring single to make it 4-2, Nunziato followed that up with a 1-2-3 inning in the bottom of the fourth and the Green Raiders were applying some pressure.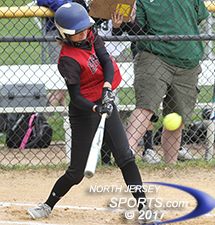 Sammi DeStefano had 3 hits, scored 3 times and drove in a run for 10th-seeded Emerson, which will play No. 7 Fair Lawn in the Round of 16.
But Cooper worked around a one-out single by Ramapo catcher Olivia Brand in the top of the fifth and Emerson started the decisive rally in the bottom of the inning with back-to-back singles by Sammi DeStefano (3-for-4, 3 R, RBI) and Cooper followed by a sacrifice bunt by Alyssa Matera. Durocher walked to load the bases before a strikeout got put the Raiders on the verge of escaping with Plunkett at the plate.
"We have a work that we use on this team, it's 'Mudita,' and it is the joy of other people's success. That [Plunkett triple] gave us all so much joy. That is the way we are as a team," said Cooper, a junior right-hander. "Yesterday [against Waldwick] I think we all learned a lesson about playing a game when our hearts weren't really in it. Today we were all so pumped up for this game and we all saw it as a way to get redemption. The chance to advance in the county tournament brought up everybody's spirits because we really want to do well."
There were plenty of Cavos that did do well on Tuesday as Karly Manning (3-for-4, RBI, R), DeStefano, Cooper and Durocher all managed to squeeze multi-hit games into the 4 2/3 innings that the game lasted. Kassidy Germann stole a base and scored a run, Matera did her job moving the runners in a key spot in the fifth, Caroline Seretis drew a walk and Plunkett delivered in the clutch.
And then there is Katie Falotico, the senior first baseman who is closing in on 200 career hits. She reached base in three of her four plate appearances, scored three times and is enjoying the final run of her high school career before heading off to play at the University of Albany.
Graf, who played at Emerson and was an assistant coach for years before moving up and has seen just about every player the Cavos have ever run out there, calls Falotico "The best player we have ever had."
"The program as a whole is very good and it has been for a long time. That has a lot do with the success of the team this year and my individual success. We have very good team chemistry, we have a great coaching staff and that helps each individual player and the team as a whole," said Falotico. "I think that we have shown that we are a threat this year. We are underestimated because we are a small school, but we have good players up and down the lineup, we are together and we have a lot of confidence that we can have a special year."