Sunday, June 12, 2016
By Rich Barton
NJS.com Staff Writer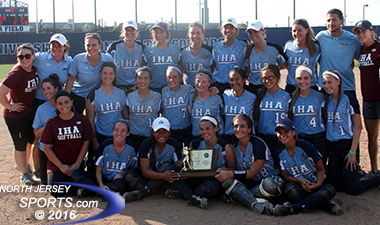 IHA repeated as Non-Public A state champion with a 2-1 win over Donovan Catholic on Saturday at Kean University.
UNION – The passing of head coach Anthony LaRezza provided a shock to the Immaculate Heart Academy softball team that was immeasurable. The last time he led his team to victory was in the 2015 Non-Public A state final in a thrilling, walk-off triumph.
Back on the very same field at which LaRezza coached his last game and with another state championship on the line, the IHA players could feel his presence. The lessons LaRezza instilled have been carried on by this year's coaching staff led by Diana Fasano and they reverberated through the dugout from the first out to the last against a Donovan Catholic team that gave the Blue Eagles everything they could handle.
Go back to basics, have fun, trust your teammates, believe in yourself: LaRezza preached those principles consistently and the message carries on even if he is no longer here to enforce it. Even though IHA did not play its cleanest game of the season on Saturday, whenever Donovan Catholic had a chance to tie the game or possibly go ahead, the Blue Eagles remained calm and made the plays they needed to make.
IHA southpaw Olivia Sprofera got into trouble late in the game, but wiggled her way out of each time. She stranded five runners in scoring position combined over the last three innings with shortstop Taylor Kenerson catching a pop-up to end the game as IHA repeated as Non-Public A state champion with a 2-1 victory over Donovan Catholic at Kean University in Union.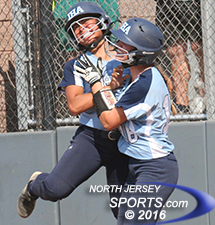 IHA's Reese Guevarra (left) after scoring the game's first run.
"We never gave up even when things looked like they might not go our way," said Fasano, who was named Bergen County Coach of the Year. "These kids have been through a lot. We were focused and prepared for anything after all we've been through over the past few months."
Setting the tone has not been a problem for the Blue Eagles and the state title game was more of the same. Sprofera struck out the side in the first inning and IHA scored both of its runs in the opening frame with an aggressive play that worked to perfection.
After leadoff batter Reese Guevarra got hit by a pitch, Kenerson dropped a bunt up the first-base line and beat the throw for a base hit. The speedy Guevarra never stopped running and slid under the tag at third base with Kenerson going to second to put two runners in scoring position without a ball going past the pitcher's circle. Emilie Cieslak followed with a line-drive single through the right side to score both runners and give IHA an early 2-0 lead.
"I just took a chance to create a spark and get things going," said Guevarra, a junior centerfielder committed to play at the University of Connecticut. "Taylor got a great bunt down and I didn't see anyone on the (third base) bag so I went for it. Coach (Fasano) always preaches for us to score early. Emilie came up with a huge hit and it turns out that we needed those runs."
The Blue Eagles had the potential to tack on more, but Donovan Catholic was up to the task, gunning down a runner at the plate before freshman Lindsay Nelson stranded two runners in scoring position with an inning-ending strikeout.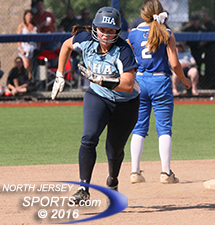 Emilie Cieslak drove in both runs for IHA, which closed the season with 30 straight wins.
Sprofera was on cruise control before unexpectedly running into trouble in the top of the fourth. After two quick outs, Katie Vazquez poked a single then stole second. Amanda MacBurnie then squibbed a pop-up behind the pitcher's mound that dropped with Vazquez hustling all the way around to score, which cut the IHA lead to 2-1.
After getting on the scoreboard an inning earlier, the Griffins kept the pressure on in the fifth. Mya Lamicella reached on an error when second baseman Sonia Sharma did not cover the first-base bag on time. With two outs, Alexa Pagano roped a ball to right-center that two-hopped off the fence. Guevarra sprinted over to field the ball cleanly and throw at last to Sharma. The second baseman atoned for her error two batters earlier with a strike to the plate that forced Lamicella as the potential tying run to be held at third. Against a strong hitter in Nelson with the tying and go-ahead runs in scoring position Sprofera got a huge strikeout to end the inning with IHA clinging to a one-run lead.
Despite Guevarra providing a leadoff single and stealing third with one out, the Blue Eagles were unable to bring her home with Nelson striking out consecutive batters to end the inning before the Griffins threatened again in the sixth. Lindsay Hay drew a leadoff walk, and reached third after a sac bunt and an infield single by MacBurnie. With the Griffins threatening so frequently and having nothing to lose, IHA needed to stay poised and revert back to the teaching of LaRezza mixed in with some of Fasano's own words: Be confident, stay focused with every pitch and make the routine plays.
With runners on second and third with one out, Sprofera induced a popped up bunt to Cieslak at first then struck out the next batter to escape yet another jam.
The Griffins kept pushing IHA to the limit in its last at-bat. Lamicella started the inning with a double off the fence in left. Sprofera then bore down to get back-to-back strikeouts before Pagano popped-up to Kenerson at short to end the game and clinch IHA's second straight Non-Public A state championship.
"It seemed like that ball was up in the air forever but it felt incredible to get that final out," said Kenerson. "When I caught the ball there were so many emotions going through me. Ant just wanted us to play softball. There are so many lessons on and off the field that we learned from him. We wanted to do this for him, for his family, for the coaches we have now, our parents, and for each other."
Sprofera allowed five hits and one earned run with one walk and 14 Ks for IHA (31-1). Taylor Gallagher and Sarah Browning also had hits for the Blue Eagles.
MacBurnie was the only player to collect two hits to lead the way for Donovan Catholic (26-5). With just one senior graduating the Griffins (who were seeded ninth in Non-Public A South before pulling four straight upsets to win the section title) hope to make a similar run next year.
For IHA, what has been an emotional roller coaster of a season has come to a close. Nothing can take away the pain of losing a coach, a mentor and a friend. But somewhere up there, LaRezza is looking down and smiling knowing that his beloved IHA players faced adversity and overcame it to become champions.
"As close as this team is and as much as we love each other we wanted this one for him," said Guevarra. "Ant always told us it's tough to get to the top, but it's even tougher to stay on top. Great teams find ways to win and we found our way to get the job done. I know Ant is here somewhere. I could feel it, we all could feel it. There are so many mixed feelings right now because we're so happy and so sad at the same time. It wasn't our best game but we never stopped fighting. As exciting as it is to win another state title, I just hope we made him proud."
CLICK HERE FOR MORE PHOTOS FROM THIS GAME. TO BUY A COLLECTOR'S PRINT OF THIS STORY, PLEASE VISIT 4FeetGrafix.com.