Saturday, June 11, 2016
By Rich Barton
NJS.com Staff Writer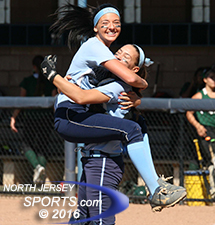 Sarah Piening celebrated after becoming the first pitcher in state history to win four straight state championships after Immaculate Conception's 3-0 win over Benedictine in the Non-Public B final.
UNION – When Sarah Piening first walked into Immaculate Conception head coach Jeff Horohonich's office, she told him that she her goal was to win four state titles. In such circumstances a coach might smile and nod while thinking that the player was really quite brazen. However, Horohonich knew Piening had the kind of talent to make the lofty goal attainable.
After three straight Non-Public B state titles Piening knew she was on the cusp on history. Taking the ball one last time in an IC uniform, the senior right-hander was too close to her ultimate goal to let anyone stop her from reaching it.
Facing upstart Non-Public B South champion Benedictine, the Blue Wolves struggled to get their offense going until taking advantage of two errors in the fifth. Kayla Roberts scored on an error to get them on the scoreboard. Gabby Fredette and Helyna Bissell added RBI singles. That was all Piening needed as she allowed just one hit over the final six innings and became the first pitcher in the history of New Jersey high school softball to be in the circle for four state championships teams with Immaculate Conception's 3-0 win on Friday at Kean University in Union.
"Taking the ball today for the last time in an IC uniform there was no way I was going to let us lose," said Piening. "I know (Horohonich) trusted me and my teammates had my back. Winning this game means everything and it is what we've played for all season."
Benedictine, which had consecutive winless seasons in 2011 and 2012, capped a remarkable turnaround with the school's first-ever sectional title in any sport. Although most thought the Non-Public B state title game would be a comfortable victory, the Green Bees showed early that they were just not happy to make a state final.
Natasha Solano and Alyssa Vega beat out infield hits to put the pressure on Piening and the IC defense. With two outs, IC shortstop Gabby Fredette made a nice play and flipped to third baseman Kayla Roberts for the force out to escape the jam.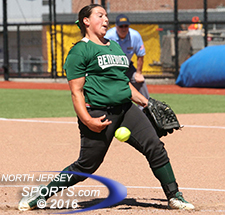 Alyssa Vega seven hits with one walk and two strikeouts for Benedictine, which finished the season at 16-8.
Vega was one of the slowest hurlers the Blue Wolves have seen all season. Speed did not matter though as she threw strikes and kept IC off-balance to retire the first nine batters she faced.
After a tough first inning Piening quickly settled down and got better with each passing frame. Benedictine threatened only one more time in the top of the fifth. Patricia Frech singled to put the go-ahead run in scoring position with one out. Piening overpowered the next two batters for strikeouts to end the inning.
The question was, when would the Blue Wolves ever make an adjustment and finally break through against Vega and a Benedictine defense that was mistake-free through the first four innings?
The answer came in the fifth inning with a dropped pop-up behind the plate being the break that IC needed. Instead of there being one out, Kayla Roberts took advantage of her second life with a leadoff single. Benedictine third baseman Olivia Tirso made a fantastic sliding catch on a bunt for the first out of the inning but it did little to stop to the Blue Wolves.
"That dropped pop-up gave us an opportunity and we had to take advantage of it," said Horohonich. "Benedictine was playing with house money and they were playing like they had nothing to lose. Sarah was pitching great and we felt confident that she would hold it down as she's done for her entire time at IC. Once we got that first run, we exhaled and started to relax."
Piening helped her own cause with a single before No. 9 batter Caylee English stepped to the plate. She dropped down a perfect bunt that rolled directly along the first-base line. The ball was thrown away allowing Roberts to come around and score the game's first run. With runners on the corners, Fredette lined a base hit to bring home courtesy runner Jenn Single. Two batters later, Helyna Bissell capped the inning with a line-drive single to center to bring home English for a 3-0 lead.
Gabby Fredette had two hits for Immaculate Conception, which went 20-9 on its way to its fourth straight state title.
"Sarah was pitching so well that we needed to pick her up," said Fredette. "We couldn't talk about making an adjustment, we had to just bear down and do it. In the first couple of innings we kept popping up. We had to get the ball down and force their defense to make plays. This was our goal from the start and we couldn't let it end here with a loss."
Piening only needed one of those runs in a dominant finish to an outstanding scholastic career. The two batters she struckout to end the fifth started a run of eight straight she retired to end the game. Fittingly, she finished off the game and her career in an IC uniform with a strikeout as she completed her goal to become New Jersey's only four-time state championship winning pitcher. In an added bonus, the win also happened to be career win No. 600 for Horohonich.
"This win was the most important thing both for this team and especially for Sarah," added Horohonich. "She took the team on her back this entire tournament. With her being so close reaching her goal of four state titles, she was going to do whatever it takes to make sure we didn't lose this game."
Piening was lights out in the circle tossing a three-hit shutout with just one walk and 12 Ks for Immaculate Conception (20-9). Fredette and Bissell each had two hits and drove in a run for the Blue Wolves. Vega also pitched well, scattering seven hits with one walk and two strikeouts for Benedictine (16-8).
Graduating just three seniors, signs would naturally point to Immaculate Conception already looking towards a 5th straight Non-Public B state title. But the importance of those three seniors is immeasurable. Piening and Andee Lupica are four-year starters and Bissell in the middle of the lineup are players who will be very hard to replace.
Now as the first pitcher ever in New Jersey to win four state titles in the circle, Piening can finally breath a sigh of relief knowing that the dream scenario she played out in her mind four years ago had finally come to fruition.
"It feels great to be the first pitcher out of all the great pitchers ever in New Jersey to win four state titles," said Piening. "I think personally I've grown up a lot through all the adversity this team has gone through. Freshman year I couldn't even take an interview question without laughing. Today I felt in control and we've really grown as a team. I hope in the future that someone else gets to feel the joy that I'm feeling right now. It's an amazing feeling."
CLICK HERE FOR MORE PHOTOS FROM THIS GAME. TO BUY A COLLECTOR'S PRINT OF THIS STORY, PLEASE VISIT 4FeetGrafix.com.