Saturday, June 11, 2016
By Cory K. Doviak
NJS.com Editorial Director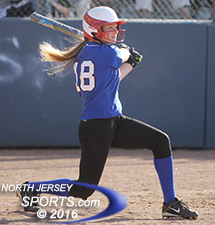 Ellen Hamlin's bases-clearing triple in the third inning put NV/Demarest ahead for good in a 9-3 win over AL Johnson Regional in the Group 2 state final. The Norsewomen won their first state softball title since 1979.
UNION – The travelling road show that is the state tournament certainly tests the nerves. The venues get more pristine and the stands more packed the deeper a team goes and the playoffs reached their crescendo on Friday when Northern Valley/Demarest headed to Kean University for its final game of the season, the Group 2 state final against AL Johnson Regional.
The butterflies were evident early as each starting pitcher walked the first batter she faced, there were a couple of defensive misplays in the opening inning and the pressure was only going to build as long as the game stayed close. Johnson Regional missed out on two chances to make its opponent sweat when it put a runner in scoring position with less than two outs in each of the first two innings. Demarest, on the other hand, was not about to return the favor when its first rally materialized in the top of the third.
With the bases loaded and one out and with one swing of the bat, sophomore Ellen Hamlin stepped to the plate to take the most important at bat of her life to date. Then…boom.
Hamlin hammered a pitch on the outer half of the plate into the right centerfield alley and cleared the bases. It was the icebreaker that Demarest needed to settle in and also settle the issue as it never looked back on the way to its first state championship since 1979. The 37-year drought came to an end with a 9-3 victory that was never in doubt after Hamlin split the gap.
"Win or lose it was going to be our last game, so just put it all out there on the field. I just smacked the ball and it was awesome," said Hamlin, Demarest's starting leftfielder who finished just a home run shy of hitting for the cycle. "It is something that you dream about to have that big hit in the big game and it felt really awesome getting that."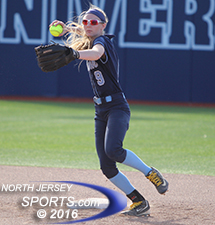 Shannon Brogan drove in a run AL Johnson, the Central Jersey champion.
Johnson early chances were its best chances to keep itself in the game. Gabby Zatko led off the bottom of the first inning with a walk and a stolen base, but Demarest starter MacKenzie McGrath retired the next three hitters in order on a flyball and two ground outs. Victoria Zatko dropped a double just inside the leftfield line in the bottom of the second, but McGrath responded with her only two strikeouts of the game, both called strike threes, to end that threat.
Johnson starter Gianna Randazza faced just one batter over the minimum through the first two frames and was up against 8-9-1 in the order in the third, but it is not an easy trip through the bottom of the Demarest order and Pam Ng worked a leadoff walk to get the decisive rally started.
"Once I got on it kind of gave everybody the motivation to keep it going. I think that was when we finally started to relax a little bit and just start to play," said Ng, Demarest's senior third baseman. "We were happy to make it here and I am so proud of my team that we got to play on the last possible day of the season, but we had to get something going because would not have been as much fun if we made it this far and didn't win."
The Norsewomen certainly had something going after Samantha Maniscalco placed her sacrifice bunt in such a spot that she easily beat the play at first and perfectly set the table for the top of the lineup. Victoria Corcoran drew a walk to load the bases and, after Johnson got a force at the plate for the first out, Hamlin emptied the bases with her tripled and then trotted home herself on a wild pitch to make it 4-0.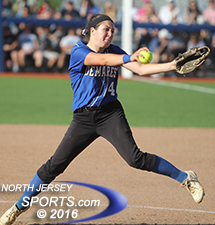 Demarest sophomore MacKenzie McGrath did not allow an earned run in a complete game three-hitter.
McGrath worked a 1-2-3 third and got out of the fourth inning unscathed when Victoria Corcoran cut down a runner at the plate with a rocket from centerfield. If there was any suspense left, it hit the Parkway in the top of the fifth. Veronica Corcoran (2-for-4, 2 R) blooped a leadoff single just over the third base bag and then Hamlin (3-for-4, 4 RBI, 3 R) added to her haul with a line double over the head of the left fielder. Michelle Diehl (1-for-4, R) added a single, Haley Pontillo (1-for-3, RBI) got down a safety squeeze that drove in a run and Claudia Mattes (1-for-4, RBI) made it 7-0 with her single right back through the box.
Not satisfied with just a comfortable victory, Demarest tried to end the game an inning early when it came to the plate in the sixth. Maniscalco (1-for-2, 2 R) drew a leadoff walk, Veronica Corcoran hit a one-out single and Hamlin's third hit of the day, a single, loaded the bases.
On just about every high school softball diamond in North Jersey, the backstop is not too far from home plate. At Kean, there is plenty of real estate between the dish and the retaining wall. That gave Maniscalco all the time she needed to score on a wild pitch to make it 8-0 and it also gave Veronica Corcoran the idea that she could try to go second to home on that same wild pitch. It was close, but Corcoran was tagged out by Victoria Zatko, the Johnson catcher, and Demarest had to settle for a 9-0 lead when Hamlin scored on an error.
Even though it was a lop-sided game on the scoreboard, Demarest was not at its cleanest defensively. The Norsewomen committed three errors in the first six innings and three more in the bottom of the seventh when it lost its shutout. Two straight misplays and a walk loaded the bases for Johnson (24-9) and another error on a groundball hit by Gabby Zatko got the Crusaders on the board. Shannon Brogan (1-for-4, RBI) singled in a second run and Gianna Randazza knocked in a third, but McGrath (7 IP, 3 R, 0 ER, 3 H, 2 K, 2 BB) got a pop-up to shortstop to end the game and Demarest's long wait for a state title. The last group of Norsewomen to win a state championship are now in their mid-50s.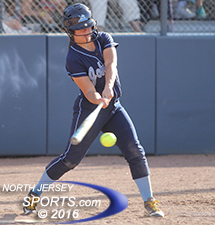 Gabby Zatko drove in a run and stole a base for Johnson, which finished its season with a 24-9 record.
"I was so nervous. Last night I did not go to bed until 2 AM because I did not know anything about Johnson. But now, coming off this win, I don't think I am going to go to bed until 2 AM again tonight because I am so happy," said McGrath, a sophomore right-hander. "I knew that this was our year and that if we did not win the states then it the year would not have been successful. So to win it is just amazing."
Even though Veronica Corcoran and Hamlin were the only Norsewomen to have multi-hit game, every one of Demarest's hitters reached base safely at least once and each did something to contribute to the victory. While winning his first state titles in his 11th year as Demarest's head coach is sweet enough for Keith Johnson, that total team effort that it took to get it made it that much better.
"It's years of hard work, years of working with these kids since they were little to build it to where it is today, I can't describe it. It's just an unbelievable feeling. I am so proud these kids. They deserve this and I am glad they got it today," said Johnson. "Everyone did an outstanding job. We have a player at first base, Jessica Muti, who is playing with basically one hand, you have Pam [Ng] stepping up after not batting all year long. Obviously the [Corcoran] twins, Sammy Maniscalco at second base…all of them, each and every one of them contributed. They are just tremendous kids; tremendous athletes and they put it all together for this state fun.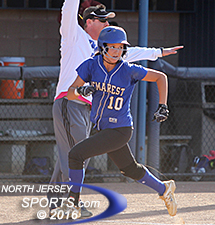 Veronica Corcoran had two hits and scored twice in her final game for Demarest, which finished at 27-5.
Demarest's historic season ends with a 27-5 record, 20 of them coming right in a row to start the season when they rose to as high as No. 3 in the statewide rankings. That was followed by a funk in which they lost four in a row and then three-week stretch in which they ripped through the state tournament. After beating Mahwah in extra innings in the sectional semifinals, the Norsewomen scored 25 runs in their final three games to go out in style.
This season also ends the high school careers of the Corcoran twins, who are both four-year starters in three different sports and both have earned the maximum total of 12 varsity letters.
"I think it is so surreal that this is the end. We worked so hard in high school and even before that. We grew up playing with these seniors. I am going to be so sad when I have to hand this uniform in, but I am so happy that we got to go out with a win on the last day that we are allowed to play," said Victoria Corcoran. "Everyone always talks about, 'Go out with a bang!' but only six teams can end it like that. Everyone else loses, so for us to end it with a bang…I am just so happy."
CLICK HERE FOR MORE PHOTOS FROM THIS GAME. TO BUY A COLLECTOR'S PRINT OF THIS STORY, PLEASE VISIT 4FeetGrafix.com.