Friday, June 3, 2016
By Rich Barton
NJS.com Staff Writer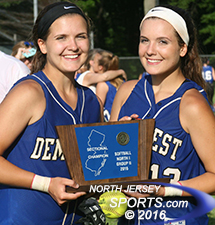 Veronica Corcoran (left) hit a walk-off home run in the bottom of the eighth inning that scored her sister Victoria ahead of her as NV/Demarest beat Mahwah, 3-1, in the North 1, Group 2 state sectional championship game.
DEMAREST – When sisters Victoria and Veronica Corcoran burst onto the scene as freshmen who happened to be three-sport varsity athletes they felt like they would play forever in their various Northern Valley/Demarest uniforms. As high school athletes learn the hard way, the good old days only last for so long and only a select few get a chance to be a part of a championship team and go out with a memory that will last a lifetime.
With Thursday's North 1, Group 2 state sectional final against Mahwah representing the last time the talented twins would ever play on the school's home soil, the two did exactly what they have done throughout their high school careers. They came up clutch with the game on the line and this time their high school sports careers and a championship trophy were also at stake.
Tied in extra innings, Victoria Corcoran lined a two-out, two-strike single to set the stage for her sister. Veronica took advantage of the opportunity by delivering the biggest hit of her life, a walk-off two-run homer that lifted second-seeded Northern Valley/Demarest to its first section title since 1979 with a thrilling 3-1 triumph over fourth-seeded Mahwah in eight innings.
"After all the ups and downs we've had this season it feels amazing to win it the way we did," said Victoria Corcoran. "I couldn't be happier or more proud of my sister and how she came up big for us when we needed it."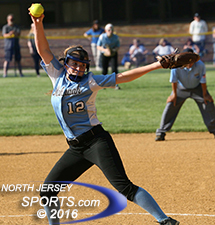 Mahwah's Emily August took a hard-luck loss after allowing just four hits and no walks to go with eigth strikeouts.
The game was expected to be a pitcher's duel between Demarest sophomore Makenzie McGrath and Mahwah's Emily August and it lived up to the billing throughout. In a game with both pitchers setting the tone little mistakes can prove costly as happened when McGrath allowed a little pop-up off the bat of Lexi Corra to drop for an infield hit. After a sac bunt by August, Danielle Fisher lined a single to center that brought home Corra to give the T-Birds a 1-0 lead in the top of the second inning. The lead could have grown if not for an over-the-shoulder basket catch by Victoria Corcoran deep in right-center to end the inning.
"I should have gotten that pop-up that dropped but I knew my teammates would pick me up," said McGrath. "Our defense dives for everything and they are so good that I just had to get aggressive and do my job. I knew eventually that we would score runs, I just had to shut them down and let my defense to the work. After losing so early in the counties, our motivation was to win a section title and we didn't want to let this game slip away."
The score was still 1-0 until another little miscue in the bottom of the fourth allowed the Norsewomen to tie the game. Victoria Corcoran was hit by a pitch to lead off the inning and was moved over to second on a bunt by her sister, Veronica. Ellen Hamlin followed by roping a single to bring home the tying run.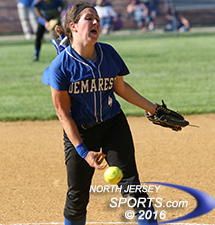 Makenzie McGrath allowed just four hits and did not walk a batter for Demarest, which won its first state sectional title since 1979.
An inning later, Demarest had a chance to take the lead when the Thunderbirds used a great inning-ending play of their own to wiggle out of trouble. Haley Pontillo singled and Pam Ng reached on a fielder's choice with the runners moving up into scoring position on a sac bunt by Samantha Maniscalco. With two outs, Victoria Corcoran lined a shot to center that would have easily scored two runs had it fallen. Mahwah centerfielder Morgan Morris made sure that did not happen with her leaping catch that ended the threat.
Both McGrath and August found their rhythm as the game wore on. McGrath retired the last 13 batters she faced and August retired eight straight until there were two outs in the bottom of the eighth inning when Victoria Corcoran stepped back up to the plate. The two locked up in a hard-fought battle before Corcoran finally won it with a single to bring Veronica Corcoran up to bat.
"Our team is built on momentum and we all feed off of each other," added Victoria Corcoran. "I just wanted to do whatever I could to get on base and get Veronica up to bat."
Although two of her three previous at-bats ending in strikeouts, Veronica Corcoran went up to bat with the confidence that if she could shoot one into the gap, her sister is fast enough to come around to score. Instead of focusing on what pitch or what location August was going to throw, Veronica took a 'see the ball, hit the ball' approach in her fourth plate appearance. It paid dividends as she roped a letter-high fastball over the fence in center field for a walk-off two-run homer that gave the Norsewomen their first section title in 37 years, sent her teammates into a frenzied state and reduced herself to tears all with one swing of the bat.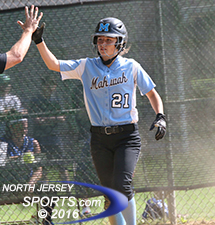 Lexi Corra scored the run for Mahwah, which closed its season with an 18-10 record.
"I was a little bummed about striking out twice, but coach (Keith) Johnson told me to stay confident, keep my hands in and go with the pitch," said Veronica Corcoran. "I didn't even know what pitch it was that she threw. I just wanted to get a hit and keep things going. When I hit it and I saw it go over the fence, I just couldn't believe that everything we worked for all season was actually happening."
McGrath showed exceptional control with all of her pitches throughout the game for Northern Valley/Demarest. She did not walk a batter and allowed just four hits with nine Ks to pick up the win. August pitched well in the hard-luck loss for Mahwah (18-10). Like her counterpart McGrath, August also allowed just four hits and did not walk a batter with eight strikeouts.
Demarest now can enjoy the weekend as North 1, Group 2 section champs before trying to take another step toward a Group 2 state title. On Tuesday, the Norsewomen will face the winner of the North 2, Group 2 final between No. 4 seed Parsippany and sixth-seeded Lodi, a team they beat via the mercy rule in the EDSAF Tournament back in April. The Group 2 semifinal will be played at Montclair State University with a scheduled 7:30 P.M first pitch.
Regardless of what happens from here on out, the Norsewomen have achieved their goal of being champions. After four years of pressure-packed games, the Corcoran twins can finally relax and enjoy the final week of their storybook scholastic careers.
"Every game could be our last and this team is so close that we don't want it to end," said Veronica Corcoran, who, along with Victoria, are signed to play Division 1 beach volleyball at the University of New Orleans. "Makenzie was awesome in the circle, Ellen came up with a big hit to score a run, (first baseman) Jessica Muti is playing with a broken hand. Everyone pitched in and had a hand in us winning. I just wanted us to win the section. We're playing for each other, playing for our coach and it's so much fun to be a part of that. To hit a home run in a section final to win the game, I can't think of a better way to end my high school career."
CLICK HERE FOR MORE PHOTOS FROM THIS GAME. TO BUY A COLLECTOR'S PRINT OF THIS STORY, PLEASE VISIT 4FeetGrafix.com.