Monday, May 23, 2016
By Cory K. Doviak
NJS.com Editorial Director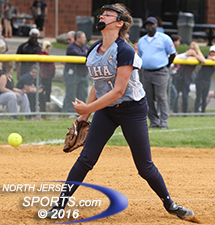 Junior Olivia Sprofera carried a no-hitter into the seventh inning before settling for a one-hit shoutout as IHA took back the Bergen County title with a 7-0 victory over Indian Hills on Sunday..
MAHWAH – Winning a Bergen County championship is no easy task in any sport and it is especially grueling in softball where many the state's best teams bunch up for three weeks of pressure-packed, winner-take-all games. It requires the full attention of the players involved just to get through it one pitch, one out, one inning at a time. For IHA, which had not won a title since 2013, what passes for a long drought these days at the tradition rich program, there was a bigger picture involved.

The presence of former head coach Anthony LaRezza has been felt in spirit if not in the flesh ever since his loss in February. LaRezza was certainly on the minds of the players he left behind as they tried to win back the trophy on Sunday afternoon in Mahwah.
"This was for him. This game was for him and this season is for him," said IHA third baseman Reagan Jones. "You could just feel him here today. You know how he would have loved to be here on this day for this game and we wanted to win it for him and make him proud."
Anthony LaRezza like few things better than winning softball games and indeed he would have enjoyed IHA's near flawless performance in a 7-0 victory over Indian Hills that gave the Blue Eagles their first Bergen County championship in three years but also their fourth in the last six.
These two programs played what was probably the greatest county final in the tournament's history two years ago won in the bottom of the seventh inning on a walk-off home run by Indian Hills. This game, a rematch of sorts but with a whole different cast of characters, was won much earlier than that. The difference was made in the bottom of the second inning.
Indian Hills' Meg Halloran broke up the no-hitter with this bunt single in the top of the seventh inning.
Indian Hills' Angela Saric, who has had a breakout season in the circle, was called for two illegal pitches in the span of four thrown to Taylor Gallagher, who was leading off the inning for IHA. The first one turned a strike into a ball and the second came on a Gallagher swing that produced an infield single. Whether the calls temporarily rattled the sophomore hurler or not is anyone's guess, but the next three IHA hitters all hit singles with Jones getting one through the left side of the infield to plate the game's first run. Jones' first assignment was to bunt Gallagher up a base, but when she could get it down in two tries, Jones made up for it by breaking the scoreless tie with a clean single.
"I was supposed to get a bunt down and went I didn't I knew I still had to have a productive at bat," said Jones. "I knew I had to at least move the runners, but then the ball got through and we got a run out of it. Scoring the first run was so important because it sets the tone for the rest of the game."
IHA tacked on an unearned run in the bottom of the third when an error kept the Eagles' turn at bat going long enough for Gallagher to hit a run-scoring single to right with two outs and, in the fourth, Reese Guevarra (1-for-4, 2 RBI) singled in two more runs without another two-out base hit. That made it 4-0 and that was more than enough for Olivia Sprofera, IHA's junior left-hander who was just about unhittable.
Sprofera (7 IP, 0 R, 0 ER, 1 H, 9 K, 1 BB) struck out the side in the first inning, did the same in the second and fanned seven of first eight hitters she faced in the game. A two-out walk issued to Gina DeOliviera in the first was the only blemish on her record through the first six innings when she retired 18 of the 19 batters she faced.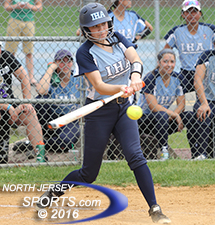 Taylor Gallagher had 3 hits, 2 RBI and scored a run for IHA, which improved to 25-1 on the season.
"I think I was just very focused. We were all so energetic and we knew we head each other's support, so that was a big part of it," said Sprofera. "I threw [a complete game against Dumont in the semifinals] yesterday so I think that I was pretty locked in on the zone. I iced my arm last night and coming out here today I felt loose and ready to go."
In all, IHA pounded out 13 hits. Sarah Siclari drove in a run with an infield single in the fifth and the Eagles got two more in the sixth on RBI singles by Sonia Sharma and Gallagher. Taylor Kenerson (2-for-3, R), Sharma (2-for-4, 2 R, RBI), Gallagher (3-for-4, R, 2 RBI) and Siclari (2-for-3, RBI) all had multiple hits for IHA, which improved to 25-1 heading into the Non-Public North A state sectional tournament.
"We got dominated. The kid Olivia [Sprofera] pitched a great game. We had a plan for what we wanted to do today and it took us four innings to do the plan. I don't know what the problem was, but the problem was probably her," said Indian Hills head coach Joe Leicht, whose team fell to 22-8 on the season. "She pitched just a great game. She hit her spots, she did everything right because we can really hit the ball and today we didn't. Credit to them; they dominated the game."
The last order of business was to see of Sprofera could finish off the no-hitter, but Meg Halloran spoiled it leading off the top of the seventh when she got a bunt down and beat the throw to first. That was just bookkeeping, however, as Sprofera got three straight pop-ups to end the game with allowing a single runner to get back first base.
In the postgame ceremony, Tournament Director Darren White announced the founding of a new award to be given to an individual who has made a positive impact on Bergen County Softball. The award is named in the memory of Anthony LaRezza and its first recipient is Diana Fasano, who has held the IHA program together through some pretty tough months. Tears flowed at the presentation, but this time the grief and the sadness was mixed with something else.
"It's happy tears. He loved this tournament, he loved the stage this tournament is played on and I said to the kids he would not have wanted them to miss out on this opportunity because of anything," said Fasano. "I am happy for these kids and I am happy that we could win this one for him."
CLICK HERE FOR MORE PHOTOS FROM THIS GAME. TO BUY A COLLECTOR'S PRINT OF THIS STORY, PLEASE VISIT 4FeetGrafix.com.