Sunday, May 22, 2016
By Rich Barton
NJS.com Staff Writer
Angela Saric, a sophomore, led Indian Hills past Northern Highlands for the third time this season, 4-2, in the Bergen County Tournament semifinals.
OAKLAND – It is hard to beat the same team three times in one season and it becomes especially more difficult when the teams are as evenly matched as Indian Hills and Northern Highlands. Clinging to a one-run lead in the bottom of the sixth, Indian Hills was trying to pull the trifecta and head coach Joe Leicht reminded his team of the importance of insurance runs with the top of the Highlanders' lineup due up in its final at-bat. Caitlyn Logatto listened to that message intently and provided those insurance runs with one swing of the bat.
Logatto clubbed a two-run homer to left that proved to be the difference as fourth-seeded Indian Hills held on to reach the Bergen County final with its third win of the season over No. 9 seed Northern Highlands, 4-2, in the Bergen County semifinals on Saturday in Oakland.
"This is a huge win for us and Caitlyn came up big with that homer," said Indian Hills' right-hander Angela Saric. "We knew what they wanted to do; they knew what we wanted to do. It came down to who could execute a little bit better and I'm happy we came out on top."
In the two previous meetings, Indian Hills had to fight from behind to come away with a pair of one-run victories. This time around the Braves jumped out in front with two runs in the bottom half of the third. Maria DeOliviera led off the inning with a single and was sacrificed to second on a bunt by Kelly Hoover. Julia Blezow has swung a hot bat all season and that continued with an RBI double into the left-centerfield gap that put Indian Hills ahead and Blezow later scored on a passed ball to make it 2-0.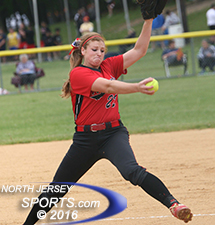 Sarah Gunderson went the distance in the circle and also drove in a run for Northern Highlands.
The Highlanders got one of those runs back in the top of the fourth. Reigning Northjerseysports.com Athlete of the Week Sarah Gunderson singled to lead off the inning. After another single by Madison Bialkowski, Annie Holder lined a base hit through the left side of the infield to slice the Braves' two-run lead in half, 2-1.
Gunderson and Saric started to get comfortable in the circle with the score remaining 2-1 going into the bottom of the sixth inning. With two outs, Saric singled then stole second. That brought Logatto to the plate where she worked the count to 3-1. She had a hunch on what to look for and she turned on an inside pitch and hit a two-run homer to left that padded the Braves' lead to 4-1.
"(Gunderson) is a great pitcher and she really mixes it up well so you have to go on your hunches," said Logatto. "When we faced her before she threw outside on us a lot. This game she was throwing more inside so I waited for that one pitch that I could drive. It's awesome to hit a home run in the county semifinals and get back to a county final."
After late-game heroics took down top-seeded and previously undefeated Ridgewood, the Highlanders were not going to go down without a fight. Tiffany LaTerra led off with a single to get things going. Gunderson's RBI double off the fence in right field brought home LaTerra to cut the deficit to 4-2 and bring up the potential tying run. Saric was unfazed by the pressure situation and got a strikeout to end the game and bring the Braves back to their fifth Bergen County final appearance in the past seven years.
"When Gunderson hit that double I had to take a step back because I knew the game could be tied with one swing," added Saric. "I had take a deep breath, keep attacking the zone and throw first-pitch strikes. We like the pressure of having to add to the Indian Hills' legacy and we're pumped to be playing for a shot at the county title."
Caitlyn Logatto his a two-run homer in the sixth to cinch the victory for Indian Hills, which will play IHA in Sunday's county final.
Saric scattered eight hits, walked one, and struck out seven to pick up the win for Indian Hills (22-7). Gunderson pitched well in defeat for Northern Highlands (17-6), allowing just five hits with one walk and two strikeouts. The Rhode Island-bound senior had a nice day at the plate as well, going 3-for-4 with a run scored and an RBI. Bialkowski and Holden each added two hits.
Indian Hills will face a familiar foe in Sunday's Bergen County Tournament final. The Braves will take on Immaculate Heart Academy at Mahwah High School with first pitch at 2:00 P.M. It will be a rematch of the epic 2014 BCT final won on a three-run walk-off HR by Indian Hills' Madison Levine. Although both teams look drastically different than they did two years ago, the rivalry is still going strong and there is big piece of hardware on the line.
"We've played some very, very good teams throughout this season and that's prepared us for the county final," said Leicht. "We worry about the opponent in front of us and we know they are going to be very tough. But we know although we have a lot of young players, we felt like at the end of the year if we kept growing that we'd have a good shot of ending up here with a chance to play for a county title. IHA is an exceptional team that has had a great season. We'll come ready to play hard and whoever is the best team on Sunday will come out as county champs."
CLICK HERE FOR MORE PHOTOS FROM THIS GAME. TO BUY A COLLECTOR'S PRINT OF THIS STORY, PLEASE VISIT 4FeetGrafix.com.