Sunday, May 22, 2016
By Rich Barton
NJS.com Staff Writer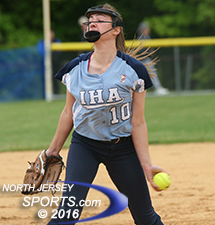 Olivia Sprofera retired 12 of the final 13 hitters she faced to close out IHA's 4-0 win over Dumont in the semifinals of the Bergen County Tournament.
OAKLAND – Immaculate Heart Academy boasts one of New Jersey's best lineups from top to bottom. So much so that, regardless of the opposing pitcher in the circle, the Blue Eagles are confident that they could slug their way to victory. However with the way fireballing junior Jen Sweeney has been throwing for Dumont recently, IHA would have to scrap their normal approach and be more creative to the desired results.
Utilizing their speed and ability to create havoc by dropping down bunts, the Blue Eagles once again set the tone and let junior southpaw Olivia Sprofera do the rest.
With just one batted ball reaching the outfield, IHA put up three runs in the first inning. That was more than enough run support for Sprofera, who retired 12 of the final 13 batters she faced as third-seeded IHA ended the upset-laden run of No. 15 seed Dumont to reach the Bergen County final for the sixth straight season with a 4-0 semifinal win on Saturday at Indian Hills High School in Oakland.
"Getting some runs early made it easy for me to go out there and just do my job," said Sprofera. "It was nice to see new, tough competition, but it didn't change the way need to execute. We have to keep getting better every game and bring even more energy than we brought today."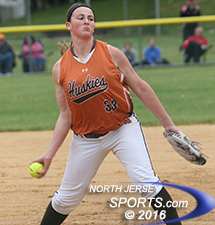 Dumont's Jen Sweeney allowed just one hit after the first inning.
It started innocently with leadoff speedster Reese Guevarra working back from being down 1-2 in the count to draw a walk. Then an errant throw on a bunt by Taylor Kenerson allowed Guevarra to motor all the way around and score with Kenerson going to third on the play. Duke-bound senior Emilie Cieslak drove in Kenerson with a line-drive single to make it 2-0. After a bunt single by Sonia Sharma and a fielder's choice, Sarah Siclari's hard ground ball up the middle drove in Cieslak to stake the Blue Eagles an early three-run lead.
"You really have to play a perfect game on defense to beat a team like IHA," said Dumont head coach Kendal George. "We didn't field their bunts as well as we could have. Those extra outs will turn into runs and you can't afford to give those away. I thought once we settled down that we played right with them. But falling behind them (3-0) so early was tough to bounce back from mentally."
The Huskies were down but they kept fighting. Sweeney started to heat up in the circle and Dumont had scoring opportunities in both the third and fourth innings.
Jasmine Vera led off the third inning with one of the Huskies' two hits on the day. Lauren Naveo drew a walk to bring New Jersey's leader in homeruns, Sweeney (13), to the plate as the tying run. Sweeney hit the ball hard but right at Guevarra in centerfield to end the inning. Then, with a runner on third and two outs in the fourth, Ariana Martoral hit a bloop down the right-field line that looked like a run-scoring single before IHA's Victoria Casey came on a full sprint and laid out to make a fantastic catch that kept the Huskies off the scoreboard.
Emilie Cieslak drove in a first inning run for IHA, which will play old rival Indian Hills in the county final on Sunday.
From there it was all Sprofera. She pounded both sides of the strike zone and baffled the Huskies all game long with a variety of pitches. She allowed just two hits, walked three, and had 11 Kss for IHA (24-1).
After a rough first inning, Sweeney did not allow a hit for Dumont (21-5). Ariana Pena, who had the game-winning hit in the upset over Saddle Brook last Sunday in the BCT quarterfinals, had the other hit for the Huskies.
Two years in the making after arguably the most exciting finish in BCT Tournament history, IHA will get a shot at revenge in the Bergen County Tournament final in a quick turnaround against Indian Hills on Sunday. It is a game the Blue Eagles have waited for all year and now that moment is finally here.
"Against Indian Hills, we'll have to take advantage of any opportunity we have. Against a team like them you're not going to get many breaks, you have to make your own," said IHA head coach Diana Fasano. "We focus on scoring in the first inning to set the tone and we're very successful when we do that. Our game plan is to play hard, play smart, and do whatever we can to score runs because you don't know how many of them we're going to get."
CLICK HERE FOR MORE PHOTOS FROM THIS GAME. TO BUY A COLLECTOR'S PRINT OF THIS STORY, PLEASE VISIT 4FeetGrafix.com.