Monday, May 16, 2016
By Rich Barton
NJS.com Staff Writer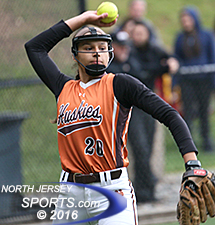 Ariana Pena hit a two-run single in the top of the 10th inning as 15th-seeded Dumont pulled its second upset in as many days with a 4-2 win over Saddle Brook in the quarterfinals of the Bergen County Softball Tournament.
WASHINGTON TOWNSHIP – This was her time. This was their time. That is the feeling Dumont's Ariana Pena experienced as she stepped to the plate in the 10th inning. The Huskies had a chance to do something that no team in the program's 40-plus year history had done before. Tied with Saddle Brook at 2 in extra innings of the Bergen County Softball Tournament quarterfinals, Pena came up with runners in scoring position and a chance to do something she would remember for the rest of life.
With one swing of the bat, the sophomore third baseman brought her team to a place where even those inside the Dumont dugout did not think was possible when the season started.
Pena lined a two-run single to right that brought home the go-ahead run. Standout pitcher Jen Sweeney slammed the door shut in the bottom half of the inning as Dumont reached the Bergen County semifinals for the first time in school history with a second straight major upset, this time a 4-2, 10-inning win over seventh-seeded Saddle Brook on Sunday at Immaculate Heart Academy in Washington Township.
"I just struggled in the beginning, but I had the confidence that we'd find a way to score some runs," said Sweeney. "We knew we couldn't make many mistakes, especially later in the game. To beat the two toughest teams we've faced all season on back-to-back days gives us a lot of confidence. Our defense has been great and we've been putting the ball in play. When we do that it always gives us a chance to win."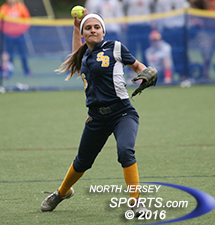 Lexi Deperi had one of the two hits for Saddle Brook, which lost for just the second time this season.
Saddle Brook wasted no time setting the tone with a run in the bottom half of the first inning. Speedster Vanessa Archibold walked, stole second and advanced to third on a wild pitch before scoring on an error to give the Falcons a 1-0 lead.
Coming from behind has been something Dumont has gotten accustomed to in the Bergen County Tournament. Having fought back from two-run deficits to beat Hasbrouck Heights and upset second-seeded Northern Valley/Demarest on Saturday, down early is where the Huskies feel comfortable. Sweeney led off the top of the fourth inning with a double to right-center and Pena followed with a double to nearly the exact same spot to tie the game. Freshman Ariana Martoral then came up with her biggest hit of the season with a two-out, two-strike single to bring home Pena to put Dumont in front, 2-1.
The Falcons answered right back in the bottom half of the frame. Taryn DiGiacomo stroked a leadoff double and stole third. Martoral made a fantastic catch to rob Morgan Santora of an extra-base hit, but it was enough to bring home DiGiacomo with the tying run.
For the next five innings, DiGiacomo and Sweeney showed why they are two of the most dominant pitchers in Bergen County, They kept tossing up zeros until the 10-th inning when the International Tiebreaker Rule went into effect with the last out of the previous inning starting the inning on second base.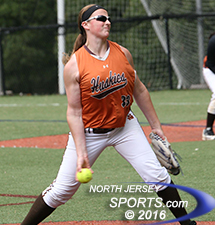 Jen Sweeney allowed just two hits over 10 innings for Dumont, which will play IHA in the semifinals on Saturday.
In the top of the 10th, a sacrifice moved Mackenzie Tamburro to third and Sweeney drew a walk. Courtesy runner Meg O'Neill took second without a throw to set the stage for Pena's heroics. She took an outside screwball and lined it to right field. Saddle Brook's Tori Lipari made a diving effort, but the ball bounced just before she could get her glove underneath it with both Tamburro and O'Neill coming across to give Dumont a 4-2 lead.
"It was a big situation but I focused on staying calm and staying aggressive," said Pena. "I didn't think they could afford to put another runner on base. (DiGiacomo) is a very good pitcher so I just focused on one spot. She was throwing me outside a lot and I just went with the pitch when I got one I liked. I just can't believe this is all happening right now, it's crazy."
Just as she has done all season, Sweeney closed out a big game with a 1-2-3 inning in the 10th to send Dumont to its first-ever BCT semifinal berth.
Pena had three of the seven hits for Dumont (19-3). Sweeney allowed just two hits, walked two and had 14 strikeouts. DiGiacomo and Lexi Deperi had the two hits for Saddle Brook (20-2). The Kean-bound DiGiacomo walked just one batter and had 12 Ks.
Dumont will head into unchartered territory when it heads to the Bergen County semifinals on Saturday. They will take on perennial powerhouse IHA at Indian Hills High School with first pitch scheduled for 2:00 P.M. While the Huskies are reveling in their recent run, they are not just happy to get there.
"To have the confidence we've been playing with lately has been wonderful to see," said Dumont head coach Kendal George. "These girls have worked so hard and to be successful against teams like the teams that we've played this weekend shows that we're finally among those top teams in the county. If we keep putting forth the effort that we've been putting forth all year, we've shown that we can complete with the big teams. Now we're one of those teams and we look forward to the challenges ahead."
CLICK HERE FOR MORE PHOTOS FROM THIS GAME. TO BUY A COLLECTOR'S PRINT OF THIS STORY, PLEASE VISIT 4FeetGrafix.com.