Monday, May 15, 2016
By Cory K. Doviak
NJS.com Editorial Director
A day after throwing a no-hitter, Sarah Gunderson threw a one-hitter over nine innings for Northern Highlands, which handed top-seeded Ridgewood its first loss of the season, 3-0, in the Bergen County Tournament quarterfinals.
WASHINGTON TOWNSHIP – When the Bergen County Softball Tournament gets into its deeper rounds, it is all business. When the weather cooperates, the Round of 16 and the quarterfinals are played on consecutive days. That left little time for ninth-seeded Northern Highlands and its senior pitcher Sarah Gunderson to celebrate Saturday's accomplishment when she no-hit Immaculate Conception because, the next time the sun came up, the opponent was undefeated Ridgewood, the tournament's top seed and the team ranked No. 1 in the state by the Star Ledger.

It turns out, however, that Highlands' was not a celebration denied, but rather a celebration delayed by 24-plus hours so that it could grow in significance. Gunderson was brilliant once again. She gave up just one more hit than she did on Saturday, throwing nine dominant innings against one of the state's elite. When the Highlanders' offense finally broke through with three runs in the last of the three extra innings, the party started anew after a 3-0 victory that puts Northern Highlands into next weekend's Final 4 against No. 4 Indian Hills, itself a 2-1 winner over Rutherford in 10 innings.
"Going into this game we were so pumped, especially after yesterday. We started a little slow today, but when we got our energy back we really took over," said Gunderson. "I knew what I was getting myself into going against that team. There are good bats, that whole lineup is full of them. We were up against the best in Bergen County and Bergen County is the best in New Jersey for softball. My teammates picked me up by playing great defense, playing great offense…it was a great day!"
For as pressure packed as the game was and for how much was riding on the outcome, not that much of note happened before the final outburst as Gunderson and Ridgewood ace Lisa Higgins locked up in an old fashioned pitcher's duel. It was not until the eighth inning when a ball was put in play that had a real chance to push a run across the plate.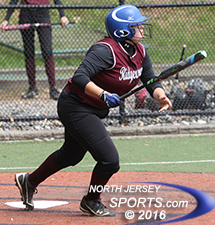 Emilie Morse had Ridgewood's lone hit, a one-out double in the seventh.
Gunderson hit a single in the first and had another in the third when the Highlanders put two runners on base for the only time in the first eight innings. Abby Morrison hit a lead-off single in the fifth and got to second on a sacrifice by Tiffany Laterra, but that rally died right there. The first 22 Highlands hitters went a combined 4-for-21 with a sacrifice and one walk drawn against Higgins.
With Ridgewood being the home team, it was up to Gunderson to match zeroes innings after inning and she was more than up to the task. She allowed just three baserunners through the seven innings that make up the regulation game. Mia Kim, Ridgewood's first batter of the game, reached on an error and stole second, but Gunderson did not allow a ball out of the infield against the next three hitters. Higgins drew a leadoff walk in the bottom of the third, went to second on Kim's one-out sacrifice and was the only Maroon to reach third base all game as she got there on a passed ball with two outs, but Gunderson grabbed a come-backer to end that threat.
It was hard to see where the offense might come from to break the deadlock before the International Tiebreaker Rule would go into effect in the 10th inning, but Ridgewood nearly made its first and only hit count. Emilie Morse, the Maroons' clean-up hitting catcher, one-hopped the wall with a shot to the opposite field and put herself in scoring position with one out. But a pop-up and then a flyball hauled in by Morrison in rightfield signaled the start of extra innings.
"I think the atmosphere that we have created around here the last couple of years has set the tone of that 'Don't panic in a big game' mentality. When you work hard to get somewhere, you want to make the most of your opportunities and not shrink from the big moment," said Northern Highlands head coach Chris Broking, who steady hand led the Highlanders to last season's Bergen County championship. "Yesterday was an opportunity to prove ourselves and all it earned us was another opportunity today against the top team in the state. We came in relaxed and confident and we stayed that way all the way through."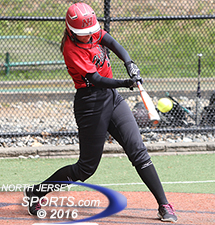 Madison Bialkowski drove in the first run of the game with a ninth-inning, opposite field double.
As the game went along, the pressure sort of shifted to the Ridgewood dugout as any run put up by Highlands in extra frames would have to be matched. The Maroons had a lot to defend with a top seed, an undefeated record and a No. 1 ranking and a crack showed in the top of the eighth when Highlands got a leadoff single from Laterra, who was 2-for-3 with a sacrifice while hitting out of the No. 8 spot in the order. The Highlanders' next hitter failed to get a bunt down, but it almost didn't matter when leadoff hitter Kate Spence hit a rocket that was ticketed for the gap in right centerfield.
Had the ball hit the turf, Laterra would have had a shot to score all the way from first, but instead she had to settle for a one base advancement after Kim ran down the ball and made a pretty back-handed grab while in full sprint. With a runner now in scoring position, Higgins (9 IP, 3 R, 2 ER, 9 H, 4 K, 0 BB) worked carefully to Gunderson with three straight ball well outside the zone, but the fourth pitch was a little too close to the outside corner. Gunderson reached for it and hit a rope, but it landed in the glove of Julia Suh, who was guarding the line at first base.
Undeterred, Gunderson (9 IP, 0 R, 0 ER, 1 H, 7 K, 1 BB) set down the side in order in the bottom of the eighth and, two batters later, she finally got some run support. Fiona Walley led off the top of the ninth with a double to the wall in centerfield and Madison Bialkowski followed with a line drive to right. Walley scored without a throw and Bialkowski had what turned into the game-winning RBI after listening to the little voice in her head.
"My dad always tells me what to do when I get an outside pitch," said Bialkowski. "When I got up there I could almost hear him telling me to sit on my back leg and drive it the other way. That is what I did and it was a great feeling when I saw that ball fall in."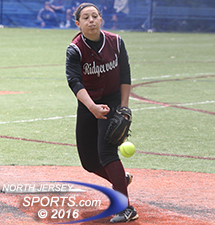 Ridgewood starter Lisa Higgins allowed just four hits without a walk through the first eight innings.
After managing just four hits through the first eight innings, Northern Highlands got four in that ninth inning alone. Annie Holden singled and Morrison (2-for-4, RBI) drove in Bialkowski with a single of her own. The Highlanders got the third run on an error before Ridgewood centerfielder Julianna Rosen finally got the Maroons out of it with a leaping catch in centerfield that she turned into a pretty 8-4 double play.
But the damage had been done and Gunderson finished the game in style with a 1-2-3 ninth inning that stamped the Highlanders' ticket into the semifinals.
While Highlands is the reigning county champion and is two wins from a repeat, this is a very different group than the one that hoisted the trophy last year. Gunderson was one of the best outfielders in the county last season and started a few games in the circle last year behind Katie Duncan, who graduated along with four other starters.
The mark of a program is not that it can gear up to make a run every few years, but that it can replace what has been lost and pick right up where the previous version left off.
"I get really excited when I think about how far this team has come and I hope that it continues. Obviously I have Sarah [Gunderson] and Madison Bialkowski, two four year starters, but I also have players like my centerfield Jianna Lombardi, who played three years on JV. I have my left fielder Annie Holden, three years on JV, and those kids, as seniors now, have worked so hard to help get us here," said Broking. "As a coach, as a teacher, it is so gratifying to see these kids step right in and make it look like they have been here all along and I am so happy that they are getting this experience and playing a big part in it."
CLICK HERE FOR MORE PHOTOS FROM THIS GAME. TO BUY A COLLECTOR'S PRINT OF THIS STORY, PLEASE VISIT 4FeetGrafix.com.