Sunday, May 8, 2016
By Cory K. Doviak
NJS.com Editorial Director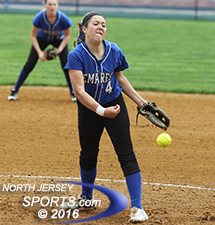 Makenzie McGrath threw a 3-hit shutout with 12 strikeouts and no walks as second-seeded Demarest opened its Bergen County Tournament run with a 7-0 win over Cliffside Park.
DEMAREST – The first every 18-0 start to the season, the league title already wrapped up and acknowledged and the No. 2 seed in the Bergen County Tournament, the highest ever for the program, are all great accomplishments for the Northern Valley/Demarest softball team, but none of them are the end game. The true success of Demarest's season will be judged by what happens from this point forward as they take their impressive resume built over the season's first five weeks into the final sprint of tournament play with starting line finally arriving.
"Now it is tournament time and I don't care about anything that led up to this. We built a resume that got us to this position, but, to be honest with you, what happened before today doesn't matter. Now is go time," said Demarest head coach Keith Johnson. "Now the season starts. It is brand new and the only record that counts is that we are now 1-0 in the county tournament."
The first win of the postseason was a 7-0 victory over Cliffside Park on Saturday afternoon in Demarest. Victoria Corcoran hit a leadoff home run over the leftfield fence leading off the bottom of the first inning, Makenzie McGrath threw a three-hit shutout with 12 strikeouts and zero walks, the Norsewomen played error free defense and every batter in the lineup had at least one hit in a complete performance that showed that Demarest is solid in every phase of the game.
Cliffside Park came in playing well. It was one a four-game winning streak, it shutout Bogota in the play-in Round, it's first county tournament win in quite some time, to reach the main draw and it had its full complement of players, including starting pitcher Lara Amato, who had missed the first 13 games of the season. The Red Raiders also have not only one of the best players that many on a county-wide level have never seen, but one of the best players, period, in Bergen County in their leadoff hitter and centerfielder Jessica Lombardi.
Senior Jessica Lombardi had two of Cliffside Park's three hits and also made a sparkling defensive play in centerfield.
Lombardi took McGrath into a deep count as the first hitter of the game before flying out to centerfield and Demarest took over shortly thereafter.
Victoria Corcoran went down to get a pitch low in the zone and drove it over the fence to give Demarest the lead for good after it had sent just one hitter to the plate. The Norsewomen could have had more in that opening inning had it not been for Lombardi's outfield instincts and her toughness. Ellen Hamlin singled and went first two third on McGrath's single to right field and, with two out and both runners in scoring position, Claudia Mattes hit a humpback line drive that was ticketed for the gap before Lombardi got a good jump on the ball and raced to cut it off. Lombardi got there with a step to spare and then held on to the ball even after colliding knee to knee with Shahed Zubi, the freshman rightfielder who was also in full sprint.
The Demarest lineup is deep and it was the bottom of the order that set the table for a three-run second inning that broke the game open. Senior catcher Haley Pontillo (1-for-4) led off with a single and her courtesy runner, Emily Taylor, scored when No. 9 hitter Sam Maniscalco, the senior second baseman, crushed a triple to the opposite field. Maniscalco then scored on a Veronica Corcoran (1-for-4, RBI, R) single and she came around to score on an error that made it 4-0.
That was plenty for McGrath, the sophomore right-hander who was perfect the first time through the Cliffside lineup with six strikeouts against the first nine hitters she faced. McGrath allowed just three baserunners in the game and made all of them earn it. Lombardi (2-for-3) had a leadoff single in the fourth and a well-struck, two-out double to left in the sixth and Alexandra Botto's leadoff single in the seventh was only other hit for the Red Raiders, who fell to 10-11 on the season.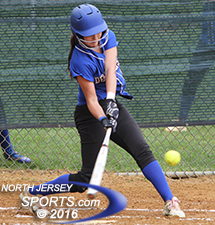 Victoria Corcoran just about to connect on her home run in the first inning that gave Demarest the lead for good.
"We want to make a statement in this tournament and the most important thing was to get the win. We scored some runs and played good defense and it was a good way to get things started," said McGrath, who also chipped in on offense with a hit in four times at bat. "We approached this game like every other game this season, but in that back of your head you know it is a county tournament game and there is a lot more riding on it because we feel like we have the potential to win it. Being 19-0 is awesome, but we are getting cocky about it. Why not keep working and go for an undefeated season? Why not make that the goal and see if we can do it?"
Victoria Corcoran (2-for-3, HR, RBI, R), Hamlin (2-for-4, R, SB), Mattes (2-for-4, RBI) and Maniscalco (2-for-4, 2 RBI, R) all had multi-hit games for Demarest, which will play No. 15 Dumont in next weekend's Round of 16. An interesting side note there is that McGrath is a Dumont resident who will pitch against her home town team.
But it is not individual storylines that the Norsewomen are hoping to write. They are focused on the team aspect of making deep tournament runs that might eventually end up with trophies being hoisted.
"Being a senior this is kind of surreal. Coach [Johnson] has never been 19-0 with a team before, he says it all the time, but we are trying to keep that out of our heads when we are on the field and just keep concentrating one each pitch," said Pontillo. "The energy was a lot higher today. We finally had some decent weather to play in, the county tournament is finally here and we were not going to take this opponent for granted. They deserved to be here, we knew we had to play hard if we were going to win and that is how we are going to keep it going in the counties and then the state [tournament] when that gets here."
CLICK HERE FOR MORE PHOTOS FROM THIS GAME. TO BUY A COLLECTOR'S PRINT OF THIS STORY, PLEASE VISIT 4FeetGrafix.com.