Friday, May 6, 2016
By Cory K. Doviak
NJS.com Editorial Director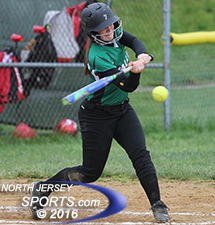 Nicole Franklin's two-out, two-run single in the top of the sixth broke a tie and gave Pascack Valley a 6-4 win at Ridgefield Park in the opening round of the Bergen County Softball Tourney.
RIDGEFIELD PARK – It is not easy to be a softball program in transition while playing a regular season schedule that includes the top teams on a daily basis. The Indians have played the likes of Ridgewood, the top seed in the Bergen County Tournament, Northern Valley/Demarest, the No. 2 seed, and others that make up the who's who of the county and state elite. And the Indians have done it for most of the season with a new coaching staff and an all-freshmen battery of pitcher Cara McMahon and catcher Maddy Gallo. The road has not always been smooth.
"We are looking into the future and the good years to come. Both our pitcher and our catcher are freshmen and we have some juniors and sophomores that will be back," said Judy Lucia, who is half of Pascack Valley's co-head coaching tandem along with Lauren Bacsik. "But at the same time we want to play every game this year with the mindset to try and win."
The Indians have certainly bought in as, trailing by a run heading into the sixth inning on a raw afternoon with the wind whipping straight in from right-centerfield, they never lost faith and did not lose the game either.
Nicole Franklin's two-out, two-run single snapped a tie in the top of the sixth inning and gave Pascack Valley the winning margin in a 6-4 victory on the road at Ridgefield Park in the opening round of the Bergen County Tournament on Thursday.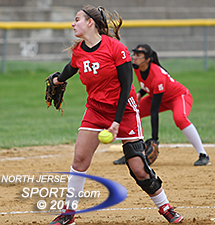 Danielle Sinclair, pitching with a torn knee ligament, went the distance for Ridgefield Park.
"I was getting pitched outside all game so I went up there with the mentality to step toward the pitch and drive it to rightfield because I knew that, with runners on second and third, if I hit it to the opposite field both runs would be able to score," said Franklin, the Indians' third baseman and one of three sophomores in the starting lineup. "The main thing was that we kept our energy up. We were all cheering for each other really loud, we all support each other and we all have confidence in each other so when it was my turn I just had to try to do my job and help my team."
Pascack Valley was up against one of the toughest players in Bergen County in Ridgefield Park starting pitcher Danielle Sinclair. She suffered a knee injury during basketball season, but instead of opting for immediate surgery, she chose to play out the softball season in the pitching circle basically on one leg. The injury is to her left knee, which is the push leg for the left-hander, but Sinclair showed her grit in the top of the first inning when, after allowing a double to freshman leadoff hitter Julia Spadafino, a sacrifice and an RBI single to Franklin (3-for-4, 3 RBI), she got out of further trouble by stranding two runners in scoring position.
McMahon, pitching in her first ever varsity playoff game, might have had some early nerves to deal with as the first two hitters she faced in the game, Gabby Cortes and Janaya Gaetan, each reached safely on a double and a walk and both moved up with stolen bases, before McMahon struck out three straight to get out of the jam unscathed. Ridgefield Park, however, did cash in a second inning opportunity.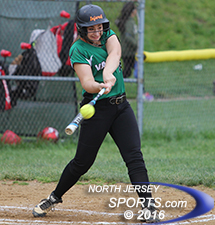 Alex Pleasic had three htis, two doubles and two RBI for Pascack Valley, which will play No. 3 IHA in the Round of 32.
Alyssa Flowers, the No. 9 hitter in the Scarlets' lineup, drove a ball through the right side and even though she was thrown out at first base by right-fielder Jackie Dehn, Allie Pasechnick (1-for-3, R), scored to give Ridgefield Park a 2-1 lead after it had tied the game when Rachel Domke scored on a wild pitch. Back at the top of the order Cortes and Gaetan restarted the rally with a walk and a single in front of the Kerri Tellian (1-for-3, 2 RBI, BB), who blasted a two-run triple to right to give the Scarlets a 4-1 advantage.
Although she gave up four hits and as many walks in the first two innings, none of the four runs McMahon allowed were earned and she allowed just two more hits over her final five innings of work. After a rough start, she settled down and threw a lot of strikes.
"I tried to treat it like any other game and just go out there and do my thing, but early on I think maybe their cheering got in my head a little bit. I had to shake it off and get my concentration on the batters back," said McMahon, the freshman right-hander. "I never thought I would even be in this position as a freshman. I never thought I would be pitching in a county game when the year started, so I was happy to just be out there and trying my best for my team."
McMahon now not only has a county tournament game under her belt, but also a county tournament win which her team saw to with the sixth-inning rally. The Indians had drawn to within 4-3 on Alex Pleasic's (3-for-4, 2 RBI, 2 2B) two-run, two-out double in the top of the third and it was Ashley Lagrosa who started off the decisive sixth inning with a clean single to center before being lifted for pinch-runner Erin Flanagan. Sinclair got the first out with the last of her four strikeouts before Gallo and Spadafino beat reached on an infield single and a fielder's choice to load the bases. That brought up Izzy Bussanich (0-for-2, R, RBI, BB, SAC), the sophomore shortstop, who hit a hard ground ball to second base with the infield in. When Ridgefield Park elected to take the second out of the inning at first base, Flanagan scored to tie the game. The next batter was Franklin, who ripped a liner into center to score both Megan Viganola, the courtesy runner for Gallo, and Spadafino (2-for-4, 2 R) with the go-ahead and insurance runs that the Indians carried across the finish line.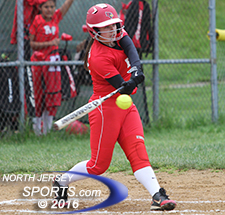 Kerri Tellian hit a two-run triple for Ridgefield Park in the second inning.
"It was right there for us and we had a chance to finish off the game, but there were two plays that we did not make in that sixth inning that could have changed the inning and maybe led to a different outcome," said Ridgefield Park head coach Mook Iannacone. "We played OK, we didn't boot the ball around too much, we didn't throw it away too much, but we found another way to give a game away that has pretty much been our situation this year. You have to give credit to Pascack Valley first of all, they found a way to win and they are moving on, but I also have to say something about my pitcher [Sinclair]. She is out there basically on one leg and when she makes a mistake it is going to get hit, but she goes out there every game and gives us a chance to win. She certainly gave us that chance today, but we let it get away."
Pascack Valley got away with a win and now will take another step up in class as it enters the county tournament's main draw. Next up is perennial power IHA, the No. 3 seed and No. 1 in Marc Aug's NorthJerseySports.com Top 20 in the Round of 32 on Saturday in Washington Township.
That game represents another opportunity for the young Indians to see what it like to compete at the upper echelon, but it is nothing they haven't seen before and they certainly will not let themselves be beaten before the game even begins.
"We've played the top two seeds in the tournament already during the regular season so we know what that level of play looks like," said Bacsik, the former Lauren Mende who played her high school softball at Ramsey. "Our defense is strong, so if we can hold them to as few hits as possible it will be a good game and maybe we give ourselves a chance."
CLICK HERE FOR MORE PHOTOS FROM THIS GAME. TO BUY A COLLECTOR'S PRINT OF THIS STORY, PLEASE VISIT 4FeetGrafix.com.