Thursday, April 28, 2016
By Rich Barton
NJS.com Staff Writer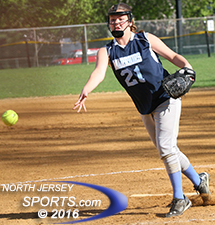 Freshman Ashley Buschgans did it in the circle and at the plate for Waldwick, which picked up a huge league win when it beat Bogota, 4-2, on Wednesday.
WALDWICK – With a freshman pitcher in the circle and a mixture of both experienced players and others who were getting their feet wet on the varsity level for the first time, how Waldwick would fare this season was largely unknown. An early-season, extra-inning loss to Bogota could have been considered an unfortunate sign of things to come.
The Warriors felt just the opposite though as they have been rolling ever since. The measuring stick of just how far they have come in the season's first month happened when Bogota came to town on Wednesday looking to not only sweep the season series, but also knock Waldwick out of the NJIC-Patriot league title race.
Freshman Ashley Buschgans showed poise well beyond her years both in the circle and at the plate. Her two-run single brought home Devin Burke with the go-ahead run as Waldwick got its payback with a hard-fought 4-2 triumph over Bogota at Waldwick High School.
"We always seem to play tense and nervous against Bogota and we knew we couldn't play like that today," said Waldwick senior captain Hallie Donofrio. "We like to be intense and hyped up to the max every game. When they took the lead we never got rattled. It was important that we never lost confidence and we came out with the same intensity we had all game."
Waldwick has made a habit of jumping on opponents early and did so again with a first-inning run. Burke slapped a leadoff single to get things started. Bogota centerfielder Jackie Villafuente made a fantastic catch to rob a home run off the bat of Donofrio, but the Lady Bucs could not escape the inning. The very next batter, Buschgans, crushed a double to deep left that scored Burke to stake the Warriors to a 1-0 lead.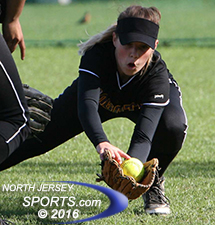 Bogota rightfielder Amanda Cranquist making a heads-up defensive play that saved a run in the third inning.
The Warriors had a chance to pad the lead in the third until a wild play kept them from scoring and also ended the inning. With runners on the corners and one out, Donofrio lifted a high fly ball behind second baseman Leslie Gonzalez. The ball tipped off of her glove and was inches from hitting the ground. Right fielder Amanda Cranquist alertly backed up the play and made a diving catch. Although the runner from third is allowed to tag up as soon as the ball touches a defensive player's glove, it was ruled that she left early and the double play ended the inning.
With the tying and go-ahead runners in scoring position in the top of the fourth, Buschgans snared a hard-hit ball and threw to first to get out of the jam. The freshman right-hander was not as lucky an inning later as Bogota finally broke through to get on the scoreboard.
After the leadoff batter reached and stole second, Cranquist's seeing-eye single tied the game. After a groundout moved Cranquist into scoring position, Villafuente roped a double into the left-centerfield gap to put the Lady Bucs on top, 2-1.
The energy remained high in the Waldwick dugout and it was not long before the tying and go-ahead runs were in scoring position. With runners on second and third, the Bucs elected to walk the dangerous Donofrio to pitch to Buschgans and set up a force at every base. Buschgans foiled the strategy by drilling a fastball back through the box and into centerfield to score both Haley Larsen and Burke to put Waldwick in front. Two batters later, Sarah Armstrong added an insurance run on an RBI single to cap the three-run inning for a 4-2 lead.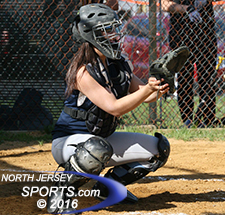 Hallie Donofrio helped Waldwick win its 10th game of the season.
"I was pretty upset I let up those two runs, when I got up with the bases loaded that I needed to get a hit to make up for it," said Buschgans. "When they walked Hallie to get to me it kind of made me mad. I just wanted to bomb that ball but I had to stay focused and stay aggressive on anything over the plate. I got the pitch I wanted and got the runs home."
Bogota brought the go-ahead run to the plate in both the sixth and seventh innings. Buschgans was up to the task both times. She got a strikeout to end the sixth and a groundout to third baseman Emily Porto to end the game.
Buschgans went 2-for-3 at the plate with three RBIs for Waldwick (10-3). She scattered nine hits and had four strikeouts without walking a batter. Larsen also collected two hits out of the No. 9 hole.
Villafuente had a solid day defensively in centerfield along with going 3-for-4 with an RBI at the plate for Bogota (7-5). Madison Heck also gave up nine hits with one walk and four Ks in taking the loss for the Lady Bucs.
Waldwick now controls its own destiny in the NJIC-Patriot. With Emerson and Midland Park still left on the schedule, wins over both teams would give them at least a share of the league title. For the Warriors, that is something to look forward to down the road. For the present, the goal is to keep improving and to stay hot heading into the Bergen County Tournament.
"Ignorance is truly bliss with our team," added Donofrio. "For us seniors, we know this is our last shot at doing something big. For the younger players, they don't know nearly as much about teams as our seniors do because we've been through it. It keeps us loose and we just go out and play. As long as we keep having that attitude, we have a chance to make a name for ourselves."
CLICK HERE FOR MORE PHOTOS FROM THIS GAME. TO BUY A COLLECTOR'S PRINT OF THIS STORY, PLEASE VISIT 4FeetGrafix.com.