Monday, April 25, 2016
By Cory K. Doviak
NJS.com Editorial Director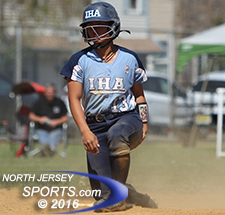 Reese Guevara went 3-for-3 with 3 runs scored, 3 stolen bases and RBI as IHA improved to 11-1 on the season with a 5-0 win over Butler at the HOFS Showcase.
SADDLE BROOK – The passing of IHA head coach Anthony LaRezza back in February set everyone for a loop and, in fact, the shock has not really even worn off yet for those who knew him best or even casually from the softball circuit. The first week or two of the season were devoted to him as the IHA program and its opponents wanted to pay tribute to the man and set in motion all of the plans and new traditions that will honor his legacy.
But what LaRezza liked best was the game of softball and what he would probably have liked the most at this time of year, especially on a picture perfect weekend afternoon in late April, would be for his team to go out and win a ball game. There is a season to play and IHA is doing its best to put its focus on doing just that.
"The first week was tough trying to work out the kinks and trying to feel comfortable. Everybody misses [LaRezza] misses him, but now it is about softball and we have to get better," said Diana Fasano, LaRezza's long-time assistant who is now the IHA head coach. "The [Bergen] County Tournament is going to start in a few weeks, the state tournament as well and it is important to be playing well then."
While so much has changed around the IHA program since the time it walked off the field at Kean University as Non-Public A state champions on June 6 of 2015, the roster has basically remained the same. The entire starting lineup returned intact, including junior leadoff hitter Reese Guevara, who is one of the most disruptive offensive players in all of New Jersey. At the HOFS Classic on Sunday in Saddle Brook, Guevara was at it early and her speed made the difference in what turned into a 5-0 win over a talented Butler team.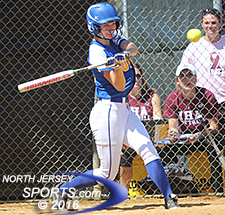 Sam Beck had one of Butler's two-hits, a two-out single in the bottom of the third.
Guevara singled leading off the game, stole second, went to third on Emilie Cieslak's sacrifice bunt and then, with Taylor Kenerson behind her at second base, was racing down the line as Fasano called for a squeeze bunt. The play went south when the pitch was not put in play as Guevara was hung up on the basepaths, but with her speed she was hoping to keep the play alive as long as possible.
"I just tried to stay in the rundown as long as I could so that Taylor [Kenerson] could advance to third," said Guevara, who is committed to play at the University of Connecticut. "But then they threw it away and it kind of worked out."
Guevara extended the pickle to include five throws, one too many for Butler, which saw the last of them head down the leftfield line. Guevara got up and scored followed closely by Kenerson, who was also at third base to make it 2-0 before the second out of the game was recorded.
"[Butler's] Larissa [Spellman] is a very good pitcher and she was going to attack the zone. We had to be aggressive. We got the leadoff single [form Guevara] and I played small ball because you don't know how many chances you are going to get," said Fasano. "We had a bunt [from Cieslak, the No. 3 hitter], a steal and I tried to get a squeeze down, but it worked out anyway. To go up 2-0 in the first inning was huge to set the tone for the game."
One of the few changes in on-field personnel for the Blue Eagles is in the pitching circle. Last season and for the first week of this season, left-hander Olivia Sprofera shared time with Katie Kudlacik. Kudlacik has transferred to Paramus Catholic where is she is sitting out the 30-day waiting period and Sprofera is now the lone No. 1 option for IHA. Sprofera, a junior who was the winning pitcher in last year's state final, looked every bit the ace on Sunday as she mowed through the Bulldogs in a two-hit shutout.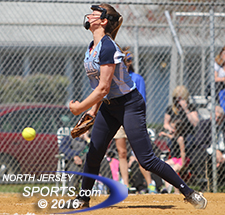 IHA junior Olivia Sprofera threw a two-hit shutout with six strikouts and one walk.
Sprofera allowed just three baserunners all game, but they all came in the bottom of the third inning when Butler, which was missing two starters due to a school-sponsored trip, was still trailing by just two runs. After striking out the first two hitters of the inning, Sprofera gave up her first hit of the game, a well-struck single to left by No. 9 hitter Sam Beck and Spellman then drew the Bulldogs' lone walk of the game. Melissa Konopinski then singled to left and, rather than take her chances with a play at the plate, Butler head coach Brittany Marion decided to leave the bases loaded for her No. 3 hitter. But Sprofera got a pop-up to end the threat and Butler did not manage a base-runner the rest of the way.
IHA tacked insurance runs in the fifth and seventh innings, and Guevara played a part in all of them. She tripled home Reagan Jones, who got down a bunt single leading off the fifth, and scored on Kenerson's RBI groundout to make it 4-0. Guevara then led off the seventh with an infield single, stole second, went to third on Kenerson's sacrifice and scored on Cieslak's sacrifice fly to deep centerfield.
It all turned out to be much more than Sprofera needed.
"We just knew that we had to come out with more energy. We lost last year [at the HOFS Classic] and we had to keep that in mind. We had to hit spots, make plays, hit the ball and attack early and that is basically what we did," said Sprofera, who finished with six strikeouts against just the one walk. "We brought it from the beginning and carried it through."
CLICK HERE FOR MORE PHOTOS FROM THIS GAME. TO BUY A COLLECTOR'S PRINT OF THIS STORY, PLEASE VISIT 4FeetGrafix.com.