Tuesday, April 19, 2016
By Cory K. Doviak
NJS.com Editorial Director
Sophomore Angela Saric gave up just four hits and one run for Indian Hills, which scored four times in the top of the sixth inning to grab a 5-1 win at Old Tappan on Monday afternoon.
OLD TAPPAN – It was a throw-back kind of softball game between two tradition rich Bergen County public schools, a pitcher's duel that looked like it was going to be won by the team that could build a run in the late innings, the kind that Indian Hills pieced together in the top of the sixth.
A lead-off single by Gina DeOliveira set the wheels in motion and she moved up two bases on groundball outs on the infield. That set the stage for Siena Mayer-Costa to take the biggest at bat of the game.
"I go up at bat thinking 'just hit the ball.' I hate to strike out and I rarely do it. There was a big run on third, the game was tied and it was vital that I at least put the ball in play and make them field it," said Mayer-Costa, Indian Hills' senior designated player who is the team-leader in RBI through 12 games. "That is a good pitcher [Julie Rodriguez] that we were up against, but you just have to go up there and do what we work on all the time in practice, the physical aspect of having a good at bat."
Mayer-Costa, a left-handed hitter, was comfortable letting the count run deep before pulling an inside pitch right over the first base bag. DeOliveira trotted home to break the tie and the pitcher's duel between Rodriguez and Indian Hills' Angela Saric was over too as the Braves tacked on three more unearned runs in the frame in a 5-1 victory on Monday afternoon in Old Tappan.
Junior Julie Rodriguez had two of Old Tappan's four hits, including the 100th of her career on a third inning single.
This is a different kind of Indian Hills team. The Braves have been not only one of Bergen County's top programs over the last decade-plus, but also one of the best in all of New Jersey. Previous versions of the Braves always seemed to have a bevy of experienced thumpers in the lineup and a bona fide ace in the pitching circle. Right-hander Angela Saric is on her way to becoming that dominant pitcher, but she is still just a sophomore and, with just two seniors in the starting lineup and only one that plays the field, these Braves are learning on the job.
The results look familiar as Indian Hills is now 9-3 on the season, but there is a lot more in-game teaching going on nowadays for head coach Joe Leicht and his staff.
"We are a very young team and we are really kind of starting at the beginning. The kids are really responsive and they are talented, but we are still trying to maximize those talents consistently," said Leicht, who has led Indian Hills to two of the last five Bergen County championships. "We have camp for two weeks in the summer for third graders on up, so we have had a lot of these kids from third or fourth grade and it is nice to see them come up and take their turn. We always talk about the legacy of the program and what link each specific group is going to leave. We are teaching more, sure, but the results have been there."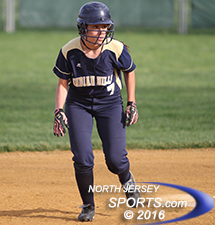 Siena Mayer-Costa, one of Indian Hills' two senior starters, drove in the winning run with a two-out single in the sixth.
Old Tappan is in similar straights in terms of experience. With senior Alexie Piccinich lost for the year to a knee injury suffered during basketball season and junior Lana Davidoff also out injured, there is a lot of youth behind the experienced battery of Rodriguez (7 IP, 5 R, 1 ER, 8 H, 4 K, 0 BB), the junior lefty already committed to UCLA, and senior catcher Carol Oberhelman. It was that pair that got the Golden Knights even after they fell behind in the top of the third inning when Indian Hills plated an unearned run.
Rodriguez (2-for-3, R, BB), after stroking the 100th base hit of her career on a third inning single, drew a walk, her 16th of the season in just Old Tappan's seventh game played, leading off the bottom of the fifth. Two batters later, Oberhelman ripped a triple, the Knights' only extra base hit of the game, into right centerfield to tie the game heading into the final two innings.
But instead of being instead of being locked in a nail-biter on the road, Saric (7 IP, 1 R, 1 ER, 4 H, 5 K, 2 BB) found herself with a comfortable margin to work with down the stretch as the Braves took advantage of some mistakes that were the direct result of simply putting the ball in play with two outs.
After Mayer-Costa's tense at bat pushed across the go-ahead run, and error opened the door to the four-run rally that put the game away. Three straight two-out hits by junior catcher Caitlyn Logatto (1-for-3, RBI, R), freshman shortstop Kelly Hoover (1-for-3, RBI) and junior rightfielder Julia Blezow (2-for-4, RBI, R) all drove in runs and Saric retired 7 of the final 8 hitters she faced to close it out.
Carol Oberhelman sliding in safely on a fifth inning triple that drove in Old Tappan's lone run.
"People might have thought that this was going to be a little bit of a rebuilding year for us, but we are just starting to come together as a team and we are going to keep up the legacy. We are going to do our best to be that next Indian Hills team that has a lot off success," said Saric, a sophomore who also had an outstanding sophomore season as a varsity starter in hoops. "Coach [Leicht] does not want to put the pressure on us, but he does expect a lot from us and we are going to do our best to make him proud."
Old Tappan has ridden the roller coaster in its first seven games and is now at 4-3 on the season while force-feeding its younger players into the varsity grind. The Knights had four freshmen in the starting lineup against Indian Hills, but this season will not be graded on curve.
"We are not looking to make excuses. We missed a lot of routine plays and we have been out here working for the last six weeks. It is just not acceptable right now. That is what it comes down to and I don't care what grade we are in," said Old Tappan head coach Melissa Landeck. "We lost a lot to graduation and we have been dealt a tough hand with the injuries and such to the upper classmen, but again these kids are a part of our program and will be for some time so we are not setting the tone of making excuses. That is not about here. We are just going to continue to work hard and try to get better."
CLICK HERE FOR MORE PHOTOS FROM THIS GAME. TO BUY A COLLECTOR'S PRINT OF THIS STORY, PLEASE VISIT 4FeetGrafix.com.