Sunday, April 17, 2016
By Rich Barton
NJS.com Staff Writer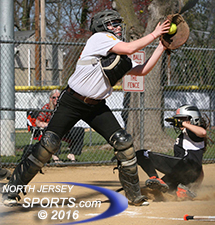 Dumont catcher Devon Davis had three hits for the Huskies, who scored three times in the seventh inning to pull out a 9-6 win over Hasbrouck Heights at the Strike Out Cancer event held on Saturday in New Milford.
NEW MILFORD – The season was rolling along for Dumont and everything was falling right into place. The Lady Huskies had ripped off seven straight wins to start the year, capped by a shutout of Mahwah. Then came a loss to Westwood on Friday and the mood quickly changed. It was the first time they failed to deal with adversity successfully. As disappointing as that was the best remedy for that was to get back on the field and be ready for the next time a stressful situation came up.
Turns out Dumont did not have to wait long when, just 24 hours later, they faced a stingy Hasbrouck Heights team looking to keep its own winning ways going.
After Hasbrouck Heights scored four runs in the bottom of the sixth to tie the game, the Huskies needed to make something happen and fast. No. 8 batter Jasmine Vera jumped on the first pitch and roped it to right-center to drive in the game-winning run as Dumont bounced back with a 9-6 triumph over Hasbrouck Heights on Saturday in the third game of four to benefit Pediatric Cancer research on Saturday in New Milford.
"How we recovered after a tough loss shows what type of team we have here," said Dumont head coach Kendal George. "We didn't get down on ourselves and we turned our focus to the next game."
Hasbrouck Heights jumped out to a quick lead on a leadoff homer from Sami Partyka. Dumont pulled ahead in the top of the third thanks to a two-run triple to deep left by Ariana Pena. Lauren Naveo and Devon Davis added RBI singles in the fourth and fifth innings, respectively, to push the Huskies' lead up to 6-2.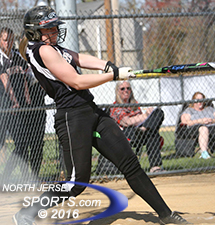 Heights' Sami Partyka had a big day at the plate with

four hits, including two home runs, and three RBI.
Jenn Sweeney has been lights out in the circle all season for Dumont and she settled in after the leadoff homer by Partyka. With the Aviators needing a spark, it once again was Partyka who used her red-hot bat to provide it. She stroked a two-run shot with one out in the top of the sixth to cut the Huskies' four-run lead in half.
Hasbrouck Heights was not done yet. Amanda DeJulia and Olivia Marinelli followed Partyka's homer with back-to-back singles. After a run scored on a wild pitch, Jill Sears lined a single to tie the game at 6. With the go-ahead run just 60 feet away, Sweeney got out of the jam with a strikeout to end the inning before her teammates picked her up in the top of the seventh.
"I'm proud of the way we fought back to tie the game, especially the way we hit the ball against a real tough pitcher like Sweeney," said Hasbrouck Heights head coach Jackie Ferranti. "Defensively we struggled today in pressure situations and that's something we have to work on. Playing tough teams will only make us better and we'll learn from this game."
With one out Alex Lindstrome drew a walk and an infield error put runners on first and second. Vera made the Aviators pay for the miscue by driving the first pitch she saw to right field to plate Lindstrome with the go-ahead run. An error on the play brought across another run and Naveo added her second RBI single of the game to make it 9-6.
"The first pitch was a little inside and I was able to drive it," said Vera. "We needed to get a run and I had to be aggressive. In that situation, any pitch over the plate I was going to swing."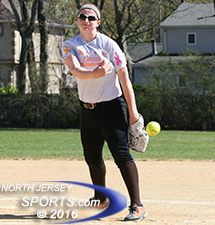 Jennifer Sweeney walked one and struck out seven for Dumont, which improved to 8-1 on the season.
Davis paced the offense for Dumont (8-1) by going 3-for-4 at the plate. Naveo and Vera each had two hits to back Sweeney, who walked one and struckout seven.
Partyka had an impressive performance for Hasbrouck Heights (5-2) going 4-for-5 with two HRs and three RBIs. Victoria Vizzocchero and DeJulia both collected two hits.
The games benefitting Pediatric Cancer research at New Milford were quite successful this year raising over $3,000.
With showdowns looming with River Dell and Ramsey on Monday and Wednesday, it was imperative that Dumont to get its confidence back. Now at 8-1, this next week gives the Huskies a chance to make a statement before the Bergen County Tournament seeding meeting.
"We have faith in each other and we know we can win big games," added George, a first-year head coach at her alma mater. "There aren't any holes in our lineup and that helps when we need a big inning. I'm proud of our effort and how hard we worked today. Defensively we need to play better and there are still things we need to improve upon with a big week coming up."
CLICK HERE FOR MORE PHOTOS FROM THIS GAME. TO BUY A COLLECTOR'S PRINT OF THIS STORY, PLEASE VISIT 4FeetGrafix.com.