Wednesday, April 13, 2016
By Rich Barton
NJS.com Staff Writer
Nicole Maldonado hit two homeruns including a walk-off, three-run blast in extra innings, to help Fort Lee to its first win of the season, 11-9, over Queen of Peace on Tuesday.
FORT LEE – Putting her head down or just quitting would have been the easy thing to for Fort Lee's Nicole Maldonado. Her team was off to a 0-4 start and trailed by six runs early on against Queen of Peace. To make matters worse, Maldonado stranded six runners in her first three at-bats. But despite the slow start, both to the season and game, Maldonado stayed positive and kept her focus.
And it paid off.
The junior catcher hit a game-tying two-run homer in the bottom of the sixth to tie the game. Then, in extra innings, she crushed a walk-off three-run homer to get Fort Lee into the win column for the first time this season with a thrilling 11-9 victory in eight innings over Queen of Peace on Tuesday afternoon at Fort Lee High School.
"We're a team that is known for never giving up," said Fort Lee's Sarah Diaz. "We talk about having pride and that carries into the way we play. As long as we keep fighting, good things will eventually happen, like they did today."
Queen of Peace came in on fire at the plate having scored an eye-popping 40 runs in its first two games. That trend continued in the top of the first inning when Leeanna Kociensk caught up with a high fastball and smashed it to left for a three-run homer.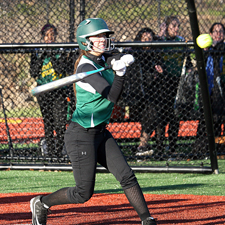 Leeanna Kociensk hit a three-run homer on this swing to stake Queen of Peace to a 3-0 lead.
Brittany Santiago pitched in by hitting a solo shot in the third inning before lining a two-run single an inning later for an 8-2 lead. Fort Lee was in danger of the mercy rule with the bases-loaded and the Kociensk back at the plate. But Bridgewomen southpaw Jamie Rosa was able to bear down and induce a pop-up to end the threat.
Fort Lee responded with three runs in the bottom half of the fourth inning, all of which came with two outs. Speedster Jackie McKenna beat out a two-out, two-strike bunt to plate a run. Two batters later, Diaz roped a double down the left-field line to slice the lead to 8-5.
In the fifth inning, McKenna was at it again, laying down another two-out, two-strike bunt to bring home Ellie Schulman.
"I switched from batting righty this year to lefty to try and use my speed better," said McKenna. "It's been a process and I'm still learning every day. I know if I can just get the ball down that I can use my speed to make things happen."
That set the stage for part one of Maldonado's heroics. Diaz got hit by a pitch and Maldonado made the Golden Griffins pay for it with a two-run homer to left-center that knotted the score at 8.
The game went to extra-innings where Queen of Peace pulled ahead. Santiago stroked a leadoff single, stole second. She was moved to third on a sacrifice bunt by Alejandra Reveco before coming home on a sac fly from Alexia Cortes to make it 9-8.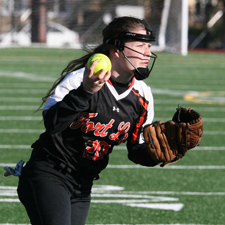 Fort Lee's Jackie McKenna went 3-for-5 with two runs scored, two RBIs and two stolen bases.
Fort Lee took a more patient approach in the bottom half of the eighth and it paid off. Tommasina DeNeglio was hit by a pitch to lead off the inning and Diaz drew a walk to bring Maldonado to the plate. After working the count she finally got a pitch to handle and made the most of it blasting a no-doubter to deep left for the game-winner.
"Coach (Bob) Aughey told us late in the game that we had to take some pitches but also be aggressive when we got a pitch we liked," said Maldonado. "Anything close I was ready to take a hard swing at it. I was just hoping to get a base hit or advance the runners but I'm happy with how it turned out."
Maldonado's two HR and five RBI paced the offense for Fort Lee (1-4). McKenna went 3-5 with two runs scored, two RBI and two stolen bases. Diaz reached base in four of her five plate appearances driving in two runs and scoring twice. Athena Sinisi also collected three hits.
Santiago led the way for Queen of Peace (2-1) with a homer, three RBIs, two runs scored and a stolen base. Ashley Ruivo and Cortes each added two hits.
With the long-awaited first win finally under their collective belts, the Bridgewomen hope to be more competitive throughout the season.
"I think this shows that we can come back in any situation," added Diaz. "We're a young team and we're still learning as we go. It's a long process but this is a big first step for us. This will help build our team's confidence. It's not how you start, it's how you finish."
CLICK HERE FOR MORE PHOTOS FROM THIS GAME. TO BUY A COLLECTOR'S PRINT OF THIS STORY, PLEASE VISIT 4FeetGrafix.com.