Thursday, April 7, 2016
By Rich Barton
NJS.com Staff Writer
Leigha Goldsack did not allow an earned run and also went 3-for-4 with three RBIs at the plate for Rutherford, which opened its season with a 10-6 win.
POMPTON LAKES – The weather throughout March was like nothing Helen Antzoulides had ever seen in her time as the Rutherford head softball coach. All eleven scheduled scrimmages were played without a hitch and the Lady Bulldogs were properly prepared for the regular season. But after three rainouts, Antzoulides was concerned about how her team would respond in the season-opener, delayed all the way to Wednesday, against a solid Pompton Lakes team that has given the Bulldogs trouble in years past.
Antzoulides' fears were quelled in short order as Rutherford scored seven second-inning runs. All of them came with two outs to break the game open en route to a 10-6 road win over Pompton Lakes at Lakeside Middle School.
"After having so many scrimmages, we haven't been out on the field in five days so we knew this would be an interesting game," said Rutherford's Natalie Else. "We were just excited to get out here. I thought we hit pretty well but we were a little rusty and made some mistakes too."
Leigha Goldsack, a junior right-hander, helped herself with a run-scoring single up the middle in the top of the first. That was just the tip of the iceberg for the Bulldogs who used both small ball and big bats in the seven-run second inning.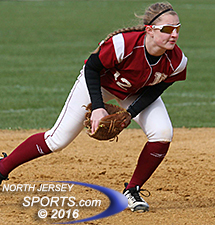 Nicolette MacDonald had a good day at the plate for Pompton Lakes.
"We know we can hit and everyone feeds off of each other once someone gets a big hit," said Goldsack. "Hitting is something we've been doing really well and that continued today. Once we get everything together we know have a chance to go far in states. That's our goal."
With two outs, two on, and two strikes, Shannon Clare roped a double into the left-center field gap to plate two runs. Natalie Else followed with a first-pitch clout to dead center for a run-scoring triple. Goldsack added another RBI single. Katie Chinery also plated a run with a single with two more runs (including Chinery) coming around to score on a pair of errors on the play for an 8-0 lead.
The lead grew to nine runs on a sacrifice fly by Kathleen Nowinski. Pompton Lakes did not quit though and used one swing of the bat to get on the scoreboard. Jen Larson hit a bomb to left-center and just beat the throw to the plate for a three-run homer that cut the Rutherford lead to 9-3.
The Cardinals used a late rally to score three runs in the final two innings but Goldsack settled down to get the final out and lock up the first win of the year.
Kathleen Nowinski drove in a run for Rutherford, which is now 1-0.
Along with picking up the win, Goldsack also went 3-for-4 with three RBIs at the plate for Rutherford (1-0). None of the six runs Goldsack allowed were earned. She allowed five hits, walked three and struckout 11. Of the Bulldogs' 15 hits, seven of them were infield hits including a career-high four by speedster Brielle Prince.
Erin Keating took the loss for Pompton Lakes (1-1), but did provide a two-run single in the seventh inning. Gianna Stygar and Nicolette MacDonald combined to reach base six times and score four of the team's six runs.
The Bulldogs were excited to get a win in their season-opener. However, after committing five errors that all led to the runs, there is still plenty of work to be done to clean things up moving forward.
"We were definitely sloppy today, but it doesn't feel so bad when you get the win," said Antzoulides. "Pompton Lakes always has a great program and they kept grinding the way we should have been. We're happy with the win but not happy with our performance. We have Mahwah on Saturday and that's going to be a tough one. We'll have to turn the page and be much sharper then than we were today."
CLICK HERE FOR MORE PHOTOS FROM THIS GAME. TO BUY A COLLECTOR'S PRINT OF THIS STORY, PLEASE VISIT 4FeetGrafix.com.