Saturday, April 2, 2016
By Rich Barton
NJS.com Staff Writer
McKenzie Bishop, one of two returning starters from Ramsey's Group 2 state championship team from last year, helped the Rams open the new season with a 6-4 win over Mahwah on Friday afternoon.
MAHWAH – Last year was the ultimate dream for a senior-dominated Ramsey softball squad. It got hot at the right time and pulled several upsets during the state tournament, including over perennial state power Robbinsville to win the Group 2 state championship. But with seven new starters this season, the Lady Rams might have been expected to be pushed back down the pecking order a bit
The two lone holdovers from last year's lineup, Devan Larson and McKenzie Bishop, feel otherwise.
After getting a taste of what it feels like to be a champion, they want to have that feeling again. The first step came on Friday against a young but talented Mahwah squad looking to make a statement on the first day of the 2016 season.
Down by two runs going into the bottom of the seventh, Mahwah got the tying run into scoring position with nobody out. Just when they needed it most, the Rams came up with the two biggest defensive plays of the game. Larsen fielded a hard-hit ground ball and cut down a runner at the plate, then right-fielder Jordan Vozeh made an over-the-shoulder sliding catch in foul territory to end the game as Ramsey opened this season just as it did last year with a hard-fought win over Mahwah, 6-4, at Mahwah High School.
"Our motto is to prove people wrong and that's what we've set out to do this season," said Bishop. "Last year was amazing, but this is a whole new year. We've been working really hard and we stuck together today."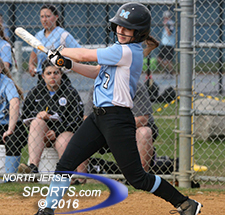 Danielle Altamuro had two hits for Mahwah.
Mahwah took the lead early without the benefit of a base hit. An error and two walks loaded the bases before Emily August was hit by a pitch to put the T-Birds ahead 1-0. Ramsey freshman southpaw Victoria Sebastian wiggled her way out of further trouble with a pop fly and a strikeout to end the threat.
Ramsey answered right back in the top of the third by being more aggressive early in the count. Larson and Bishop laced back-to-back RBI triples on the first pitch of their respective at-bats that put the Rams back in front. An outfield error brought in another run and Bridget Bierfass capped the four-run outburst with a sacrifice fly.
"I was looking for the first one down the middle and got one on the first pitch," said Bishop. "I didn't have a good at-bat the first time up and I wanted to redeem myself."
An inning later, Sebastian drove in a run with a single with another run coming around on an error during the play for a 6-1 lead.
Mahwah came right back to make it a game in the bottom half of the fourth. Two walks sandwiched around an infield single by Danielle Altamuro loaded the bases. August scored on a fielder's choice off the bat of Lexi Corra. A line drive off the bat of Danielle Fisher glanced off the glove of Vozeh in right field that allowed two more runs to score that slice the lead to 6-4.
It remained that way into the bottom of the seventh when the Thunderbirds came just inches from tying the game. After a leadoff single by Emily Hatten, freshman Hannah Wichor roped a shot just below the top of the fence in right-center for a double. With runners on second and third with no outs, the Rams were in some trouble. Sebastian got a strikeout before her defense came to her aid.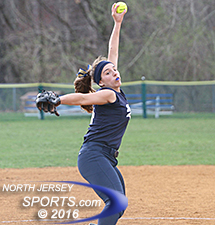 Ramsey freshman Victoria Sebastian picked up her first varsity win and also had three hits.
Brenna Forgette hit a hard ground ball right at the second baseman Larson. The conventional play would be to concede the run and get the out. Larson took a quick peek before firing a perfect strike to the plate. Hatten used a hook slide to try and avoid the tag. That effort was not enough as Ramsey backstop Ryan Henry took Larson's throw and got Hatten on the shoulder just before she crossed the plate for the second out.
"I was coming in and Ryan gave me a huge target so I just went for it," said Larson. "I knew if I made a good throw that Ryan would put on the tag and that's what happened."
Then on a drive off the bat of August, Vozeh atoned and then some for her earlier miscue. She got a great jump on a slicing foul ball deep down the right-field line to make a sliding catch just before the dead-ball line to lock up an opening day win for the Rams.
Sebastian could have shown the effects from playing in her first varsity game or from the flu that has been an issue all week. Neither were the case as she picked up the win and went 3-for-4 with a run scored and an RBI at the plate for Ramsey (1-0). Altamuro and Wichor each had two hits for Mahwah (0-1).
With so many new faces in new places, it would be understandable if Ramsey's expectations were tempered a bit. But with Larson and Bishop leading the way and a gritty cast quickly getting up to speed, the Rams plan on being in the mix come tournament time once again.
"Getting the first win is a huge weight lifted off of our shoulders," added Larson. "This day was building for a long time now and we couldn't wait for the season to get started. Getting started with a win feels great, but we know we have a lot of work to do to get back to where we ended last year."
CLICK HERE FOR MORE PHOTOS FROM THIS GAME. TO BUY A COLLECTOR'S PRINT OF THIS STORY, PLEASE VISIT 4FeetGrafix.com.