Tuesday, April 14, 2015
By Rich Barton
NJS.com Staff Writer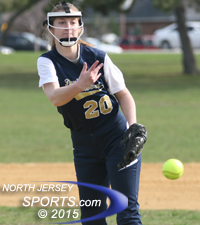 Heather Goldfarb threw a three-hit shutout as Dwight-Englewood got back to .500 on the season with a 6-0 win over Bergen Charter.
HACKENSACK – When Juan Gomez took over as the head coach of the Dwight-Englewood girls' softball team, he knew that there was a lot of work to be done. While the execution and consistency are still a work in progress, Gomez is not about to write off 2015 as a rebuilding year because he has the key component to a successful team already in place. With junior right-handed pitcher Heather Goldfarb's maturation from somewhat of a thrower with spotty control to someone who now controls both side of the plate with various pitches, Gomez knows he has a solid foundation to work with and Goldfarb delivered yesterday with her best pitching performance.
She tossed the first shutout of her three-year varsity career with a three-hitter. She also helped her own cause with an RBI double to spark a five-run second inning as Dwight-Englewood got back to .500 on the season with a 6-0 victory over Bergen Charter on Tuesday at Foschini Park in Hackensack.
"My team gives me so much support and I trust them behind me. That gives me the confidence to pitch without worrying about making a mistake," said Goldfarb, who bats left-handed. "I just tried to get ahead in the count and worry on getting the batter out."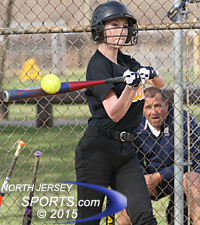 Bergen Charter's Zahra Denho putting the ball in play.
Dwight-Englewood threatened in the top of the first but was denied in its efforts to grab the lead. Bergen Charter catcher Tyanalee Class cut down a runner trying to steal third to end the inning. However, the Bulldogs kept the pressure on and broke through an inning later.
After a leadoff walk to Olivia D'Alessandro, Goldfarb finished a nine-pitch at-bat by roping a letter-high fastball to left-center for a run-scoring double.
"She was throwing me a lot of high pitches and I kept fouling them off until I got in front of one," added Goldfarb.
Two batters later, Jaime Schile-Morales lined an RBI single with another run coming home on an error. Emily D'Alessandro capped the inning with a fielder's choice that gave the Bulldogs a 5-0 lead.
At that point it would have been easy Bergen Charter to pack it in. The Yellow Jackets have taken their lumps early in their first year as a varsity program, losing their first two games via the mercy rule. As the game wore on though, their confidence grew. The improvement was evident to head coach Christina Scrudato. Her positive outlook and willingness to teach the nuances of the game gives the Yellow Jackets a reason for hope that moral victories will soon turn into wins in the near future.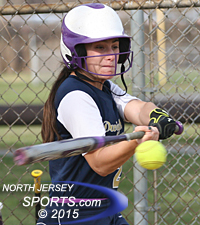 Olivia D'Alessandro got Dwight-Englewood's second inning rally started with a lead off walk.
Bergen Charter pitcher Keisly Solis settled down after the second inning and allowed just one run over the final five. She kept the ball down in the zone and was the beneficiary of stellar defensive plays from sisters Tabi and Tiana Masso and shortstop and third base, respectively, in the fourth and sixth innings.
"We're working hard and we took some baby steps today towards getting better," said Scrudato. "Just because we lost today doesn't mean we didn't improve. The only three times we've been on a field all year are the three games we've played in. We've been working on defense a lot over the past few weeks, but we're still getting used to live pitching. There are some girls who have never played organized softball before and we have to really build from the ground up. After two tough games, this was a good experience for us and something to build off."
The Yellow Jackets had runners in scoring position in the fifth, sixth and seventh innings but Goldfarb kept them from scoring. With a runner on third and two outs in the fifth, she caught a line drive to end the inning. Goldfarb had an inning-ending strikeout in the sixth before Olivia D'Alessandro made a running catch in left-center to end the game and preserve the shutout.
Goldfarb allowed three hits, walked one, and had eight strikeouts for Dwight-Englewood (2-2). Senior captain Isabel Guerriero, Nikita Jain, and Nicole Marino also had hits for the Bulldogs.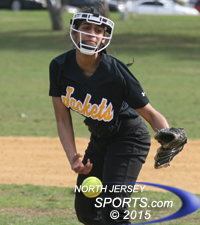 Bergen Charter starting pitcher Keisly Solis allowed just one run over the final five innings.
Keisly Solis took the loss but had her best game yet for Bergen Charter. She allowed six hits and walked five with four Ks. She also had one of the Yellow Jackets' three hits, with her sister Kergely and Eliana Pinzon having the others.
While currently dealing with the personal tragedy with the recent loss of his father, Gomez's players have been behind him since day one. Seeing their work ethic on a daily basis has given him something to smile about.
"It's been very tough on me lately, but these girls have offered their support and they've never stopped working hard even when I couldn't make it to practice," said Gomez. "This a very close team and they all really care about each other. It's been awhile since we've had a winning season. We have the pitcher, we have the players, we can hit the ball, and now it's my job to pull this all together. I look forward to the challenge. I know our players do too and I'm very proud of how far we've come already."
CLICK HERE FOR MORE PHOTOS FROM THIS GAME. TO BUY A COLLECTOR'S PRINT OF THIS STORY, PLEASE VISIT 4FeetGrafix.com.