Thursday, April 5, 2012
By Cory K. Doviak
NJS.com Editorial Director
Margo Tanner got Ridgewood's rally started with a lead off single and the Maroons went on to score all of their runs in the top of the sixth inning in a 3-1 win at Ramapo.
FRANKLIN LAKES – A lot of stuff happened in the sixth inning of a scoreless softball game on Wednesday afternoon. Before the top of the frame even started a Ramapo fencer sat in the stands along the third baseline and held up a sign asking Ramapo starting pitcher Melanie Psota if she would be his date for the prom. Between warm up pitches and with a nod of the head, Psota accepted.
"I have not experienced anything like that before and I have experienced a lot of crazy things in the middle of a game," said Ramapo head coach Leslie Stephen. "It's a cute story."
When the top of the sixth inning officially started, Ridgewood's Margo Tanner led it off with a solid single and made it all the way to third base after an error. Teresa Funk followed with an RBI single to finally break the ice in what had been a pitcher's duel. All four runs in the game were scored in the sixth inning, but three of them belonged to Ridgewood, which improved to 2-0 on the season with a 3-1 win in Franklin Lakes.
Ramapo's Caitlyn Hickey broke up a no-hitter and a shutout out with this RBI single in the bottom of the sixth inning.
"We've only played a couple of games, but we have had struggled a little bit offensively. We are very young and a little bit of it is trying to get ourselves acclimated to varsity level ball," said Ridgewood head coach Patti Auger. "But in both games that we have played we have had one one strong inning where we have put some runs across. Margo really set the tone leading off that [sixth] inning by drilling a ball."
Ridgewood had been held to three singles through the first five innings and two of those came with two outs and the bases empty, but Tanner's rip and run into scoring position leading off was the perfect table-setter for a big inning. Funk drove the first pitch she saw into left field to knock in the game's first run and then took two bases on Hroncich's sacrifice bunt. That extra base allowed Funk to score on a wild pitch to make it 2-0 and Andie Scibetta knocked in the Maroons' final run with a single that plated Zoe Singer, who had singled off the pitcher with two outs.
After holding Ramapo without a hit through the first five innings and striking out 10 over that span, Hroncich, a senior who will play next season at the The College of New Jersey, finally had some runs to work with.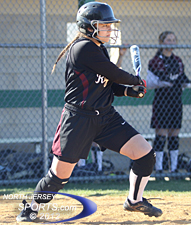 Teresa Funk drive in the game's first run with a single on this swing in the top of the sixth inning.
"The first run that comes across is always such a relief, I can finally take a deep breath and relax," said Hroncich. "And then to get three runs gave us a cushion so that even if something went wrong, and knock on wood we were hoping it wouldn't happen, we could still get the win."
Not much went wrong for Hroncich over the first five innings, but Ramapo cobbled some offense together to make a run at getting back at the game. To that point, Ramapo's only baserunner was Lexi Graber, who was hit by a pitch leading off the fifth inning and reached second with one out after JK McAvoy's sacrifice bunt, but was stranded in scoring position. But leading off the sixth, pinch hitter Sophie Nochta negotiated a walk before being replaced on the basepaths by Katelyn Sala.
The next hitter was Caitlyn Hickey, who broke up the no-hitter and the shutout with one swing of the bat. She belted a double into the right-centerfield gap, Sala scored and Hickey went to third base on the throw home. Alyssa Incantalupo then got down a bunt that was a safety squeeze, but Ridgewood was all over it. Third baseman Kelly Eckert fielded the ball and threw to Kelly Skettini, the second baseman covering first, for the first out. Skettini then fired home to catcher Emily Riemer, who got the tag down just in time to get Hickey, who was trying to slide around the back side of the plate.
Ramapo's Melanie Psota pitched a complete game and accepted an invitation to the prom.
In addition to the play being an inning ending 5-4-2 double play, there was more going on than met the eye. All three players involved were in a pressure situation at their respective positions for the first time as varsity softball players.
"That was a beautiful play with my sophomore third baseman checking the runner at third and throwing to my sophomore, first-year-starting second baseman, who then came off the bag and made a beautiful throw to my usual outfielder first-time-ever-playing-catcher Emily Riemer, who made a great tag," said Auger. "You think about what they did on that play to squelch the rally, it was big and it was done with three people who are not experienced in their positions at the varsity level. It was huge."
Hroncich retired the side in order to close out her complete game one-hitter and improve to 2-0 on the season. Zoe Singer went 3-for-3 with a run scored for Ridgewood, which also got two hits for Lindsay Gray (2-for-3). Psota (7 IP, 3 R, 3 ER, 6 H, 2 K, 1 BB, 1 Prom Invitation) went the distance for Ramapo which fell to 1-1 on the season after opening with a win over Fair Lawn.
Both programs are consistently among Bergen County's elite and both may end up there again by season's end, but for now they are two young teams trying to win games while they gain the experience on the way to the Bergen County and state sectional tournaments.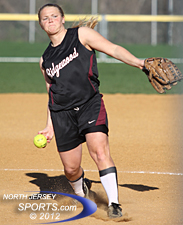 Ridgewood's Nicole Hroncich struck out 10 in a complete game one-hitter.
"I think for the most part we played pretty solid defense. Ridgewood put the ball in play and forced us to make some plays and we did pretty well. Unfortunately we made some mistakes, but that is what you are going to get with a young team sometimes," said Stephen. "We are a team with just one senior [Taylor Sausville] and some kids that got a little experience last year as sophomores, but it is a young group. You try to squeak out some wins, get some confidence and then hope by the time the tournaments come around that we are a tough out."
Ridgewood is almost in the same boat, but not quite. The Maroons have Hroncich, a three-year varsity starter in the circle, to lean on while the rest of the team catches up.
"They key to us is Nicole. She is going to give us a chance to win each game and we can build around that," said Auger. "If we can play good 'D' and try to work our way around the bases once or twice a game we have a chance. There is a lot of learning going on out here, a lot of teaching, and these kids have been great in trying to take it all in and apply it."
FOR MORE PHOTOS OF THIS EVENT OR TO BUY A COLLECTOR'S PRINT OF THIS GAME STORY, PLEASE VISIT 4FeetGrafix.com.