Monday, April 4, 2011
By Cory K. Doviak
NJS.com Editorial Director
Kristina Meier connecting on the first of her two sacrifice flies that were apart of Paramus'
8-1 win over Imm Conception on Sunday.
PARK RIDGE -- With all but one starter back from last year's state sectional championship team, including its pitcher and five other seniors, the expectations are sky high for the Paramus softball program. Almost is not going to be good enough for the Spartans, who have been waiting a long time for this season to arrive.
"Basically four years ago when this group was freshmen, we took a chance on them. We knew they were going to be good. We've worked hard with them and they have put in a lot of time themselves. It paid off a little bit last year [with the section title] but this year we hope is pays off a little bit more," said Paramus head coach Brian Hay. "We've talked about it and we know what is at stake. We are no longer a team that nobody knows about."
Paramus has opened this season with bang or, more specifically, plenty of them. The Spartans have scored 19 runs in their first two games against quality opponents.
First it was a season opening 11-4 win over a Rutherford team that is a potential state sectional contender and on Sunday it was an 8-1 win over Immaculate Conception, the defending Non-Public North B champion that has plenty of talent back from last year's team that made it down to Toms River.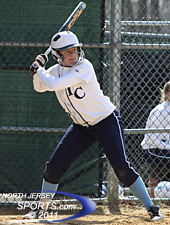 Shannon Truppi's first inning triple gave IC a 1-0 lead.
The bats have been on fire through the first two games of the season and against Immaculate Conception, it was patience as much as power that did the damage. After falling behind by a run before they came to the plate, the Spartans got it rolling in the bottom of the first inning. Stephanie Huang, the junior leadoff hitter, cracked a triple to start a four-run rally that put Paramus in front for good.
Shayna Brock followed with the first of 10 walks that the Spartans waited out and Kristina Meier's sacrifice fly tied the game for the first and only time, 1-1. Alissa Miranda's two-run single gave Paramus a 3-1 lead and Lauren Feorenzo added an RBI single to make it 4-1,
Paramus sent nine hitters to the plate in both the first and second innings, got a two-run single from Taylor Boffalo as part of a three-run second and scored the last of its eight runs in the top of the third on another sac fly by Meier. By the time the third inning was over, Huang had already scored three runs and stolen three bases.
"I just try to get on base and do whatever I can to help us score runs. It's important for me leading off to be on base because we have a lot of girls on this team that can hit," said Huang, who takes over the top spot in the batting order for Jenny Zymet, an all-county player the only graduated starter from last year's team. "I just want to do my job and help this team win a couple of championships this year."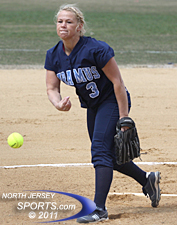 Tori Feorenzo struck out 10 for Paramus, which improved to 2-0.
All of the run support was an embarassment of riches for Tori Feorenzo, Paramus' senior starting pitcher. After allowing an RBI triple to Shannon Truppi in the top of the first, Feorenzo allowed just one hit the rest of the way, a one-out single to Alyssa Sinski in the top of the sixth. She struck out 10 to offset the seven walks she issued and stranded eight of the nine baserunners she allowed.
"The thing about Tori today was that before the game she didn't feel like she had anything and she battled through it. That is her and she got the big outs when she needed them. That really is the mentality of this team this year," said Hay. "What I like so far is the fact that as a team we have battled back twice in two games. We fell behind in both games, 1-0 today and 4-2 yesterday against a very good [Rutherford] team and the kids weren't really fazed by it. They just kept playing no matter the situation."
Paramus filled out the score book from top to bottom as seven as its nine hitters reached base at least twice and one who didn't was Miranda, who had the two-run single that proved to be the game-winning hit. Huang finished 3 for 4 with 3 runs scored and 3 steals; Brock scored twice and stole two bases; Meier officially finished 1 for 2, but added the two sac flies and drew a walk; Victoria Vergona scored a run and knocked in another; Boffalo drew two walks to go along with her two RBI and Lauren Feorenzo (2 for 2) reached base in all four of her plate appearances and drove in a run.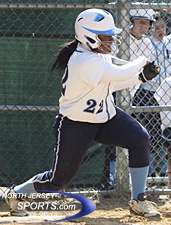 Jorrdin Miller scored the lone run for IC, which is now 1-1.
For Immaculate Conception, Sunday's outcome was far from favorable, but also far from crippling. The Blue Wolves fell to 1-1 on the season after an Opening Day win over Westwood and have deliberately scheduled these types of tough independent games to get ready for what they hope will be another prolonged postseason run.
"Better that this happened today than in May or June. You can't give up as many walks and as many hits as we did today and expect to win. [Starting pitcher Kelly] Hage did settle down after the first two innings and I was happy with that, but Paramus is going to make you pay for walks every time," said IC head coach Jeff Horohonich. "This game shows us that we have a lot of work to do, but we have a good team here. We are going to play a tough schedule to get used to the kind of games we hope to be playing at the end of the season."
FOR MORE PHOTOS OF THIS EVENT OR TO BUY A COLLECTOR'S PRINT OF THIS GAME STORY, PLEASE VISIT 4FeetGrafix.com.