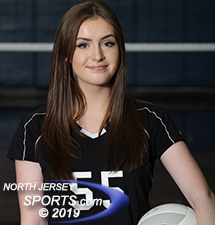 Senior libero Madison DeMartini had 19 digs to lead the defense for Demarest, which improved to 9-3 with a hard-fought two-set sweep over Holy Angels on Thursday.
DEMAREST -- The offense and the defense of both teams were on display as NV/Demarest topped Holy Angels with a hard-fought, two-set victory on Thursday afternoon.
"This is the best I've seen my team play," said Demarest coach Beth Powell. "They were fairly consistent. I have a very young team. Our middles are a freshman (Gianna Galli) and a sophomore (Gretchen Haray), our setter (Olivia Cammalleri) is a sophomore, Niki [Woods], our outside hitter is a sophomore. You want to win these hard games, not the ones that come to you easily, so I'm proud of them."
"It was a lot of back and forth," added Angels coach Colleen Surovich. "Both teams made some unforced errors and both teams killed it. I knew going in it was going to be a really tough, but a good, equal match."
The opening game featured three lead changes and four ties before the Norsewomen prevailed, 25-19.
"In practice we work really hard, said Norsewoman senior libero Madison DeMartini. "We work on holding the line, keeping everything so simple and play from there. You have to read, you have to go all out."
Demarest junior Noa Shuminer broke a 6-6 tie with a diving save that went over the net and found an open space on the Angels' side of the court. The teams exchanged attack errors and another kill by Shuminer followed by two more attack errors by the Angels gave the Norsewomen a 12-7 lead.
Later in the set the Angels cut the lead to 20-18 on a blast by senior OH Jalen Wynn, a block by junior OPP Ciara Donegan and a well-placed kill by senior Corey McLaughlin.
An attack error halted the Angels' run and a well-placed kill by Galli boosted the Demarest lead back up to four. The Norsewomen closed out the set with a pair of hits by Woods sandwiched around a kill by Wynn, who finished with a team-high 10 kills.
"I thought Holy Angels was a very good version of themselves," said Powell. "Jalen (Wynn) is amazing. She hits back row like she hits front row. We had to play defense like she's a front row player."
"Jalen is our go-to," added Surovich, "but every other girl on this team can contribute to every point in every game. There is always somebody that can contribute or put the ball away other than Jalen."
The second set was a barnburner, where although Demarest led most of the way, the Angels kept it close.
The Norsewomen grabbed a 17-12 lead but the Angels rallied to trim the lead to 17-15. Then Demarest upped its lead to 21-16 and the Angels fought back to make it 21-19.
But that was as close as the Angels could get and two kills by Shuminer ended the set and the match, 25-21. She finished with a game-high 19 kills.
"Honestly I felt like the whole team was feeling it," Shuminer said, downplaying her individual success. "I think when we walked in we were ready to play, ready to fight and put our all into this game.
"AHA did really well. But I think we just came in strong and believed in ourselves. Something like this is going to get us prepared for states and for hard games like IHA and teams like that."
Demarest improved to 9-3, while the Angels fell to 9-4. Senior Angelina Bussetto scooped 13 digs and senior Daniella Martinez distributed 8 assists for the Angels. DeMartini had 19 digs and Cammalleri dished 25 assists for Demarest.
"I think we're really coming together to a point where we're just going to keep accelerating and getting better," said Shuminer. "Every single day at practice and every single game we're getting better."
"We had a bit of a rough start getting these girls believing in each other and trusting each other," added DeMartini. "As games come and we get wins like this it puts us together. We can win these easy games just like that. We've got the talent. But it's those hard games that teach us grit, that teach us fight and believing in each other. It pushes us on."
TO BUY A COLLECTOR'S PRINT OF THIS STORY PLEASE VISIT 4-FeetGrafix.com.