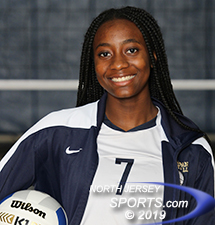 Jola Olutiola helped Old Tappan pull off a 17-7 spurt that closed out the third set and the match in a 24-26, 25-12, 25-21 win over Northern Highlands on Wednesday.
OLD TAPPAN - The Northern Highlands volleyball team served notice, literally, when it beat perennial powerhouse Old Tappan on the first day of the 2019 season. The schedule has now turned over to the second half of league play and Highlands had been on a season-long roll heading into Wednesday's rematch. Having split the first two sets, the Highlanders had a 14-8 lead in the decisive third set before Old Tappan asserted itself.
The Golden Knights went on a 17-7 spurt to overcome some early sloppy play and come away with a 24-26, 25-12, 25-21 victory over Northern Highlands Wednesday afternoon.
"In the first two sets we made a lot of mistakes and once we cleaned it up we got a lot better," said sophomore Old Tappan OH/MB Jola Olutiola. "I think we can beat anyone if we play clean. At the end of that third set we just wanted it."
"I just think we really, really wanted it and we pushed really hard, added NV/OT junior Carly Powell. "I think this gives us a lot of confidence. It tells us we grew as a team and got better throughout the season."
Senior Sofie Ricca served an ace to give Highlands that six-point lead in the final set. Unfortunately that would be the last successful service winner that the Highlanders would earn for a while.
The teams traded points and when junior Athena Georgiades blasted a kill Northern Highlands still led by five, 16-11, but three consecutive Highlands players served the ball into the net enabling Old Tappan to pick up three easy points to trim the deficit back to 18-15.
The Highlanders boosted their lead back up to six, 21-15, thanks to a block, a pair of Old Tappan attack errors and another kill by Georgiades. The Knights began their comeback when Olutiola blasted a kill to get the sideout. Then she stepped to the service line.
Aided by two attack errors by Highlands, a block by Knights junior MB Vilelmini Zlatis, two service aces and three kills by Powell, including the final two points of the set, Olutiola reeled off nine straight service winners to close out the match.
"We all came in as a team and said the only way we're going to win this game is if we all stay together," said Olutiola. "We all stayed clean and we focused. We just came together as a team and said we're not going to lose this game. We lost once (in the season opener) and we're better than this."
"We were thinking we need to get out of this and push through it because we know we can," said Powell. "The excitement builds a lot. It was just crazy. We were all so excited. I told myself to stay calm and tell myself it's important that I get this in. I did that and I think it helped a lot."
Northern Highlands won a hard-fought first set thanks, in part, to five kills and a block by senior Emily Hosford. Old Tappan's Katie Butler, a junior middle blocker, tied the set 24-24 with a block. Hosford scored the next point with a kill and an Old Tappan attack error gave the first set to Highlands, 26-24.
The second set was all Old Tappan. The Knights took the lead for good, 2-1, and never looked back for the 25-12 win.
Old Tappan improved to 9-1 and in so doing avenged an opening day, three-set loss to the HIghlanders. Northern Highlands suffered its first loss of the season, falling to 10-1.
"It wasn't about that (revenge) as much as it was about can we be better today than we were on Sept. 4," said Old Tappan coach Melissa Landeck. "I think match by match, week by week we have been steadily improving. With that we've gained some confidence and figured out some things about ourselves. That has enabled us to play tougher, elevate our game and not play as safe as we were back in September. It's a credit to the kids that they realize we can be better and still get better. I don't want them to ever think we're a finished product."
"I think our practices have gotten a lot tougher and our coaches have been a lot tougher on us," added Olutiola. "I think we were in a really good mindset because we were determined to win. I think in the first match we thought it was going to come easy but for this game we definitely knew we were going to have to work hard for every single point. And we absolutely did."
Powell led all scorers with 12 kills, while Olutiola added 9. Hosford finished with 10 kills. Old Tappan junior Chrissy Chu distributed 31 assists. Highlanders sophomore setter Ruby van der Heide dished 23 assists. Senior libero Gianna Fasano scooped 15 digs for the Knights and junior Liz Frassetto had 10 digs for the Highlanders.
"It felt really, really good," Olutiola said. "We worked really hard since our first match to come back, stay focused and get to this point to win this game. The hard work paid off."
"We wanted to prove that we've gotten better," Landeck said. "What we talked about yesterday was let's use this as a measuring stick. Let's see if we got better."
TO BUY A COLLECTOR'S PRINT OF THIS STORY PLEASE VISIT 4-FeetGrafix.com.