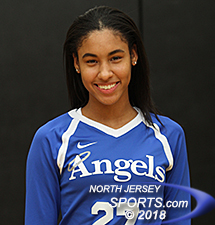 Jalen Wynn led all scorers with seven kills and added five aces, six digs and eight service winners for Holy Angels, which swept Indian HIlls, on Thursday afteroon.
DEMAREST - Holy Angels utilized pinpoint passing, great defense and smart hitting to take care of Indian Hills in straight sets, 25-13, 25-7 Thursday afternoon.
"That's something we work on a lot," Angels coach Colleen Surovich said of the passing. "Yesterday at Ramsey (a 26-24, 26-24 loss) the passing wasn't so great and that affects everything. So today the girls focused on passing well so everything falls into place."
The first set went back and forth until the Angels went on a 13-4 run to close out the opening frame.
The Braves grabbed a 3-1 lead in the second game thanks to a pair of service winners by junior setter Paige Desiderio and a kill by sophomore Abigail Franks.
But the Angels regained control and held the Braves to three points the rest of the way.
"Our team is primarily juniors, a sophomore and a couple of seniors," said Indian Hills coach Karen Klinger. "So I said last year we're a year out so this is supposed to be a good season for us. To make a run is something we've shown in a couple of games; we've been hot and cold.
"If we're playing our 'A' game it's perfect volleyball. We made no mistakes in our game earlier in the week against River Dell. Today we were the team that made mistakes on the other end of the ball. It happens. It's a game of errors and we'll bounce back like we did the last time. Playing in a tournament on the weekends helps a lot to correct those little things. And it's only little things - I've told them that. It's a mental game more than anything else because we have the skills and the technique to do it."
The Braves showed their talent in that 25-12, 25-19 win over River Dell. Junior outside hitter Megan Sears pounded 11 kills and scooped 10 digs and junior setter Paige Desiderio added 15 assists.
"Part of it is we saw them at the Jersey Classic," said Klinger. "We didn't play them - we weren't in the same pool. We've always had a rivalry against them, but we haven't beaten them since 2010. I knew they graduated a few players and I knew what we had so I told them play your game and stick together."
With Holy Angels up 9-5, Angels senior go-to scorer Jalen Wynn stepped to the service line and reeled off eight straight winners, including two aces. What made it good from the Angels' perspective is that sophomore Alexa Watson pounded three kills and junior Fallon Oddo contributed one kill while Wynn was in the back row.
"Alexa is a sophomore and Fallon is a junior," said Surovich. "Fallon came into her own starting last year and Alexa is new to the varsity this year. They all just want to prove themselves and they all want to have a piece of the pie. They all want to be crucial to the team."
"They're a really big asset to our team," added Wynn. "They're both tall, strong girls and having them in front was a good thing for us."
Watson finished with six kills and three digs, while Oddo had four kills and two blocks in the match. Wynn led all scorers with seven kills and added five aces, six digs and those eight service winners to her night.
"Jalen is a special girl," Surovich said. "She takes whatever she does very seriously. She started running track last year and won counties in relays. So whatever she does she gives her whole heart and soul into it. We've always said she is quiet and calm but she's a force. She takes what she does and she plays with her heart and the rest falls in place."
A lot of the points scored by the Angels were as a result of well-placed kills. Instead of blasting away a scorer would find an open space on the Braves' side of the court.
"They are communicating with each other on the court," said Surovich. "It's very hard when you're hitting to look and see the court. I'm very proud of them for learning how to do that."
Despite the Angels' large margin of victory there were several very long, hard-fought points within the set, as the two teams dove for balls, pounded potential winners only to see them saved with difficult digs on the other side of the net.
The Angels prevailed in most of those exciting points which propelled them to victory.
"It's a big thing," said Surovich. "We always say, 'play to the whistle.' We do a lot of drills where it's more chaotic than anything. How do you come out of the chaos.? Winning those rallies is very important when you're in a momentus game like volleyball.
"That rally in the second game (a Wynn blast to make it 8-5) was a big point for us to win and it just builds confidence. We do a lot of communication drills that allow the girls to be successful when it's crazy like that. Just put the ball on the other side, reset, regroup and then do it again."
Indian Hills has 10 players on the roster who are 5-foot-8 or taller, including junior outside hitter Chloe Horenstein, who is 6' tall. Wynn said the Angels were up to the challenge.
"Getting around the block was working," she said, "and we also have some tall girls that helped us block them. It was good to stuff them and get our own kills."
Braves senior libero Emma Kimura had 14 digs, Desiderio distributed 10 assists and Horenstein smacked four kills. Although the loss drops them to 2-2 Klinger is confident the team will get back on track.
"We're playing for each other this year," she said. "The six are as one and that's where we are right now. If we do that when we step on the court there is no stopping us. Today we just got into our heads again. It's absolutely fixable. Plan on seeing us in the states and the counties making a run for it. I have no doubt."
The Angels improved to 3-1 and they hope to improve on last year's great season where they posted a 16-9 record.
"This year we have some new, very strong players from JV and I think we have a really strong team again this year," said Wynn. "I think that gives us confidence but we also have to stay humble and not think we can just walk over people. We have a good potential this year to go as far as we did last year."
TO BUY A COLLECTOR'S PRINT OF THIS STORY PLEASE VISIT 4-FeetGrafix.com.