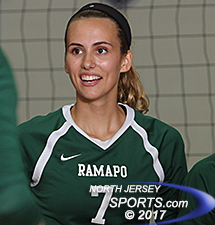 Gretchen Kincade finished with eight kills, four digs and four aces for Ramapo, which swept Dwight-Englewood to reach the Bergen County Tournament quarterfinals.
OLD TAPPAN - In a match where Ramapo trailed only once (1-0 in the second set), the Green Raiders pushed their way into to the Elite Eight of the Bergen County Volleyball Tournament with a 2-0 (25-20, 25-20) win over Dwight-Englewood on Saturday afternoon.
"I thought offensively we did really well," Ramapo coach Dave Van Hook said. "We get a bye in the first round and I missed that first round game. I feel like the girls did, too. I think coming out we had a great start."
Ramapo jumped out to an early lead when Gretchen Kincade tallied three of her match-high four aces to help the Green Raiders to a 9-2 advantage. But the Leak sisters, junior Autumn and sophomore Audrey, led the Bulldogs on an 11-5 run to cut the Raiders lead to 14-13.
"Autumn and Audrey are unstoppable, Audrey particularly today," said Bulldogs coach Morgan Withrow. "She's just  an outstanding player."
"I have heard a lot about them but I have not seen them," added Van Hook. "They played great. I thought offensively and defensively they really played well. In the back row they were picking us up left and right. Credit them. I really thought they did well."
The Raiders righted themselves and went on a mini run. Bolstered by seniors Kincade and Elena Montgomery, who combined for 10 kills in the set, Ramapo took the opener, 25-20. Audrey Leak pounded a kill to open the second set but Ramapo took the lead for good, 3-2, on a Montgomery hit. As in the first set the Raiders lengthened their lead, this time to 10 points, only to have the Bulldogs chip away. It was not enough, however, as the Raiders prevailed, 25-20.
Audrey Leak finished with 14 kills and a block, while sister Autumn had five kills and a block.
Dwight-Englewood was hurt by the absence of its setter, junior Jayna Waldman, who was injured the night before the game.
"We didn't have any time to practice without a setter since it just happened last night," said Withrow. "The girls stepped in when they needed to. It was a little chaotic but they played volleyball. They didn't let it get to them. The fact that we held our own that long is heartwarming."
"I think they stepped up and really played well," Van Hook said of the Bulldogs. "Their [replacement] setter didn't make many mistakes - she put the ball where she needed to. They're going to do well. They have good coaches and they played well."
Withrow had been looking forward to the match because she believes the teams are similar. The Bulldogs have the Leak sisters, while the Green Raiders have Kincade and Montgomery.
"It's great [to play them] because it's a team just like us," said Withrow. "That's what we practice against so we were psyched coming into the match today knowing they're a team that is similar to us. I'm super proud that these kids fought really hard and didn't give up with all the adversity, losing our setter last night and our only senior to a concussion in warmups. The fact that we held them to 25-20 twice felt really, really good."
Montgomery had 11 kills in the match, while Kincade chipped in with eight kills, four digs and four aces. Senior setter Caroline Smolenski distributed 17 assists. The Green Raiders move on to play Old Tappan in the quarterfinals on Tuesday at 5 p.m.
"They looked great," Van Hook said of the Golden Knights. "I didn't see the first set but they play so well together, they're so strong defensively and they're doing a great job. Since [Old Tappan senior middle] Julia [Passante] went down [with a knee injury] they've really played well. It should be good."
TO BUY A COLLECTOR'S PRINT OF THIS STORY PLEASE VISIT 4-FeetGrafix.com.