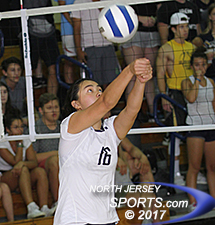 Old Tappan improved to 9-1 on the season with a hard-fought two-set win over Tenafly on Wednesday.
OLD TAPPAN – Northern Valley/Old Tappan's volleyball team used tough defense, balanced offense and superior serving to get past Tenafly in straight sets Wednesday afternoon.
"They had a great game," Old Tappan captain Lizzie Chu said of the Lady Tigers. "It was really hard for us to keep getting swings, keep our endurance and pressure on them. They kept getting balls up so we had to work our hardest to get balls around the block and keep pushing."
"We always have a battle with them," added Old Tappan coach Melissa Landeck. "Tenafly is well-coached, they always have a solid offense and are always scrappy on defense. Last time we played them, earlier in the season, we went three sets. Today we were able to win in two and in my mind that says maybe we've improved a little bit and I'm happy about that."
The match got off to a crazy start as Old Tappan jumped out to a 6-0 lead on the back of freshman Chrissy Chu, who tallied five service winners. But the Lady Tigers fought back to grab a 7-6 lead as junior Bridgette Chandler scored on six straight serves.
The teams traded points for a while as the first set was tied seven times. With the game tied at 15 Golden Knights sophomore Gianna Fasano stepped to the service line. By the time she lost her serve, Old Tappan was two points from taking the first set at 23-16, after an impressive run of eight straight service points.
"We had a good serving day today," said Landeck. "That's something that needs to be strong for us to be successful."
Old Tappan closed out the set on a kill by junior Camryn Monfried and a Tiger attack error to win it, 25-17.
"I think their defense was a little better," said Tigers coach Jeff Koehler, whose team fell to 11-5. "They did a really unbelievable job. They fight through and the next person up is just as good as the first one. That's what makes this program tops for the last 20 years or so."
Tenafly seemed more determined as the second set began. Co-captain Susan Wie, junior Brittany Amtman and sophomore Angelina Tapia helped stake the Tigers to a 5-2 lead. The Knights fought back to a 7-7 tie but the Tigers managed to take back the lead. Old Tappan was down, 11-9, when Chrissy Chu again stepped behind the service line and she promptly reeled off eight consecutive service winners as the Knights grabbed a 17-11 lead. Chrissy Chu had three aces and Monfried had a pair of kills during the run.
Defense was a big part of these service runs as the Golden Knights. Lizzie Chu led the way, finishing with 14 digs in the match.
"We really pride ourselves on our defense,"she said. "Other teams will play their hardest and really come at us. We want to fight back and push ourselves to be the best that we can be. That drives our confidence up and helps us work as one."
"We're just trying to get better every single day and be the best version in every part of our game," said Landeck. "We talk about everybody pitching in and we can't just have one or two people having a good day. We all have to have a good day."
One of the other points during Chrissy Chu's run was "quick hit" by junior setter Kelly Chen, who surprised the Tenafly defense by smacking the ball over the net instead of passing it to a teammate. This maneuver had been utilized by former Knights setter Kelly Brogan during a state title run a few years ago.
"I watch a lot of college and professional volleyball," Chen explained. "I saw them doing it and thought it was really cool, but figured I was never going to do that. Now I'm setting so I thought, 'why not try it out.'"
After Chrissy Chu's run Old Tappan poured it on, outscoring Tenafly 8-4 to take the second set, and the match, 25-15. Six different players scored at least one point for the Knights.
"Having so many weapons really helps us," said Monfried, "because we can toss the ball up to anyone, any situation, and anyone can put it away."
"That's a credit to Kelly [Chen]," said Landeck. "She's reading the other team and the matchups very well, distributing the ball and mixing it up. People can't sit on one person too much. She's creative that way."
Setting is a new position for Chen, who finished with 14 assists.
"I'm embracing it," she said. "In the beginning of the year I was willing to do anything for the better of the team. When Coach Landeck told me I was setting it was a little bit of a shock. I was like, 'I'm going to be running the show now.' I think I'm getting used to it. I think the connection between the hitters is getting better. Overall the team is building strength in all categories - on our defense, serves, serve-receive. And I think it's helping to build confidence for the whole team in general."
Old Tappan improved to 9-1 and have been getting better as they move players to new positions and work around injured players, most notably, senior co-captain Julia Passante, who is lost for the season.
"Every single game, every single practice we get better and better, more consistent," said Lizzie Chu. "We swing harder, we go for more balls that we don't think we can get to. It's a great environment for us to keep working hard."
"I think our chemistry just keeps getting stronger and stronger," added Monfried, who had a match-high nine kills. "We do team bonding often. Every Friday and Saturday night we're always doing things together so the chemistry is definitely helping. But without our amazing defense and our other amazing hitters, Gianna Fasano, Lizzy Chu, Kelly Chen and Nina Trent we couldn't be who we are."
TO BUY A COLLECTOR'S PRINT OF THIS STORY PLEASE VISIT 4-FeetGrafix.com. FOR MORE PHOTOS FROM THIS GAME CLICK HERE!