Wednesday, October 26, 2011
By Rich Barton
NJS.com Staff Writer
Nicole Wojtowicz's kill ended the second game and squared the match before Mahwah turned it on in the third to beat Ramapo and earn its first ever spot in the Bergen County Tournament semifinals.
OLD TAPPAN – The lure of high school sports as opposed to the club level is that players get to represent their hometowns with the friends that they grew up with. There is something unique about entering a high school program as a freshman and taking the four-year journey that is unique to a high school athlete. It culminates when seniors that grew up together play together for the last time. When all goes right a team becomes so incredibly close on and off the court that it becomes a family.
With nine seniors on the roster this season, the Mahwah volleyball team had set it sights on reaching new heights and doing it together, no matter how much adversity the team may face throughout the season. For this year's Thunderbirds, new heights meant going where no other team in school history had gone before: into the semifinals of the Bergen County Tournament.
After dropping the first game, Mahwah held on to even the match before taking over in the deciding set. Samantha Wood got her team going early in the third game and the fourth-seeded Thunderbirds never looked back in advancing to the Bergen County Final 4 for the first time in program history with a 21-25, 25-23, 25-11 triumph over Ramapo, the No. 5 seed, in a quarterfinal match on Tuesday at Northern Valley/Old Tappan High School.
"Having so many seniors with experience makes it easier to get through the rough patches like we had tonight," said Mahwah head coach Dean Rayside. "These girls have so much confidence in each other and the system we have, and that's a huge asset in a tough match like this."
Cara Saluppo closed out Ramapo's first-game win with three straight kills.
Ramapo was in a precarious position before the match even started with its best hitter and lone returning starter, Kasey Woetzel, out with an ankle injury. That forced more defensive-minded players to take more chances and swing away. Defensive specialist Courtney Dolan got the Green Raiders off to a hot start with three kills in a match-opening 8-4 spurt.
The Green Raiders bent throughout the opening stanza, but never broke. Mahwah battled back to tie it at 13 on a block by Macy Schwartz and again at 20 on a kill by Emma Butler. Ramapo's Cara Saluppo single-handedly made sure that the Thunderbirds never pulled ahead. Clinging to a one-point lead, she put down three straight kills to give Ramapo a one-game lead.
"Every big point in that first game that Ramapo needed to win, they won," added Rayside. "I think we felt the pressure a little bit in that first game and it got to us. We have a good offense and we had to take things point by point. Basically, I told the girls to relax and treat this just like it was any other match."
Schwartz had three kills in a spurt where Wood served out six straight points early in the second game to give Mahwah a 10-4 lead. The T-Birds led comfortably throughout the second game and seemed poised to take it with relative ease until a late flurry by Ramapo made things dicey.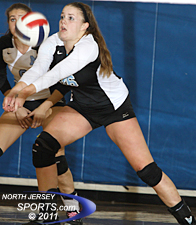 Mahwah's Samantha Wood finished

with 15 service points, nine digs, and six kills

.
Trailing 24-18, Sammy Szura made a huge dig to keep a point alive and then served an ace to inject some fire back into Ramapo. After a pair of miscommunications, Saluppo put down another kill to get the Green Raiders back within one, 24-23. Mahwah averted disaster as Nicole Wojtowicz's kill ended the comeback bid and gave Mahwah back the momentum heading into the third and deciding game.
Wood came up big throughout the match and did so again early in the third game. She used a cutshot from a tough angle to put down two straight kills, then served an ace for a 5-2 lead. The T-Birds quickly regained their confidence with setters Kayla Ciliento and Amanda Berkman spreading the ball around and never allowing the Ramapo defense to adjust. They quickly stretched out their lead and Wood closed it out with a second run of six straight service points to send Mahwah into the Bergen County semis.
Wood did a little bit of everything for Mahwah (18-3) with 15 service points, nine digs, and six kills. Schwartz led the team with 12 kills and three blocks. Ciliento notched a double-double with 10 assists, 10 service points, and two aces. Berkman led all players with 15 assists, while Butler and Wojtowicz chipped in with eight and seven kills, respectively.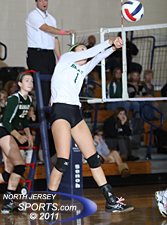 Sammy Szura had a dig that kicked off Ramapo's second set comeback that fell just short.
Saluppo had a match-high 15 kills for Ramapo (13-5). Szura also had a match-high with 13 digs. Dolan had a solid overall match with 11 digs, eight service points, and five kills; as did Michelle Barna with 11 assists and five digs.
Mahwah now gets the ultimate test on Friday night against the top seed in the tournament and the state's No. 1 ranked team, IHA. Now that the Thunderbirds have reached uncharted territory, they will be as loose as they can possibly be and will have confidence for another reason. IHA needed three games to dispatch of pesky Pascack Valley in the quarterfinals last night, just as Mahwah did in a regular-season meeting back in September. With this being their last go-round in the county tournament, the Mahwah family just wants the ride to keep going as long as possible and enjoy every second of it.
"We really don't have anything to lose now that we're in the semifinals and that's not a bad thing," said Mahwah's Samantha Wood. "We feel like there have been times where we've been playing great and times where we felt like we've hit rock bottom. But you're going to go through those ups and downs during a season and we're getting better every day.
"There have been a lot of really good teams here at Mahwah and to be the first to reach the (county) semifinals is amazing," added Wood. "Our whole team hangs out before practice, after practice, even out-of-season. We're all so close and we never get down on one another. To do something special and to do it with your best friends is something we'll never forget."
FOR MORE PHOTOS OF THIS EVENT OR TO BUY A COLLECTOR'S PRINT OF THIS GAME STORY, PLEASE VISIT 4FeetGrafix.com.