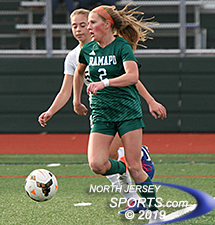 Sophomore Mary Cochran scored a pair of first half goals to get Ramapo off and running in an 8-1 win over Paramus in the North 1, Group 3 state sectional semifinals.
FRANKLIN LAKES – As the top seed in North 1, Group 3 state tournament and with each game from here on out being a potential season-ender, Ramapo is on a mission to add to its illustrious trophy case. After winning the Bergen County Tournament less than two weeks ago, the Green Raiders want to follow that up with section and state titles.
Sophomore standout Mary Cochran has been a playmaker all season in setting up other teammates, such as leading scorer Mary Clare Langan. Facing Paramus in the state sectional semifinals on Monday, the two reversed roles to devastating effect.
Cochran and Langan worked a give-and-go with Cochran scoring a pair of breakaway goals to put the Green Raiders ahead. She added a third first-half goal late before Ramapo poured it on in the second half for an 8-1 triumph over No. 4 seed Paramus in Franklin Lakes.
"We had some space to work with because they were pushing up, so we had to keep the pressure on them and being direct with what we wanted to do," said Ramapo head coach Sarah Francini. "So even though we weren't getting shots early it was key that we stayed patient and stuck with what we wanted to do. Because we knew if we kept the pressure and got the ball into space that we could do some really nice things."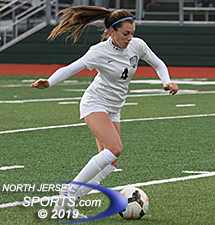 Samantha Settecasi scored the goal for Paramus, which finished its season with a 13-7 record.
Paramus was able to knock the ball around early with speedster Samantha Settecasi as a dangerous threat up top. The Spartans had both of their shots on goal and a dangerous corner in the first 15 minutes but Ramapo held it together in the back and it took just one seemingly harmless play to break open the game. Off a Paramus goal kick, Mia Suchora won the ball in the air and played it directly to Cochran. She immediately played to Langan, who then played it back into space for the streaking Cochran, who walked in alone on goal and slid a shot into the lower right-hand corner to give Ramapo a lead with 17:55 left in the half.
"(Langan) sent me an amazing ball and I just stayed patient," said Cochran. "When the goalie came off of her line I just picked a spot and slotted it past her."
Paramus kept its back line high in an attempt to force the action. It was effective early but Ramapo was able to find those gaps on the counterattack as the half went on. In the 29th minute, Cochran and Langan showed off their connection by using another give-and-go to send Cochran in for a breakaway. Once again she found the back of the net to make it 2-0. Minutes later, Mia Suchora weaved her way through several defenders and scored to make it a three-goal lead.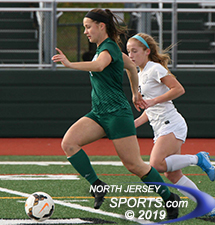 Mia Suchora and Ramapo will host Wayne Valley in the North 1, Group 3 final on Thursday in Franklin Lakes.
Settecasi pulled one of those goals back with a nice shot with 3:14 remaining in the first half to give Paramus (13-7) some momentum. That was short-lived, however, as Cochran was on the receiving of another give-and-go just 90 seconds later, this time from steady midfielder Hailey Schmidt, to make it 4-1.
Ramapo found the back of the net as time expired in the first half but the goal was waved off. It was merely a speed bump as the Green Raiders found the net four times over the first 12 minutes of the second half, including goals from Langan, Cochran, and Drew Hourihan in less than a four-minute span as Ramapo cruised into the North 1, Group 3 final.
Ramapo (17-1) will play one last home game with the section title on the line against second-seeded Wayne Valley, a 3-0 winner over West Essex on Monday. With another championship in sight, the Green Raiders feel they are peaking at the perfect time.
"After winning the county championship the pressure is off and we're playing with a lot of confidence," said Langan. "The motivation is to keep winning because if we keep winning, we keep playing. Now our goal is to come out and have fun. We're really just enjoying the run knowing that every game can be our last and we have more championships to win." 
FOR MORE PHOTOS FROM THIS EVENT PLEASE CLICK HERE. TO BUY A COLLECTOR'S PRINT OF THIS STORY PLEASE VISIT 4-FeetGrafix.com.