Ashley Georgevich had two assists for Saddle Brook, which advanced to the North 1, Group 1 state sectional quarterfinals with a 2-0 win over New Milford.
SADDLE BROOK – With plenty of ups and downs throughout this season, there figured to be very few situations that might rattle Saddle Brook as state tournament play got underway on Monday afternoon. However, when senior goalkeeper and four-year starter Alexis Georgevich came up a late scratch, other Falcons needed to step up in order to keep their season alive.
With the entire New Milford back line shifted to slow down high-scoring Ashley Georgevich, freshman Isabella Sarra scored less than a minute in and sophomore Kayla Simon was stellar in her first varsity start in net as sixth-seeded Saddle Brook advanced in the North 1, Group 1 state tournament with a 3-1 victory over No. 11 New Milford in Saddle Brook.
"It is always really intense when the game starts but once we got that first goal we settled down," said Saddle Brook's Kylie Artemisio. "We were really relaxed after that goal and we did a good job of stringing our passes together."
Ashley Georgevich showed that even when she is not scoring goals she makes an impact every time the ball is at her feet. On her first touch of the game she carried the ball up the right flank before centering a pass that Sarra knocked home to give the Falcons a 1-0 lead just 59 seconds into the match.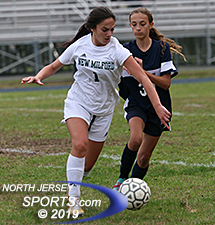 Kara Hills scored the goal for New Milford.
"Getting ahead so quickly definitely helped us settle down, now we could just play our game," said Ashley Georgevich. "Once we scored we just had to keep it going and keep playing hard."
New Milford had several chances to find the back of the net in the first half. The best two came in succession on a shot from the 18 and a rebound from point-blank range. Simon showed her worth by leaping to make the initial save then dropping down to save the rebound, preserving the lead in the process.
Artemisio, who along with Tyana Governali played well along the Falcons' back line, won a ball and sent it ahead to midfielder Mia Lopez. The junior weaved her way through four defenders before ripping a shot into the lower right-hand corner with just under three minutes to play in the first half, giving Saddle Brook a 2-0 halftime lead.
"I was looking for Ashley the whole time but they gave me space and I just went for the shot," said Lopez. "I honestly didn't think it was going to go in when I shot it but I'm happy it did."
Down by two goals, New Milford took control of the possession game and sent numbers forward. It succeeded in terms of getting scoring opportunities but also left them susceptible to the Falcons' dangerous counter attack. One of those counterattacks led to a direct kick from Lopez from 40 yards out. She lofted the ball into the box where Georgevich got a enough of her foot on it to send it back across the goalmouth. Megan Holdsworth, another freshman, was there to one-time it into the back of the net to make it a three-goal advantage.
New Milford needed just over a minute to get one of those goals back. Kara Hill drilled a 15-yard shot just inside the left post to cut the lead to 3-1 and the Knights kept the pressure on for the remainder of the game. Simon proved to be up to the task with a pair of diving saves. Sensing a momentum shift, Saddle Brook head coach dropped Lopez dropped back to help bolster the Falcons' back line. It worked as the Knights got off just one shot on net over the final 10 minutes and Saddle Brook advanced to the North 1, Group 1 quarterfinals.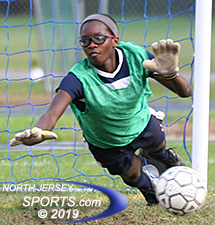 Kayla Simon made 12 saves for Saddle Brook in an emergency start between the pipes.
"I was trying to control my area and trust my defense," said Simon. "I had to be aggressive and do everything I could to make sure that they didn't score."
Simon came up clutch with 12 saves for Saddle Brook (13-4-1). The two assists for Ashley Georgevich gives her 17 on the season to go with a North Jersey-leading 32 goals.
The Falcons opened the season with a 5-0 loss at the hands of Emerson. They will get a second chance at them on Thursday when they travel to fave the Cavos in the North 1 Group 1 quarterfinals.
"We've really had some challenges this year, today included, but we worked through it with a total team effort," said Saddle Brook head coach Deandra Donato. "It's about surviving and advancing when you get to states. Composure is everything with us. We have to come out against Emerson with the same kind of intensity and keep the same kind of composure we showed today."
FOR MORE PHOTOS FROM THIS EVENT PLEASE CLICK HERE. TO BUY A COLLECTOR'S PRINT OF THIS STORY PLEASE VISIT 4-FeetGrafix.com.