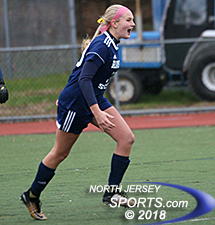 Junior Caroline Schwanewede celebrating after converting the decisive penalty kick in Ramsey's 3-3 (4-3 Pks) win over NV/Demarest in the North 1, Group 2 state sectional final on Thursday.
RAMSEY – After a controversial goal to end the first half and allowing another goal early in the second the Ramsey players saw their entire season slipping away in a matter of minutes. Trailing 3-1 to Northern Valley/Demarest in the North 1, Group 2 state sectional final the Rams did not have any time to wallow in their sorrows. If they were to make a comeback, the response to a two-goal deficit had to be swift and dramatic.
The Rams were able to do just that, but after 100 minutes of end-to-end action the game was still tied at 3 and it took penalty kicks to decide a champion. Just like in regulation, the Rams refused to give in until they were finally the ones celebrating.
Katie Sylvester came up with a big save in the penalty kick round and Caroline Schwanewede's converted penalty kick secured Ramsey's first section title since 2011 with a 3-3 (4-3 PKs) verdict on Friday afternoon at Ramsey High School.
"The entire game we had to keep a sound mindset and keep playing our game regardless of the score," said Schwanewede.
Playing in front of a big crowd on their home field the Rams controlled possession early before catching a break near the midway point of the first half. Fullback Olivia Molinari lofted a knuckling cross in the box that drifted all the way inside the back post to put Ramsey in front, 1-0.

Following the game's opening goal, Demarest started to open things up and quickly gained momentum. Abby Rozen sent a long cross towards the back post with Emily Holzer there to tuck it home and tie the game at 1. As the final seconds of the half ticked away it looked like the score would remain tied but the Norsewomen kept pushing and caught a big break along the way. After a failed clearing attempt, Carly Sherman bent a shot from 30 yards out that hit the crossbar as time expired. But the officiating crew did not catch the expiring clock and Holzer, the opportunistic freshman, knocked home the rebound that put Demarest ahead 2-1 at the half.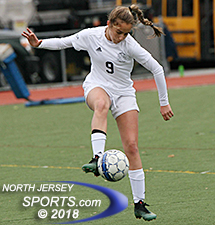 Freshman Emily Holzer scored twice in regulation for Demarest.
That play looked even bigger when Sherman broke free for a breakaway goal less than seven minutes into the second half to give Demarest a two-goal lead with 33:14 remaining. It was a crisis moment for Ramsey, but this experienced side was unflappable. Just seconds after Demarest padded its lead the Rams earned a corner kick, which flew to the center of the box and Schwanewede ripped a one-timer into the lower right-hand corner to trim the Norsewomen's lead to one goal.
"I knew this was a huge opportunity for us and I had to put it in the back of the net," added Schwanewede.
Just over a minute after Schwanewede's goal, the Rams struck again with the equalizer. Speedster Alexa Correa and Demarest's standout goaltender, University of Colorado-bound Emma Miller, both charged for a long ball near the top of the box. Correa got just enough of a toe poke to deflect the ball off of Miller with Marisa McEntee knocking home the rebound into the back of the net to knot the score at 3 with 30:50 left.
"It was a shock for us to be down two goals, but we turned on the switch because we had no other choice," said McEntee. "We had to keep pushing and we couldn't put our heads down. Once we came back to tie the game we knew it was going to be something special, a game we'd never forget one way or the other."
Ramsey had a pair of quality chances to take the lead but were denied by the athletic Miller. The best of those chances came on a Correa penalty kick with 11:12 to play that Miller punched aside.
Keeper Katie Sylvester made a key stop in PKs for Ramsey, which will play Bernards in the Group 2 state semifinals.
After overcoming a shocking few minutes the Norsewomen settled back into a rhythm and put pressure on Ramsey over the final 10 minutes of regulation and both overtime periods. The play of Ramsey netminder Katie Sylvester improved throughout the game and she made a huge fingertip save to prevent the potential game-winning goal by pushing a shot wide of the upper left-hand corner.  After a flurry of goals early in the second half neither team scored again and it came down to PK's for the section title.
Both teams hit their first attempt before Sylvester got enough of her hand on a shot to deflect it off the crossbar.
"I was just reacting to the ball and made a split-second decision, luckily it worked out," said Sylvester.
After a goal by Helene Tyburczy and a Demarest miss, Ramsey was up 3-1. Miller kept the Norsewomen in it with a save on Ramsey's fourth PK and Victoria Constantine netted the Norsewomen's final attempt, but with Ramsey going second, the outcome rested on the shoulders of Schwanewede. Fortunately, it was a situation the junior midfielder had experienced before. As a sophomore she buried the final PK in an upset win over Ramapo in the Bergen County semifinals. The approach was the same as Schwanewede picked out a spot and hit it for the game-winner to send the Ramsey players into a frenzied state as they celebrated the program's first section title in seven years.
"I usually shoot to the side I'm comfortable with and I stuck with going to that spot," said Schwanewede. "Emma Miller is a great goalkeeper and I knew I had to hit it well if I was going to get it past her, but I had to shoot the same way. We didn't want this season to end here and we found a way to come out on top."
The Rams, who also goals in the penalty kick round from Chloe Gavalakis and Molinari, will take on North 2, Group 2 champion Bernards. The upstart Mountaineers came all the way from the No. 9 seed to win three straight one-goal victories on the road before taking down No. 2 seed Morris Tech in PKs on Friday for the section title. That game will be played at Ridge High School in Basking Ridge with a schedule 7:30 start.
Winning a section title in the fashion that Ramsey did will be remembered for years to come. But as of right now the Rams are putting this game behind them with a much bigger goal in mind: A Group 2 state title.
"When the state tournament started our assistant coach (Drew Strohmeyer) told us that we have six games left, meaning if we played six games that we'd be in a state final," said Sylvester. "We wanted to be section champs all season and it feels amazing to work so hard for this and win the way we did today. But now we're so, so close and we want to be state champs."
FOR MORE PHOTOS FROM THIS EVENT PLEASE CLICK HERE. TO BUY A COLLECTOR'S PRINT OF THIS STORY PLEASE VISIT 4-FeetGrafix.com.