Emerson's Taylor Porcello
The state tournament is officially underway, but there is no reason to watch. All the answers and outcomes appear right here as we rev up The Super Computer to reveal who will win state titles in brackets in our coverage area. You are welcome...
NORTH 1, GROUP 1
The Seeds: 1. Waldwick 2. Mountain Lakes 3. Park Ridge 4. Emerson 5. Midland Park 6. Pompton Lakes 7. Hasbrouck Heights 8. Kinnelon 9. Cedar Grove 10. New Milford 11. Cresskill 12. Wood-Ridge 13. Wallkill Valley 14. Butler 15. Bergen Charter 16. Boonton
Player to Watch:
Taylor Porcello, Emerson
Porcello is the section's most consistent scoring threat having scored in 16 of her team's 20 games, including two  or more goals in 11 of those games. Her speed and ability to hit the corners on her shots single-handedly make the Cavos a tough out.
Biggest First-Round Upset:
None
Dark Horse:
Midland Park
Coming off winning the NJIC Tournament final, 3-0, over North Arlington, the Panthers are red hot. They have won nine of their last 10 with their only loss coming in overtime to top-seeded Waldwick, average 3.95 goals per game on the season, and have scored at least two goals in their last 16 games. That kind of firepower makes them a threat to add more hardware to their NJIC title.
First-Round Winners: Waldwick, Kinnelon, Midland Park, Emerson, Park Ridge, Pompton Lakes, Hasbrouck Heights, Mountain Lakes
Quarterfinal Winners: Waldwick, Midland Park, Park Ridge, Mountain Lakes
Semifinal Winners: Waldwick, Park Ridge
Champion: Park Ridge, 3-2
The Owls have outscored their opponents, 25-2, in their last six games highlighted by a 3-1 win over Waldwick. Led by Dana DiBella and Claire Perez, the Owls will be able to find the net regardless of the competition. But with the defense rounding into form at the right time, the Owls will find a way to navigate their way through a tough section to repeat as section champs.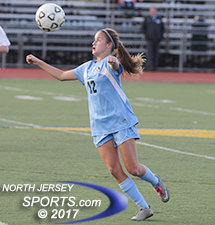 Mahwah's Hannah Busch
NORTH 1, GROUP 2
The Seeds: 1. Lakeland 2. Ramsey 3. Westwood 4. Glen Rock 5. Kittatinny 6. Hawthorne 7. Mahwah 8. Newton 9. Sparta 10. Pequannock 11. River Dell 12. High Point 13. Jefferson 14. Pascack Hills 15. Northern Valley/Demarest 16. Vernon
Player to Watch:
Hannah Busch, Mahwah
The senior center midfielder is one of North Jersey's top decision makers with the ball at her feet. She can win a ball on both ends of the field and carries the Thunderbirds with her leadership and big-game experience.
Biggest First-Round Upset:
11 River Dell over 6 Hawthorne
In New Jersey's most competitive division from top to bottom, the Big North-Patriot, River Dell struggled by its standards this season. But that competitive atmosphere game in and game out will benefit the team now where all records are essentially reset to 0-0. They will face a test against a tough Hawthorne side on a grass field right after a monsoon  but the Golden Hawks will pull out a win in double OT.
Dark Horse:
Mahwah
It is hard to knock out the defending champion of any tournament. Such will be the case in North 1, Group 2, where the Thunderbirds have some of the most talented players in the section (Busch, Rutgers-bound Hayley Baer, and goalie Michelle Silva). They went 0-4 against Nos. 2 and 3 seeds Ramsey and Westwood, but lost three of those games by one goal.
First-Round Winners: Lakeland, Newton, Kittatinny, Glen Rock, Westwood, River Dell, Mahwah, Ramsey
Quarterfinal Winners: Lakeland, Glen Rock, Westwood, Ramsey
Semifinal Winners: Glen Rock, Ramsey
Champion: Ramsey, 3-1
This will be a rematch of a great Bergen County quarterfinal, won by Ramsey (2-1) on a Corinne Kropas goal in overtime. Alexa Correa has emerged as one of the most electrifying players in North Jersey and Kropas is adept at making dangerous chances off of set pieces. How far Ramsey goes will be determined by how well they play defensively. During pressure situations throughout the state tournament the play of center back Claire D'Elia will be a big factor. If she can keep the Rams sharp in the defensive third and limit shots on net then the Rams will be in a good position to win this section.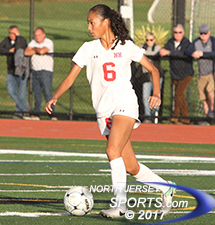 No. Highlands' Shannen Almenara
NORTH 1, GROUP 3
The Seeds: 1. Northern Highlands 2. Ramapo 3. Roxbury 4. Pascack Valley 5. Wayne Valley 6. Wayne Hills 7. Indian Hills 8. West Milford 9. Cliffside Park 10. Fair Lawn 11. Montville 12. Northern Valley/Old Tappan 13. Paramus 14. Leonia 15. Tenafly 16. Morris Hills
Player to Watch:
Shannen Almenara, Northern Highlands
While the sheer offensive firepower gets the majority of attention from their opponents, it is the players in the defensive third of the field who often go unnoticed and shouldn't. Almenara is player who can not only control things in the back but also mark the opposing team's top scorer right out of the game along with facilitating the offense by winning loose balls. Her consistency has been a huge part of the Highlanders' success this season.
Biggest First-Round Upset: None
Dark Horse: Indian Hills
Indian Hills is a talented side but a puzzling one this season. This is highlighted by their results this season against the area's and this section's top two teams, Northern Highlands and Ramapo. They have played the Highlanders as tough as any team in New Jersey, losing by one goal in both meetings. Against Ramapo, they lost their two games by a combined score of 9-0. The question is, which Braves team will show up for the states?
First-Round Winners: Northern Highlands, West Milford, Wayne Valley, Pascack Valley, Roxbury, Wayne Hills, Indian Hills, Ramapo
Quarterfinal Winners: Northern Highlands, Pascack Valley, Roxbury, Ramapo
Semifinal Winners: Northern Highlands, Ramapo
Champion: Northern Highlands, 4-1
If there is a team that can knock the ball around with Northern Highlands it's Ramapo. Computers just churn out facts. Fact is that Northern Highlands always peaks at the right time of the season with this season being no different. They have scored early and often against virtually every opponent this season and have given up four goals the entire season. It has been the Highlanders' section to lose for years now and will be for the foreseeable future.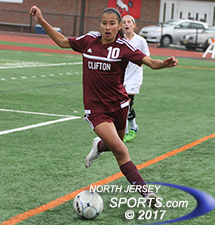 Clifton's Maria Orozco
NORTH 1, GROUP 4
The Seeds: 1. Montclair 2. Morris Knolls 3. Clifton 4. Livingston 5. West Orange 6. Kearny 7. North Bergen 8. Morristown 9. Ridgewood 10. Union City 11. Randolph 12. Bergen Tech 13. Bloomfield 14. Passaic County Tech 15. Passaic 16. Hackensack
Player to Watch:
Maria Orozco, Clifton
Orozco has the potential to be a real problem for opposing defenses. If she gets the ball with space in front of her, she can make things happen in a hurry. A strong passer on through balls with either foot, she is often asked to be the centerpiece of the Mustangs' attack. She can dominate a game with a limited amount of touches. The more touches she receives, the better chance Clifton has of advancing.
Biggest First-Round Upset: 9 Ridgewood over 8 Morristown
Ridgewood will have its hands full against a Morristown squad that has won five in a row. The great equalizer though is a strong defense and great goaltending. The Maroons possess both led by junior keeper Britt Cunningham. The longer this game goes without any score, the more it will tip in the favor of Ridgewood.
Dark Horse: Kearny
If there is a team that is a true wild card heading into this bracket it would have to be the Kardinals. Led by high-scoring wing Skyler Matusz (39 goals) and rock-solid two-way midfielder Breanna Costa, the Kardinals will bring an exciting style of play every step they step on the pitch. However, they have played by far the weakest schedule in the section. Will they be battle-tested to make a run?
First-Round Winners: Montclair, Ridgewood, West Orange, Livingston, Clifton, Randolph, North Bergen, Morris Knolls
Quarterfinal Winners: Montclair, West Orange, Randolph, Morris Knolls
Semifinal Winners: Montclair, Randolph
Champion: Montclair, 4-0
Upon the fact-finding of the Super Computer, neither team is in the NorthJerseySports.com coverage area so nothing more really needs to be said.
TO BUY A COLLECTOR'S PRINT OF THIS STORY PLEASE VISIT 4-FeetGrafix.com.