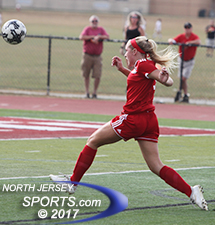 Sophomore Devyn Tanajewski chipping home her second goal of the game in unbeaten Lakeland's 2-0 win at Wayne Hills on Saturday afternoon.
WAYNE – Lakeland is unbeaten and it is the No. 1 seed in the Passaic County Girls Soccer Tournament, so a rough couple of minutes at the start of a game are not exactly cause for panic. The Lancers were a little slow to grab a foothold in Saturday afternoon's matchup against Wayne Hills, one of its closest pursuers in the race for league and county titles, but instead of trying to force the action Lakeland's Rick Capozzi tried a tactic that might have been counterintuitive to many head coaches.
Rather than imploring his team to play hopeful ball after hopeful ball over the top to his most dangerous striker, sophomore Devyn Tanajewski, Capozzi kept her off the field all together with the hope that her talents might be more useful a little later in the game when conditions changed.
"We came out a little flat, but I actually held Devyn Tanajewski out a little bit to, I guess, tire their defense out a little bit," said Capozzi. "I wanted her to have fresh legs against them. She is quick and just a little bit of getting their defense working and then having her go in, it helped."
It certainly did. Tanajewski, a real sniper up top, converted two first half opportunities, both with a deft touch. She volleyed in a corner kick midway through the first half and then chipped the keeper a minute-and-a-half before the break to provide all of the scoring in Lakeland's 2-0 victory that makes it 12 wins in 12 games played so far this season for the Lancers.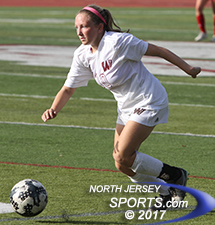 Madison Carol was active all game long and helped generate many of Wayne Hills' best scoring chances.
"I had fresh legs when I got out there and I knew I had to capitalize on my shots when I got them. When I went in it was my job to lift up the team and put one in the back of the net," said Tanajewski. "It was a great idea for coach to save me and let me come in when they were a little bit tired. I think that decision made a real impact on the game."
Before Tanajewski's first goal tipped the game in Lakeland's favor for good, the Lancers had to withstand some early pressure from Wayne Hills, which came out aggressively. The Patriots were getting wide and sending in crosses that tested the Lakeland defense and senior goalkeeper Sarah Deighan in particular. Deighan was forced into action for the first time in the ninth minute when a long service was played into a dangerous spot and she got off her line and off her feet just in time to pluck it off the head of Brooke Alexander, who was crashing hard.
"We have a lot of underclassmen, a lot of newbies on our defense and they always step up. We were under pressure early. We were expecting a tough game and we knew we had to be organized and ready to be tested," said Deighan. "We know that one mistake could mean our first loss, so we want to make sure that we are always focused and that we always play as hard as we can. We put every effort in."
Katie Mullin is a freshman who plays way beyond her years in the middle of Lakeland's back line. Jessie Adams, another key piece, is also freshman playing heavy minutes in the back. Junior Emma Gibson and seniors Vanessa Russo and Skylar Catalioto provide the experience to a defense that is not only tough to score on, but one that can also get things rolling the other way in a hurry.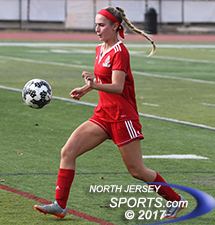 Senior Vanessa Russo assisted on the second goal for Lakeland, which is now 12-0 on the season.
Just over 16 minutes in there was one sequence that signaled that the Lancers were starting to take control. Wayne Hills' Madison Carlo stuck a dangerous corner kick that Deighan needed two touches to corral, but once she did she started a lightning counter attack that resulted in the Lancers' first real scoring opportunity. Deighan rolled the ball out to Gibson, who played it forward to Tanajewski, who took off on a sprint up the left side that did not end until she had gotten a good piece of a left-footed roller that forced Wayne Hills keeper Liv Sokoli into a dive at the near post.
The next time Tanajewski had a look at the Wayne Hills goal, albeit a quick one, she made no mistake. At the end of a sustained possession that saw it repeatedly probe for an opening, Lakeland won a corner kick that Grace Yost took. She hit a line drive into traffic and Tanajewski carved herself just enough space to get her foot up for a volley that arced over a defender positioned on the goal line and inside the opposite post to make it 1-0 with 20:24 left in the first half.
"It was a one-touch with my foot kind of behind me. There was a defender with me and we both kind of jumped up. I was lucky to get the first touch on it," said Tanajewski. "I got my foot on it and it went straight into the back side of the net."
Lakeland's second goal came right down the spine of the field as Russo pushed up with possession. She sent a lofted serve into a tight window that had Tanajewski stepped into just in time. With the keeper and a couple of defenders closing fast near the top of the box, Tanajewski used a delicate first time to pop the ball over the traffic and time to watch its path over the goal line with 1:26 left in the first half.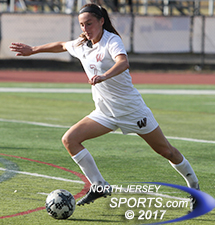 Courtney Ruedt had one of the last good scoring chances for Wayne Hills, which may get another shot at Lakeland if both make it to the Passaic County final.
While Lakeland had a lot of the play after the first 10 minutes, this was not a one-sided affair as Wayne Hills stayed dangerous through the second half. Madison Carlo, who is not afraid to take on any defender, earned the Patriots a free kick from a dangerous spot five minutes into the second half, but the try flew the crossbar.
Wayne Hills had three quality chances inside the final seven minutes as Courtney Ruedt saw her rip of opportunity parried over by Deighan in the 74th minute. Grace Silva sent a restart into the scrum that caused havoc before Lakeland could clear it out and Carlo hit the crossbar with a free kick from 25 yards out with 15 seconds to play as the Patriots stayed after it until the final whistle.
But there was no breakthrough and Lakeland finished with a season sweep of the Patriots having beaten them 2-1 in overtime the first time around the league schedule. This might not be the last these two teams see of each other either as Lakeland is the No. 1 seed in the Passaic County Tournament while Wayne Hills is No. 2. After back to back byes, both teams will start their county tournament runs next weekend in the quarterfinals.
This game might have been a genuine preview of the county final, but Capozzi is not thinking in those terms at this point of the season when the tough fixtures are starting to pile up.
"We are trying to take every game one at a time. We are in a tough stretch that started with Fair Lawn (on Wednesday), now Wayne Hills then West Milford and Wayne Valley. I can't look ahead at the counties because we are playing for the conference [title] right now," said Capozzi. "We just want to stay positive and go one at a time."
TO BUY A COLLECTOR'S PRINT OF THIS STORY PLEASE VISIT 4-FeetGrafix.com. FOR MORE PHOTOS FROM THIS GAME CLICK HERE!