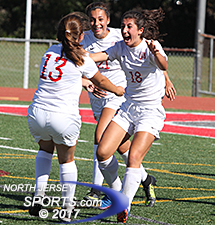 Sophomore Sophomore Sasha Lachter celebrates after scoring the only goal in Fair Lawn's 1-0 win over Cliffside Park in the opening round of the Bergen County Tournament on Thursday.
FAIR LAWN – Sometimes in a county tournament setting, soccer teams can get overly cautious. Whether it is a favorite weary of opening itself up to a counterattack that might change a game or an underdog keeping most of its players behind the ball with few targets up top, sometimes the play on the field does not match what is the high-energy that is supposed to come with the raised stakes of a knock-out tournament game.
Thankfully that was not the case on Thursday afternoon as No. 21 Fair Lawn hosted No. 26 Cliffside Park in the preliminary round of the Bergen County Girls Soccer Tournament. With a stiff wind whipping in one direction for entire duration, each team took its 40-minute turn pressuring the opposition's goal with everything it had.
Fair Lawn had the first go at the favorable conditions and made it count when sophomore Sasha Lachter headed in a long throw in the 33rd minute. Playing against the breeze in the second half, the Cutters' defense held up against Cliffside Park's spirited attack and held on for the 1-0 win at Sasso Field. Fair Lawn earned a spot in the main draw where it will play No. 12 Indian Hills in the Round of 32 on Sunday in Oakland.
"Cliffside Park is a quality team. There is no way that that team should have been a 26 seed. They play well, they are strong on the ball, they have played well against good teams and we knew they were going to be a challenge," said Fair Lawn head coach John Van Soest. "As much as we put the pressure on they came right back in the second half and equaled it no doubt. It would have been nice to put away another opportunity when we had it in the first half, but that did not happen and we had to do everything we could defensively in the second half to hang on."
Cliffside senior Nina Gonzalez making one of her 13 saves, this one a beauty in the 19th minute.
It was easy to get locked in the defensive third when playing against the wind and Cliffside had a hard time moving forward for the first 40 minutes. Nina Gonzalez is one of Bergen County's better goalkeepers and her punts are usually a weapon that can get kick-start a Cliffside attack, but into the wind they were being held up and Fair Lawn used the short field to press its advantage in possession. The Cutters nearly found the opener on numerous occasions and twice on the same sequence in the 19th minute.
Fair Lawn's Emily Cevallos, a physical freshman striker, took a rip that was on target but was kept out by Gonzalez, who lunging reaction pushed the ball wide of her left post. Charlize Iratagotia won the race to the loose ball near the endline, played it back to Lachter, who fed it right back into the box where Cevallos tried a cheeky back heel that was also on target. Only another quick reaction by Gonzalez kept the game scoreless.
Then, against the run of play, Cliffside had its best chance to strike first. On the counter after Fair Lawn's near misses, Olivia Peterson nearly got on the end of a long cross through the area. Victoria Elia was quick off of her line to intercede and instead of a goal, Peterson got a yellow card for an honest challenge on the Fair Lawn keeper. A minute later, Maria Mirenda took on three different defenders on a run through the midfield and beat them all before her shot was knocked down in front of goal. The ensuing corner kick came to nothing and then it was back to defense for the Red Raiders.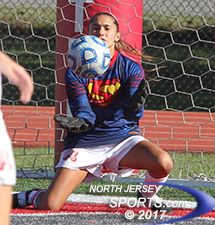 Senior Victoria Elia making one of her 7 saves for Fair Lawn, which will play Indian Hills in the Round of 32 on Sunday.
They held well into the half, but finally Fair Lawn was able to find the proper combination, which was a long throw-in from the right touchline by Amanda Luandi. Lachter, in traffic and near the top of the box, got her head to the ball and flicked it inside the left post for the game's lone goal with 7:39 remaining in the first half.
"Amanda throws rockets in there and I just tried to get myself in a good position," said Lachter. "I saw the ball coming in and tried my best to get my head on it and get it on the goal. I was so happy to see it go in."
With the change of sides in the second half, the field tilted in Cliffside Park's favor and it had two quality chances to get even on the same sequence in the 53rd minute. Jessica Moreno snaked through the midfield and got off a shot that Elia punched away but not out of trouble. Sherly Catalan was quick to the rebound and Elia was just as quick in scrambling back to her feet in time to parry the second opportunity up and over the bar.
"It was nerve-wracking, but I just tried to keep my eye on the ball and react to whatever was happening," said Elia, one of just two senior starts in the Cutters' starting 11. "I didn't really have to pay attention to the marks because I trusted my teammates to be in the right spots. I just tried to move my feet quick and keep the ball out the net."
Elia did that on that occasion and throughout the game as a young Fair Lawn squad got contributions from plenty of players and a county tournament win, which eluded a more experienced Cutter side last season when it had 10 seniors on the roster but was upset in the opening round by Waldwick.
Cliffside Park's Jessica Moreno was a handful in the middle of the field.
Fair Lawn (6-4) was strong in the midfield Iratagotia, Kira Meerholz, Kayla Ramirez and Lachter keeping Cliffside from running freely down the spine of the field, which it does well, especially when the ball is on the foot of Moreno. Laudani was solid in distribution in her spot in support of the strikers and defenders like Kim Tran, Maria Ibanez, Ashley Moran, Caitlin Carney and Carley Morrison all had plenty of work to do in keeping Cliffside off the board.
"Just to be in the tournament and to be able to compete was one of our goals with such a young team," said Van Soest. "We wanted to win the play-in game, advance in the tournament and anything else from there is gravy. We'll see what happens on Sunday."
Cliffside (6-3) got a tough draw, but acquitted itself well on the road against a quality opponent. A consolation prize was not exactly what head coach Carmine Cambareri was hoping for, but it is also not the end of the road for his team, which will now go back into league play in search of its fourth straight league title.
"What we preach is that we go into games like this to try to play soccer, not just survive the game. The problem is we are limited in some spots and we can't really connect as much in a game like this as we do in our league. If you watch us play in our league you will see us connect four or five passes because we get that space, but in the counties, playing with four or five freshmen that are new to the game at this level, a lot of times that final ball is not there," said Cambareri. "We came here and we competed and I just told the girls that if they felt like they played 100-percent then there is nothing to be down about. If we gave it everything, then we lost to a better team. We'll go back to work, try to get better, try to win the league and then get ready for the states."
TO BUY A COLLECTOR'S PRINT OF THIS STORY PLEASE VISIT 4-FeetGrafix.com. FOR MORE PHOTOS FROM THIS GAME CLICK HERE!