Friday, September 30, 2016
By Rich Barton
NJS.com Staff Writer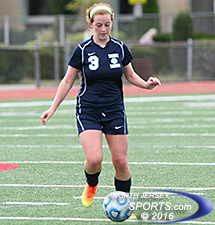 Madison Archer's first goal of the season was an upper 90 laser in overtime that gave Waldwick a 3-2 win and a first round upset of Fair Lawn in the Bergen County Girls Soccer Tournament.
FAIR LAWN – Limping into the Bergen County Tournament is no way for a Group 1 school to earn respect, but it way exactly the condition that Waldwick found itself in after having lost three of its last four games. If there was a positive, the rough patch had wiped the slate clean and relieved any pressure Waldwick might have felt as it took the bus to an opening round game on Thursday.
But after falling behind Fair Lawn by a goal at halftime, Warriors' head coach Tommy Schultz had finally had enough. The usually mild-mannered coach gave a passionate speech to drive home his point that if this year's team was going to make any noise at all this season that something had to change immediately. Schultz wanted nothing fancy, nothing elaborate, just for his team to give the maximum effort and believe that they could beat a quality team.
The Warriors did just that and used overtime to earn a huge upset win.
Junior striker Madison Archer struck the perfect shot at the perfect time. She ripped a shot from 18 yards out that hit off where the crossbar and the left post meet and it bounced in with 4:46 to play in the first overtime to lift 28th seeded Waldwick to a 3-2 victory over Group 4 Fair Lawn, the No. 21 seed, in the first-round of the Bergen County Tournament on Thursday at Sasso Field.
"We really came out strong in the second half and coach gave us a speech that we needed to hear," said Waldwick's Ellie Neugebauer. "We had nothing to lose and we came out fired up for the second half."
Lehigh-bound senior Lisa Kestelboym scored both of Fair Lawn's goals an now has seven for the season.
Fair Lawn has had a roller-coaster type season thus far as well. The Cutters do have one of the premier goal-scoring threats and she made her presence felt early. Lehigh-bound Lisa Kestelboym got behind the Warriors' back line and scored in the fourth minute to give Fair Lawn an early lead.
Waldwick answered back by sending back in a failed clearing attempt. Neugebauer found the back of the net to make it 1-1.
Late in the half the Cutters caught a break. Off of a corner kick deflection, the ball popped up and hit a Waldwick player in the hand, which resulted in a penalty kick. Kestelboym converted it to give Fair Lawn a 2-1 lead.
That lead stood up well into the second half but it was evident that Schultz's speech had made an impact. The Warriors were running through every ball and winning the 50-50s. That led to the tying goal when Hiroo Nakamoto pounced on a loose ball and scored from 12 yards out with just over 15 minutes to play to tie the game at 2.
"I wanted to get a shot off so bad and I felt like my time was going to come," said Nakamoto. "When the ball was right there, I knew I had to get to it first."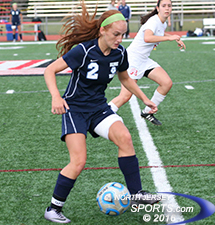 Ellie Neugebauer scored a goal and assisted on the game-winner for Waldwick.
Both teams had chances to win in the final 10 minutes of regulation. Waldwick keeper Amanda Craven and Fair Lawn netminder Victoria Elia each came up with big saves as the teams needed overtime to decide a winner.
Neugebauer sent a ball into space and Archer had to make a quick decision with a defender closing in fast on the bouncing ball. From the top corner of the box, Archer got her head over the ball and laced a volley that could not have been struck any better. A few inches in any direction would have meant that the shot would have hit the crossbar, the post, or have been save-able. Instead it just got past the diving Elia, glancing off the upper left-hand corner where the crossbar and post meet and in to touch off a raucous celebration and send the Warriors into the main draw of the Bergen County Tournament.
Not bad for her first goal of the season.
"I had nothing to lose so I just went for it," said Archer. "I couldn't believe it went in until I saw all of my teammates going crazy."
Craven had nine saves for Waldwick (5-3). Kestelboym's two goals now give her a team-leading seven tallies for Fair Lawn (3-6-1).
Waldwick, now the lowest seed remaining in the BCT, will face 12th seeded Northern Valley/Demarest in the second round on Sunday. With an upset already in hand, the Warriors are playing with house money, but it does not mean that they are satisfied with just winning one county tournament game. They want to see how far they can go.
"This is a huge win and I think it's going to be a turning point in our season," said Archer. "We now see what we can do when we set our mind to something. This is a great win but it's just one part of our journey. We're excited to see where this journey takes us next."
CLICK HERE FOR MORE PHOTOS FROM THIS GAME. TO BUY A COLLECTOR'S PRINT OF THIS STORY, PLEASE VISIT 4FeetGrafix.com.