Friday, September 30, 2016
By Cory K. Doviak
NJS.com Editorial Director
Devin Riker scored the first two goals of the game for Emerson, which picked up its first-ever county tournament win in a 3-1 victory at Cliffside Park on Thursday.
CLIFFSIDE PARK – The Passaic County Coaches Association started this trend in North Jersey with its basketball tournaments. Concerned that some of the smaller school might be getting gun shy about entering because of a potential first round match up against a state powerhouse, the PCCA staggered the draw to add an early round out-bracket to give more programs a legitimate chance to actually win a game in a marquis local tournament.
The Bergen County Womens Coaches Association followed suit this year with its soccer tournament and, one day in, it has already proven to be a wise decision. Under the old format, Group 1 Emerson, seeded No. 25 this year, would have played a first round game on the road against No. 8 Indian Hills, a Group 3 Big North program with a rich tradition. With the tweak, the Lady Cavos still had a road game, but it was against No. 24 Cliffside Park, a Group 2 school at a similar level of development.
And because of the new-fangled bracket there will be more stories like this one, a story about a group of girls from a single-town school district who have stuck together to make program history. By scoring three times in the first half and then matching Cliffside's second half intensity, Emerson, led by a seven-member senior class, won a Bergen County Tournament game for the first time ever, 3-1, on Thursday afternoon.
Think it meant something to be a part of? Senior striker Devin Riker was fighting back tears when she said, "This senior class has been together thinking about this year for a long time. We started together and a feeling like this is just something that we have all been looking forward to. I'm so happy for my teammates and the coaches because this something we all wanted."
Riker was the catalyst in the offensive third and she gave Emerson the lead for good. On an attack set up by a nifty through ball off the foot of Kaitlin Morgan, Erin Bartel swung a cross and Riker knocked it home on the fly for the 1-0 lead. Riker then made it 2-0 when she caught up to a through ball played forward by Melanie Whited, rounded the keeper and touched it in.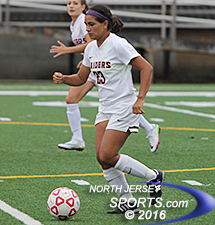 Jessica Moreno scored the Cliffside Park goal with a perfectly placed free kick.
Emerson was dominant over the first 30 minutes, but Cliffside Park was finally able to wrest away some possession and get forward. One such foray ended in a free kick and Jessica Moreno made it count by sending the restart directly into the back of the net to cut the Red Raiders' deficit in half.
Cliffside was just about back in the game and was lobbying for a foul call just outside the Emerson box with about 9 minutes left in the opening half. Had they gotten what they were asking for, the Red Raiders would have had another free kick opportunity from a dangerous spot. Instead, there was no call and the game swung for good at the other end of the field.
This time a call was made and it went in favor of Emerson, which was awarded a penalty kick after an obvious foul inside the box. Taylor Porcello, a junior, made no mistake as she punched it into the lower left hand corner in the 32nd minute to give the Cavos the 3-1 advantage that they eventually carried to the finish line.
"I thought we played well for the first 10 minutes, but after that it was a struggle for us. No. 10 [Porcello] and No. 11 [Riker] are two quality players and [Porcello] is a true center-mid who can control a game. We knew that, we scouted them, we were not able to stick to the plan. I don't know if we were just flat or nervous or what it was," said Cliffside Park head coach Carmine Cambareri. "A call here or there and maybe it goes a different way, but you can't complain about that. That is soccer and we were much better, more aggressive in the second half but we were too far behind."
As it got a little chippy as the outcome became more apparent, Emerson (7-1) did a good maintaining its composure and hitting back on the counter attack. No goals were scored after the break, but the Cavos forced Cliffside to play more defense than it wanted to as it tried to mount a comeback. The Raiders just could get off enough shots on Emerson keeper Katie Falatico down the stretch to keep the Cavos from closing out one of the biggest wins in program history.
"Every year building up to this our coach [Matt Lachman] has been telling us that 2017, our senior year, is going to be our year and we were going to have a chance to do great things," said Bartel. "So far he has been right. We are 7-1, we have won a county game and I couldn't ask for anything more."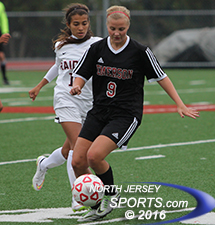 Senior Erin Bartel had an assist for Emerson, which will play Paramus Catholic in the second round.
Cliffside (5-4) started the year with five straight wins, but has now lost four straight. That being said, the Raiders still have a chance to get some things done with another league title now moving to the top of the list.
"We are undefeated in our league right now, so we are still in line for a league title and we have a few good independent games that we want to win," said Cambareri. "Will just continue to build and, hopefully, we will be able to better our record from last year and win the league again, which would be three in a row."
The Cavos are chasing Park Ridge, the only team to beat them so far, in its league standings but Emerson has not been eliminated from anything yet. They will play Park Ridge a second time in the regular season, they will be a true contender in the state sectional tournament they have another Bergen County Tournament game coming up on Saturday. Now they will get to see how they stack up against a heavyweight, ninth seeded Paramus Catholic, with the winner there advancing to the Round of 16.
"We had never won a county tournament game in the history of this program and that was the goal of this group of seniors from Day 1. We haven't even been in the county tournament in a while and the new format is phenomenal. It gave us a chance and for this to happen for this group is tremendous," said Lachman. "We knew coming in here that this was going to be tough, so I am proud of each and every one on this team. This win is huge. It gives us some power points and it lets us go play a team like Paramus Catholic from the Big North and lets my girls get seen against that kind of competition. We have some girls that can play and we will get another chance to show that in this tournament."
CLICK HERE FOR MORE PHOTOS FROM THIS GAME. TO BUY A COLLECTOR'S PRINT OF THIS STORY, PLEASE VISIT 4FeetGrafix.com.